Forty-five years on, a new BBC Radio Scotland documentary charts the Tayside roots of 1970s funk and soul meisters The Average White Band, who conquered America and remain legends to this day. Michael Alexander reports.
From whisky to the flushing toilet, Scotland's become famous for exporting many things over the years – but it's only relatively recently that it became famous for exporting soul music.
The band that made that possible was The Average White Band – and several of the founding members met at art school in Dundee.
In the early 1970s a bunch of Scottish soul musicians – including Alan Gorrie, from Perth and The Dundee Horns (Malcolm 'Molly' Duncan and Roger Ball) – set out to take on the world with their energetic blend of white soul.
What followed was a classic tale of rock n'roll – from the high of Marvin Gaye going up on stage and doing en encore with them to the low of original Dundonian drummer and founding member Robbie McIntosh dying of a drug overdose aged just 24 at a Hollywood party in 1974.
Now the 45th anniversary of the The Average White Band is being marked in a new BBC Radio Scotland documentary – Picking UpThe Pieces – The Average White Band Story – which broadcasts on Christmas Day.
Long-time associate of The Average White Band and former manager of Simple Minds, Bruce Findlay tells the story of Scotland's most successful soul music export, reaching No. 1 in America with their instrumental classic 'Pick Up The Pieces'.
The documentary charts their roots in Scotland and their move to London to form the band that would take them to America where their white soul band gained respect from the black audiences with a string of successful albums.
The band explains how, after the death of McIntosh, they went about regrouping with replacement drummer Steve Ferrone before splitting in 1983, only to reform six years later with a new line-up which continues to perform today.
The Average White Band had a series of soul and disco hits between 1974 and 1980.
After topping the American charts with their million selling instrumental classic Pick up the Pieces, they had hits like Cut the Cake, Queen of My Soul and Let's Go Round Again.
This year is the 45th anniversary of the band. But it's actually 50 years since Alan Gorrie and Onnie McIntyre started making music together.
In the 1960s it was rock and roll that was sweeping the UK.
But for Perth born Alan Gorrie who was starting to play the bass guitar and sing, it was the soul sounds from America that were his biggest influence.
"The music that drove us in the 1960s was Tamla, Motown, Stax, Atlantic Records, Chess Records – we wanted to perfect the playing of that kind of music," he says.
"We weren't really interested in rock n roll to be honest – the rock n roll that was developing was a very kind of hard guitar, grungy stuff that didn't appeal to us.
"Our favourite sound was the Stax records. They were the most alluring – earthy but accomplished in every way. They had all of the elements that we loved in music.  So we followed that road."
Like Norrie, saxophonist Malcolm 'Molly' Duncan was also about to discover soul music – and it happened on Tayside.
"When I moved to Dundee to the art school here, I'd already become interested in saxophone but I didn't have one," he says.
"A friend of mine who had a band at the college , he said to me, 'We are going to do some Junior Walker tunes on Friday, do you think you could do them?' I said 'I don't think so I've never even tried'.
"To cut a long story short I had five days to learn some little bits of Junior Walker. And that's how it started for me. And then I got very interested in soul music and funky music."
At the same time, McIntyre was being turned on by soul music in his home town of Glasgow.
"We'd be hanging out in clubs at night," he says." In Glasgow there was an all night club called Picasso which was open until about four in the morning. And the DJs there  -they were getting records sent over directly from Motown, from Stax, from Philadelphia.
"So basically by playing in a band at that time – and all the bands in Glasgow were pretty competitive – I learned to play R&B material and of course discovered James Brown., and that was really an eye opener."
Fellow Glaswegian Hamish Stuart was later to join the Average White Band as guitarist, bassist and singer – and proud owner of a ginger Afro haircut.
Gorrie adds: "Dundee art college was actually the meeting point for three of us – the two horn players Mollie Duncan and Roger Ball – and myself.
"I was part of a pop up blues and jazz club in Perth called the Blue Workshop in the 1960s, and I being the one who went to Dundee art college, got these guys to come up to Perth every fortnight on a Sunday to do this ad hoc get together with these guys I brought in from Dundee.
"So that was the place that gave us the idea for what became The Average White Band."
Picking Up The Pieces – The Average White Band Story broadcasts on BBC Radio Scotland on Christmas Day from 4pm to 5pm.

The Average White Band on stage at Rewind, Scone, Perth, on July 23 2016

The Average White Band on stage at Rewind, Scone, Perth, on July 23 2016

The Average White Band on stage at Rewind, Scone, Perth, on July 23 2016

The Average White Band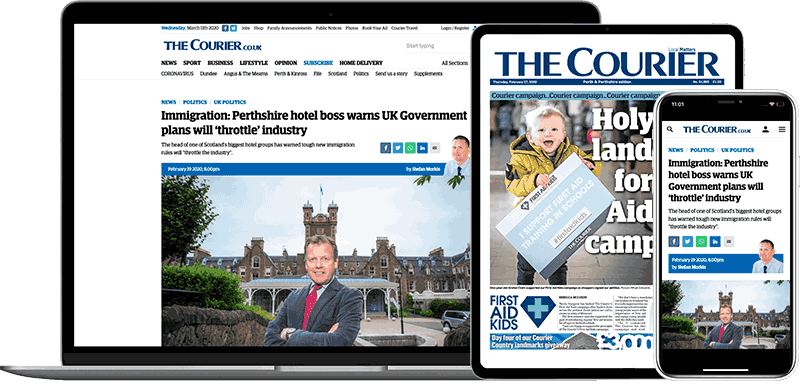 Help support quality local journalism … become a digital subscriber to The Courier
For as little as £5.99 a month you can access all of our content, including Premium articles.
Subscribe