In an interview ahead of gigs in Leven and Dundee, John Power, the frontman of 1990s Britpop band Cast, tells Michael Alexander about his 'ageless' songs, why he 'can't wait' for Jeremy Corbyn to get into power – and why Liverpool FC need to 'win the Champions League Final for Dundee United'!
They were one of the biggest Britpop bands of the mid-nineties, scoring four top 10 albums and 10 top 10 singles.
Oasis's Noel Gallagher was even moved to call watching them live "a religious experience".
After announcing their reformation in 2010, Cast have gone from strength to strength, recording two new albums and playing countless sold out tours and festivals.
But when The Courier called frontman John Power at his home in Hackney, North London, on Thursday to speak about the band's much anticipated gigs in Leven and Dundee next week, conversation almost immediately turns to the Champions League Final between Real Madrid and his beloved Liverpool FC on Saturday May 26.
"I'm flying out to Kiev for the European Cup Final and I can't wait," said 50 year-old John – the former La's bassist who reformed Cast in 2010 some nine years after they originally split.
"I won't predict the score – I just want to win – the football we've played in the European Cup has been just an unbelievable journey and it would be just amazing to top it off against Real Madrid with an up and coming team like Liverpool with Jurgen Klopp.
"I'm not predicting anything because things can change but I think we can do it if we play our best, get at them and have a bit of luck."
John is a passionate Liverpool FC fanatic. So it's no surprise that he knows of Dundee United's tenuous link with Liverpool's defeat of Roma in the Champions League semi-final this year as it was the 1983/84 season that the Tannadice club made it to the European Cup semi-final against Roma only to lose the away match under dubious circumstances – later emerging that the referee was bribed by the Italians – and missing out on the chance of meeting the Anfield club in the 1984 European Cup Final.
"I heard about that and thought that's insane," said John when The Courier reveals that many Dundee United fans were quietly pleased with this year's Liverpool win.
"I can't believe Dundee United got to the European Cup semi-finals. Roma kind of stopped history from happening – Dundee United in the semi-finals of the European Cup and could have got to the European Cup Final against Liverpool – what sort of story is that like?
"The allegations of bribery by Roma and all that is like something out of a novel."
Having grown up with Scottish legends like Hansen, Souness, and Dalgleish in the Liverpool team and of course with Shankly as manager, John is pleased that former Dundee United player Andy Robertson is now keeping that Scottish connection alive as a key player in the current Liverpool squad.
So much so, that John thinks Liverpool need to "win it for Dundee United" in the Champions League Final!
"It's good to have a Scottish player – his story is amazing," he added.
"The crowd love him. He tries dead hard. He's got it. What a story for him to make it to the Champions League Final.
"I tell you what – I think we'll need to try and win it for Dundee United!"
John will hopefully still be smiling when Cast play Truth in Leven on Thursday May 31 and the Reading Rooms in Dundee on Saturday June 2.
The band, who are best remembered for tracks like Fine Time and Alright, went down a storm towards the end of last year when they supported fellow 1990s legends Shed Seven on a UK tour.
This will be the first time John has been in Dundee for a good few years having previously played the Caird Hall in the band's heyday and later Fat Sams.
He is also a veteran of T in the Park.
In 2015 Cast celebrated the 20th anniversary of debut album All Change by gigging with the Liverpool Philharmonic Orchestra.
But while the Cast gigs this year are being as a 'Greatest Hits' tour, John insists that it's not about being nostalgic for the 1990s as the passion behind the older songs is still as strong as it was when he wrote them – and there will be some of the newer tracks from the likes of Kicking Up The Dust as well.
"What do I think about Britpop?" said John.
"Because there's 20 years between now and then, I think people look back on a time when there was a lot of eclectic very good bands.
"I was 17, 18, 19, 20 a bit earlier and I look back at The Who and The Clash  and that era of music, in a way that younger people probably look back at the Britpop era now and say 'that was a really exciting guitar based time of British music'.
"So what do I think about it? Like any period of life you are living in the moment.
"Sometimes when I'm singing those songs, time goes shorter – it seems like yesterday. Obviously looking back on things – I've changed a lot whilst keeping a big part of me the same.
"The things I was singing about, the energy I had in those days was more naïve, probably younger and more urgent. I'm not so urgent anymore! I'm more like 'let's make the moment last a little bit longer in the present'.
"But the songs stand up to the test of time and emotionally they feel amazing to sing. I'm singing better than I ever sung and I'm playing better than I ever did and the band play better. It's a celebration whilst still being very relevant.
"I'm still telling it like it is."
John describes the mind set of his songs as "ageless" so he doesn't have to transport his mind back to the 1990s era when performing.
But he admittedly gets deep and philosophical when he talks about how the songs speak from the heart – and he believes that's what makes songs great if they hit home no matter who is singing them or who is listening.
"Those emotions – they don't really change their tune," he said.
"You don't forget your dreams ever. You don't forget the way you feel deep inside. You might hide from it but deep deep down in your heart of hearts you know what it is you feel.
"Life doesn't stop just because you change your tune or move out of one era of your life. These things never change. From the day that we recognise it to the day that we die, we'll be holding those dreams and holding those values aloft whatever they are."
John acknowledges some of his songs have "wistful tinges" or "bittersweet messages". Others are uplifting and inspiring.
But he says people "have a laugh" at Cast concerts and feel "lifted emotionally" by the songs. Some will be poignant, some will be revolutionary. However, people will fundamentally enjoy themselves because "that's what it's all about."
John is "writing all the time" and working on a new album now for next year.
He talks about how he "still feels excited" and "still feels like he's just closing in on something that's just around the corner" through the creative process.
"I'm still on a mission to find out what it is I want to say and being able to express it," he said.
But at 50-years- old now, he admits he  doesn't "really listen to the youth" and doesn't feel the need to "keep his finger to the pulse".
"The reality is that I don't have time," he laughed. "I get up, pick up my guitar – and before I know it I've got to pick my kid up from school!
"Three hours have gone and I've been trying to write a song or finish a song and I've gone off on a tangent.
"Everytime I try to finish one I end up writing a bloody new one! So I've got all these unfinished songs! Like everybody else, there are not enough hours in the day!"
John is not afraid to admit that he's always been a "left wing socialist" in his political outlook and always will be.
He can't stand what he describes as the "selfish capitalist greedy lying government" of our time.
He also "can't stand nationalism".
And yet he admits he was "kind of pro-Scottish independence if they wanted it".
"I can't stand being governed by the Tories, "he said. "They have got nothing in common with me anyway.
"I like Britain because it's an island. The one thing we do have in common is the coast, the shore.
"Whatever we do we are bound to each other. We've got a great culture between us all as well.
"But politically wise, everyone knows I'm a socialist and I can't wait for Jeremy Corbyn to get in power.
"The centre ground has moved so far to the right that Corbyn is not radical – he's just giving an alternative viewpoint which we've been crying out for, because the centre ground is actually right wing.
"Corbyn being far left is actually just being slightly left of the centre ground!
"I don't want to go into a big rant – but I can't stand Brexit and all that – all the lies that they tell. It's just ridiculous.
"I don't like nationalism and xenophobia. I just see the world as something that we've all got in common. Not little countries with principalities going back 150 years."
There's no doubt that John is a man of the world.
But even away from the football, he's also a proud Liverpudlian who's still influenced by his Mersey roots.
"You've got to understand when your environment shapes a lot of how you view the world," he said.
"As a child Liverpool was a massively important place because it was the most important place on the planet – it's where I grew up – I'm sure other people would have the same to say about where they grew up!
"When I was little, the wit, the humour, the musicality, the history of the music, the docks – the fact that things came through it. Not just the tides but people, cultures.
"The history blows through the streets in songs and imagination. We were all 'in the Beatles' when we were picking up guitars and stuff like that. Bill Shankly was talking to us all and John Lennon went to my school.
"Liverpool was massive to me and still is as a city.
"But the older and more wider viewpoint I have of life, you broaden your horizons in the way you think and you realise that we have a lot in common all over the place.
"People have a lot in common if they'll only allow themselves to see that.
"What I'm saying is it's good to be proud of somewhere whilst not demeaning other areas.
" Liverpool wrote its own fairy tale – it doesn't need me to go on about it.
"I'm not a historian – I just grew up there!"
*Cast play Truth, Leven, on May 31 and Dundee Reading Rooms on June 2.
www.castband.co.uk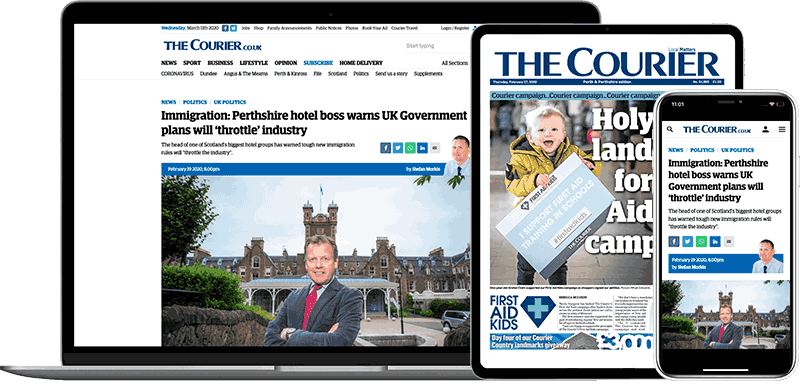 Help support quality local journalism … become a digital subscriber to The Courier
For as little as £5.99 a month you can access all of our content, including Premium articles.
Subscribe