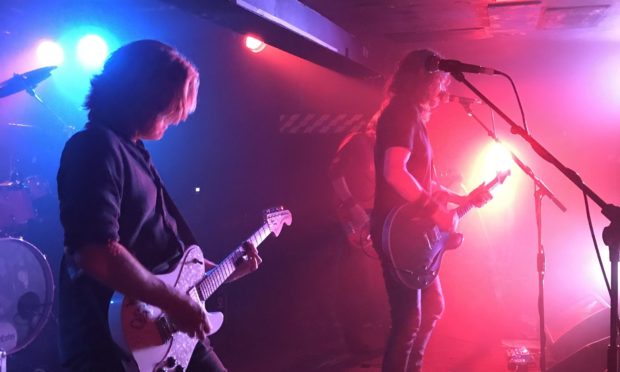 The lead singer of a globally renowned Foo Fighters tribute band says it was an "honour and a privilege" to perform in front of thousands at the opening ceremony of the WUKF World Karate Championships 2018 at Dundee Ice Arena on Friday.
Jay Apperley of the UK Foo Fighters told The Courier: "The organisers did an incredible job hosting an event of this scale, for the world of karate and the City of Dundee.
"I love that they were also big Foo Fighters fans and chose to support rock music as part of their event too. Karate & Foo Fighters…how Rock'n'Roll is that!?"
The UK Foo Fighters, who have been endorsed by the real Foo Fighters, also played in front of a smaller crowd at Dundee's Beat Generator on Saturday night.
Greatest hits performed included Monkey Wrench, Breakout and Times like These.
Jay, of Harrogate, North Yorkshire, added: "We had a great weekend in Dundee. Everyone we met was very welcoming.
"My only disappointment was not being able to visit the new V&A Dundee due to open in September this year.
"I believe the people and the City of Dundee have a very prosperous future ahead of them."
The real Foo Fighters are performing sell-out gigs across the UK this week including Manchester and London – and Jay will be amongst those watching.
But it's actually three years ago this week that the UK Foo Fighters found themselves 'standing in' for the real thing.
On June 19-20 2015, the Foo Fighters were supposed to play gigs at Wembley.
But when Foos front man Dave Grohl broke his leg in Gothenburg and was forced to cancel a number of Sonic Highways tour dates including both nights at Wembley and Murrayfield in Edinburgh, the UK Foo's tribute band came to the rescue.
"We played both nights next door in the shadows of Wembley Stadium to thousands who had travelled in from all over the world to see the Foo's and – due to demand from Murrayfield ticket purchasers – we also put on a sold out show at Edinburgh's Liquid Rooms, " recalled Jay. "We donated all proceeds to a music charity."
On another occasion, the rocker was invited on stage by Grohl to take the microphone for The Foo's hit White Limo at a secret show on the south coast of England.
"It might sound a cliché but playing on that stage with Dave Grohl did change everything in my life, added Jay.
"To this day, and even though it is a few years later, we still get tagged in by radio stations and music press via social media posts whenever Foo Fighters get mentioned in the news.
"We had articles in Classic Rock magazine, Rolling Stone, New Musical Express and Metal Hammer to name a few, and our social media accounts went crazy with thousands of new followers and amazing messages from the USA, Australia, Latvia, Italy, Russia, Vietnam, Argentina and many more."
More than 2000 athletes of all ages and abilities from around the world took part in one of the "best ever" world karate championships in Dundee at the weekend.
The event was painstakingly organised by Kanzen Karate and orchestrated by club president Roy O'Kane.
Dundee City Council administration leader John Alexander described the weekend as "exceptional" and said it showed "what Dundee can do when the right people with the right ethos have the determination to bring events of this scale to the city."
A BBC documentary about UK Foo Fighters was aired in 2017, which can still be watched via the website (www.ukfoofighters.co.uk).
And the UK Foo Fighters' 2018 aptly named 'Banging On The Ceiling Tour', a name inspired by Foo Fighters latest album 'Concrete and Gold' continues around the UK and further afield later this year.