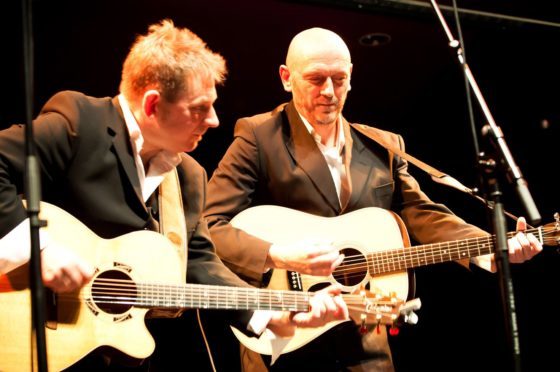 Acoustic roots outfit Jinski are at Birnam Arts tonight. Made up of Geordie duo Stephen Wegrzynski and Dave Kennedy, the twin guitar/vocalists have honed their craft across a series of British tours in recent years that've seen them both chalk up a considerable number of miles and new friendships forged wherever they've played.
Taking in folk, country and pop, Wegrzynski and Kennedy released their debut album Eventually in 1989. The belated follow-up Down Here came out 13 years later, with Jinski's most recent full-length offering Hurry Home appearing in 2007.
More recently, the Newcastle pair provided lead vocals on the London-based Northern Ireland Supporters Club's Euro 2016 song Making Our Way To Paris — a reworking of the 1976/77 Smokie hit Living Next Door To Alice — which they performed live on BBC1's One Show.
With a long-established reputation for delivering intelligent lyrics with a cutting edge — to go with their passionate and melodic delivery — Jinski have secured notable support slots alongside the likes of Joe Jackson, Eliza Carthy, The Proclaimers, Lindisfarne and West Midlands songstress Kathryn Tickell.
Admission's £12 tonight, with Birnam Arts offering £10 tickets to anyone who's over 60, disabled, a student or unwaged, while under-26s are just £5. Look up the venue's website or call 01350 727674 to book.
*** A bona fide counterculture icon is playing in Kinross on Thursday.
New York native Barry Melton co-founded San Francisco acid rockers Country Joe and The Fish — who played both the Monterey Pop Festival and Woodstock — with Country Joe McDonald, and is regarded as one of the all-time great psychedelic blues guitarists.
Nowadays 71-year-old Melton — who's 'The Fish' part of the hippy legends' name — tours with the all-star Aguilar Blumenfeld Project, where he's joined by fellow guitarist David Aguilar, drummer Roy Blumenfeld and bassist Steve Browning.
Aguilar's played with the likes of Bo Diddley, Bonnie Raitt, John Lee Hooker and Jackson Browne, while Blumenfeld was a founder member of '60s outfit The Blues Project, along with songwriting legend Al Kooper. He later formed Seatrain and San Francisco Nights — made up of original members of the Steve Miller Band, Big Brother and The Holding Company and Country Joe and The Fish.
Bass player Browning has featured with The Pretty Things, Ronnie Spector and Pink Floyd legend David Gilmour. Tickets for Thursday's Green Hotel gig, which starts at 8pm, are £20 from www.mundellmusic.com
*** Canadian hardcore punks No Problem are this week's big draw at Conroy's Basement.
Influenced by their countrymen DOA, The Viletones and SNFU as well as old school American punk stalwarts The Germs, Dead Kennedys, The Adolescents and Toxic Reasons, the four-piece are renowned for their heavy riffs and bleak melodies.
Hailing from Edmonton, Alberta, No Problem's critically-acclaimed debut album And Now This appeared in 2011. It was followed by 2014's Already Dead, with third album Let God Sort 'Em Out appearing earlier this year. They've also released five seven-inch EPs that've helped cement their place among the leading hardcore bands of recent years.
With well over 500 shows behind them across North American, Mexico, China and Europe, there's sure to be big demand for their Meadowside gig on Sunday. Supporting No Problem at the Make-That-A-Take Records show will be two of Scotland's most promising guitar-shredding outfits, namely melodic hardcore quartet Get It Together and two-piece anarcho punk rioteers Bratakus. Doors open at 7pm, with tickets £5/£6 via Make-That-A-Take Records.
*** One of the UK's longest-established Bryan Ferry tributes play a double-header at the Green Hotel this weekend.
Roxy Magic recreate every phase of the Geordie legend's epic career, from his early futurist collaborations with Brian Eno through the classic art rock years to the later adult-oriented solo offerings.
The Birmingham six-piece are led by Bryan look-and-soundalike Kevin Hackett and have been around since 2002. Tickets for their Kinross shows tonight and tomorrow cost £21.50 via www.mundellmusic.com
*** Canadian homage outfit Bon Jovi Forever play Beat Generator Live! tomorrow. Tickets £10, plus fee, from Grouchos and Tickets Scotland.
*** Dundee-based Celtic rockers Graham Brown Band are headlining at Church tomorrow. It's a free show, with tickets at www.eventbrite.co.uk
*** Number 57 has a teatime session featuring covers four-piece Headroom tomorrow, with classic rockers Junkyard Dogs on Sunday from 7pm.
*** Pub regulars Cherry Bombz are at Powrie Bar tonight, The Bank in Anstruther tomorrow and The Kettledrum on Sunday.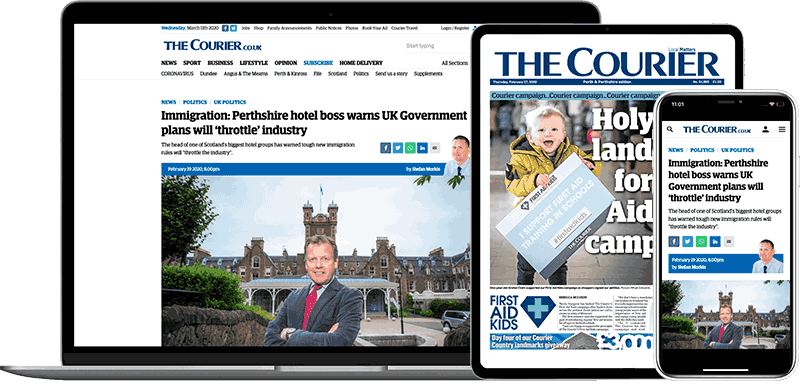 Help support quality local journalism … become a digital subscriber to The Courier
For as little as £5.99 a month you can access all of our content, including Premium articles.
Subscribe