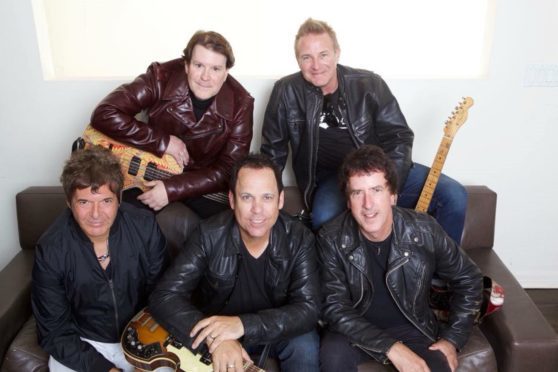 California rockers The Tearaways are on their way to Fife next week.
Theirs may not be a name that many readers are familiar with, but the Santa Monica outfit can count Blondie legend Clem Burke among their number. The Rock and Roll Hall of Fame drummer has been touring as a member of the five-piece for the past three years, in time off from his duties with Debbie Harry, Chris Stein and the rest of his longtime New York cohorts.
Originally formed in 1981, The Tearaways have released a string of albums in recent years and built up a celebrity-based following that includes the likes of Tom Hanks and Piers Morgan.
Anthems And Lullabies, their fifth full-length offering since 2014, appeared earlier this year and featured guest appearances from Burke, John Mellencamp's sticksman Kenny Aronoff and violinist Ada Pasternak.
Combining the influence of classic British '60s bands such as The Kinks and The Hollies with shades of Badfinger, Creedence Clearwater Revival, Jefferson Airplane and The Clash, they're known for delivering high energy performances.
Tickets for the gig at PJ Molloys in Dunfermline on Tuesday are £20 from www.ticketweb.uk
*** A host of leading bands are playing a festival at historic grounds south of the Kingdom this weekend.
This is the fifth year Party at the Palace has been staged at Linlithgow Palace and it's fair to say the line-up for the two-day event's up there with previous editions.
Manchester legends James are headlining the opening day tomorrow, when they'll be playing tracks from their newly released album Living In Extraordinary Times — their 15th studio LP — alongside a host of classic hits including the likes of Come Home, Sit Down and She's A Star.
Liverpool's Britpop survivors Cast — who performed at Dundee's Reading Rooms in June — are among the impressive list of other bands on the bill.
The Finetime and Alright hit-makers are being joined on the event's main stage by soul star Gabrielle, Scottish festival favourites Colonel Mustard and The Dijon 5, tribute kings The Complete Stone Roses, Glasgow singer-songwriter Carly Connor and north-east acoustic rockers Gordon James and The Power, with ex-Spice Girl Mel C taking to the decks for a DJ set.
There's also a diverse range of breaking talents playing smaller stages tomorrow, including Vida, Wild Front, Stephanie Cheape, Pyro, Splendid Suns and Calum Frame.
Sunday at the family-oriented extravaganza has a headlining set from the evergreen — and ever-popular — Texas, with Irish rockabilly chanteuse Imelda May also set to be a major draw for Party at the Palace.
On top of that, West Yorkshire brothers Danny and Richard McNamara are leading Embrace north for the non-camping event, while Joy Division and New Order bass legend Peter Hook will take on lead vocal duties with his latest band The Light, fresh from a show-stealing performance at last month's Rewind Scotland at Scone Palace.
Scottish indie pop veterans The Bluebells, soundalikes The Prince Experience and funk/rock hybrid Dopesickfly complete Sunday's main stage line-up, with the likes of fast-rising Falkirk noiseniks The Nickajack Men, Retro Video Club, Be Like Pablo and Black Dove appearing on the fest's Breakthrough Stage.
Adult weekend tickets are £90 (children £40) via www.partyatthepalace.co.uk, with Sunday day tickets also still available.
*** Alt-folk Scottish singer-songwriter Kathryn Joseph will be performing work from her new album at Broughty Ferry's Assai Records tomorrow.
Kathryn's debut offering, 2015's Bones You Have Thrown Me, And Blood I've Spilled, won the Scottish Album of the Year Award and her long-awaited follow-up From When I Wake The Want Is finally hits the shops today.
The Inverness-born songstress will be appearing at Assai with collaborator Marcus Mackay from 4pm.
*** Glasgow-based pop-punk outfit Northern Nightlights head up a live session at Conroy's Basement tonight.
The fast-rising five-piece will be supported by progressive noiseniks Spoke Too Soon, Arbroath trio After Party and Dundee bands Waxwork Monologue and Mara. Admission's £6.
*** It's a night of arena rock that's in prospect at Kirkcaldy's Adam Smith Theatre tomorrow when Wrong Jovi come calling. Tickets to see the English outfit, who're regarded as one of the leading Bon Jovi tribute bands, are £16 from www.onfife.com
*** Seventies rock exponents Tivvy are at Number 57 tomorrow from 5.30pm, with Junkyard Dogs playing on Sunday from 7pm.
*** Guitar-based duo Hot Tin Roof are at the Adam Smith Theatre tonight. Tickets are £5 via www.onfife.com
*** Covers outfit Cherry Bombz play McDaniels tonight, Glens Bar tomorrow and The Tavern on Sunday from 6.30pm.