American singer-songwriter Kim Richey is a traveller.
She has lived in many different places.
So it seems apt that when being interviewed about her forthcoming gig in Fife, the Ohio-born Grammy-nominated country singer is exploring somewhere else – on this occasion walking at Dover Castle.
Kim's headline performance at the Woodside Hotel, Aberdour, on November 10 won't be her first trip to Fife.
She's played at the Polish Club in Kirkcaldy a couple of times, and played at Aberdour in May.
However, coming as it does at the end of her tour, she hopes to have the opportunity to explore a bit more of Scotland – possibly visiting friends in Glasgow and Kirkcaldy thereafter.
"I'm doing a duo show with (fellow country star) Ben Glover," she said.
"Ben has a new record out now called Shorebound and so we are going to join together and play songs from our new records and some of the old kind of favourites too.
"I'll be singing a lot of harmony on Ben's material as well as performing my own material.
"We will also tell some stories and there will be a little bit of everything.
"Aberdour is the grand finale of our tour so we should be well practiced by the time we get there."
In 1988, Kim was persuaded to move to Nashville by Bill Lloyd and Bradney Foster of Foster and Lloyd country duo fame.
However, when it comes to her own roots, her family tree is slightly more unknown.
"I was told years ago I was 'Dutch Welsh French and Irish', so any time anyone asked me I'd repeat that," she said.
"Then I said it one time in front of my mum and she said 'where in the world did you ever get that'? "So I have no idea.
"And then I found out recently that my great grandfather on my mum's side was adopted and they don't have any records or anything of where he came from. So we don't even have that family name going that far back. So I have no idea. I'd love to know."
Kim describes the current political situation in the USA as "pretty dismal".
"It's awful to be honest," she said. "It's embarrassing. There are so many things that are wrong."
However, she reserves comment when it comes to Brexit shambles in the UK.
She added: "I don't know if I'm really allowed to have an opinion because I don't live here.
"I don't really know that I should be telling people who live here what they should and shouldn't do really."
And Scottish independence? "Most of my friends in Scotland think it should go its own way," she said.
"And as for the Irish border – holey moley!"
*Ben Glover and Kim Richey, Woodside Hotel, Aberdour, November 10
www.kimrichey.com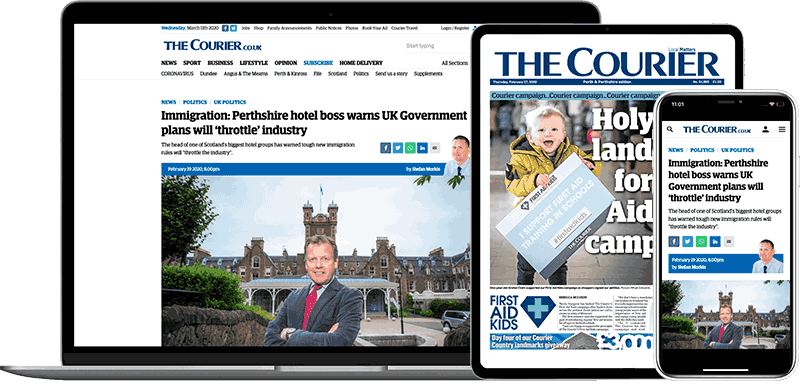 Help support quality local journalism … become a digital subscriber to The Courier
For as little as £5.99 a month you can access all of our content, including Premium articles.
Subscribe