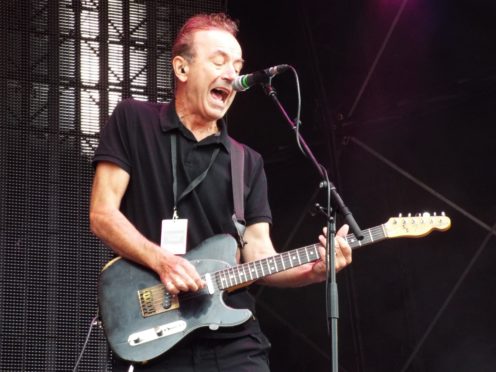 Stranglers legend Hugh Cornwell returns to Courier Country on Thursday.
The veteran songsmith will be playing tracks from his solo career and reworking favourites from his old band at Beat Generator Live.
Hugh's latest album Monster gave him only his second chart entry since 1988 last month and he reckons it's one of his best. "The songs are coming easier and easier as I get older," he tells RockTalk.
"In the old days we used to write a lot of stuff and the ones we weren't so happy with would end up on the B-sides of singles. These days I don't have any leftover dross. If I get a feeling that something's not good enough I don't even finish it now.
"My quality control's gone up because there's no time to waste. I only finish the ones that are up to standard."
Hugh, 69, penned 10 songs about "some of the 20th Century's most infamous characters" for Monster — his ninth solo studio album — which comprises a series of finessed demos he feels are closest to his original vision and inspiration.
His subjects include Lou Reed, Mose Allison, dictators Mussolini and Robert Mugabe, stunt biker Evel Knievel and screen stars Hedy Lamarr and Phil Silvers. "These people's lives were so rich you couldn't make it up," says Hugh, who quit The Stranglers in 1990 after 16 years.
"I was interested in them all so I was voracious in my appetite to read about them. I didn't want somebody coming out of the woodwork to say I'd got something wrong. I wanted to make sure I got my facts right.
"The song with Lou is about my thwarted attempt to meet him in New York. We had mutual friends and were all due to meet up, then we both got terrible flu at the same time and he had to cancel some dates because of it, it was so bad.
"Evel Knievel was the most famous man in the world, he was more popular than The Beatles at one stage. He was larger than life."
The album's major bonus is a second disc with new acoustic versions of Stranglers classics including Goodbye Toulouse, No More Heroes and Always The Sun. "It's quite dark," adds Hugh.
"It was great fun to do, but I wouldn't want to go in and re-record songs. What's the point of that? That's rather like Alfred Hitchcock making the same film twice.
"This was the record company's idea, not mine, but it appealed to me because I'd never done it before, and for the first time on tour I'm separating the Stranglers songs and my own catalogue into separate sets.
"After a little break we come back on and do foie gras Stranglers. We force the old catalogue down their throats until they can't take any more, rather like the geese in France queueing up to get stuffed."
Tickets are £22 from Grouchos in Dundee or tickets-scotland.com.
*** A nu-prog outfit and Fife soulsters play the Green Hotel this weekend.
English outfit Lifesigns, who're in Kinross tonight, have worked with Focus mainman Thijs Van Leer, guitar legend Steve Hackett and ex-Kajagoogoo bassmeister Nick Beggs. Tickets are £26.75 via ticketweb.uk.
Nine-piece collective Lights Out By Nine perform their Redding/Pickett-influenced material tomorrow, with tickets £13.10.
*** American bluesmen Alvin Youngblood Hart and Otis Taylor check in to Dundee's Gardyne Theatre on Wednesday.
The Delta-inspired electric troubadours — who hail from Memphis and Colorado — are renowned for their spontaneous stylings. Hart, 55, landed a Grammy in 2005 for his work on Stephen Foster tribute album Beautiful Dreamer, while outspoken Taylor, 70, has released 15 albums since 1997, including last year's Fantasizing About Being Black.
Tickets £20 via ticketsource.co.uk.
*** Uncompromising firebrand Thee Rag N Bone Man hits Conroy's Basement tonight.
A feedback-drenched trash blues holocaust's in prospect from the slide guitar and harmonica noisenik, whose third Petrol Bomb Records album dropped last year. Fiver admission also includes VFLambda, The Bucky Rage and Neon MGM.
*** Blues rocker Carvin Jones is set to whip up a storm in Kinross next Friday.
After starting out in the early-90s, the Arizona-based whirlwind was voted onto Guitarist Magazine's all-time list in 2001 as tribute to his Hendrix-like offerings. The King of the Strings' Green Hotel gig's the only Scottish stop on his latest UK tour. Tickets £21.50 via Ticketweb.
*** Teenage bands have a Dundee platform on Thursday. Glasgow jangle-popsters Plastic Youth, Dundee five-piece Ruvellas and Edinburgh-based Spyyn are on a Church bill devised by youth music project Hit The Road, which helped launch Be Charlotte, Model Aeroplanes and Lewis Capaldi. Tickets £3.73 via eventbrite.com.
*** Perthshire talents The Carloways and Gordy Duncan Jnr play a free March Into Pitlochry preview at McKays Hotel tomorrow (8pm).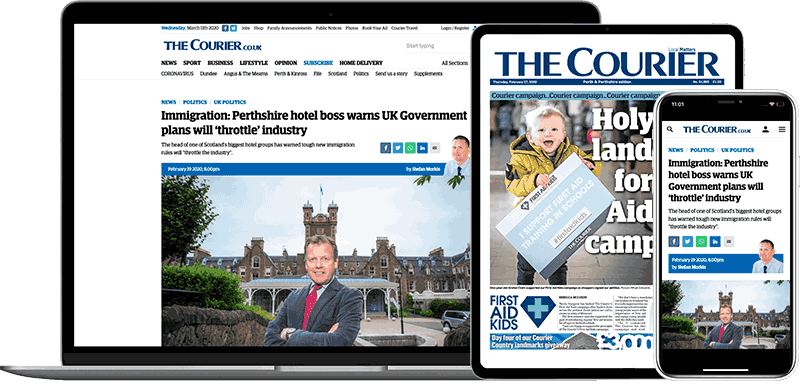 Help support quality local journalism … become a digital subscriber to The Courier
For as little as £5.99 a month you can access all of our content, including Premium articles.
Subscribe