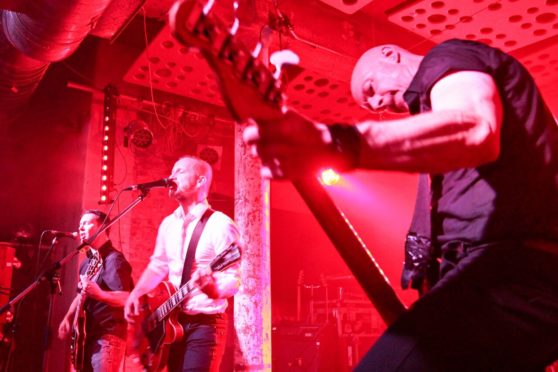 Reformed Scottish rockers Baby Chaos are the big draw at this year's Book Yer Ane Fest.
Reformed Scottish rockers Baby Chaos are the big draw at this year's Book Yer Ane Fest.
The Glasgow five-piece play their first Dundee gig since tearing up Fat Sam's in the mid-90s as part of the three-day punk and alternative extravaganza starting next Friday, November 30, at Abertay Student Centre.
Formed in 1993, Baby Chaos' albums Safe Sex, Designer Drugs & The Death Of Rock 'N' Roll (1994) and Love Your Self Abuse (1996) attracted plaudits from critics and rock fans alike. After morphing into Deckard in the late-'90s, the band went their separate ways until Wildhearts frontman Ginger persuaded them to play live in 2010.
That sparked a revival that led to 2015's Skulls, Skulls, Skulls, Show Me The Glory album, with its follow-up primed for the new year. "We're all grown up now and just living our lives," explains frontman Chris Gordon when asked about the gap between the records.
"I still do all my work inside music but not just focused on the band. I do a lot of producing and writing for other people. I've got kids and the other guys have got jobs and kids so just finding the downtime to get the album done's the tricky thing.
"We intended to have it out before the end of the year but it's no big deal. It'll be nice to have a bunch of new songs to play live. We're nearly there now."
Including all four original members, Baby Chaos' potent sound is generated by Chris and fellow guitarists Grant McFarlane and Alan Easton, plus bassist Bobby Dunn and drummer Davy Greenwood.
The singer says they're happy to be looking forward after sorting unfinished business. "In the '90s even to get a record deal was such a massive thing," explains Chris, 47.
"After we got let down by our label we got picked up by another American label to put an album out and that went t*** up, then we got picked up again but decided to change the name. So there was good luck as well as the bad fortune in that we never really fulfilled the potential we had to reach a much larger audience.
"We wanted to have a bit of a nod to the past with Skulls because it was the original four guys. A lot of the songs had been lying about for years, whereas on this one the writing's happened over the last couple of years."
Chris reckons the thought of being among the elder statesmen at Book Yer Ane Fest isn't one to dwell on. "That doesn't sit well," he laughs.
"It's strange, as you start to age somewhere in your head you're still 25 or whatever, but I'll admit before we first had the idea of doing another Baby Chaos record we'd been asked to reform to do a one-off gig and we were hesitant.
"Then we got in rehearsals and they went okay. We played the gig and it felt still quite vital and visceral and thought there might yet be some mileage in it. It didn't feel like old men kidding themselves on. It was Ginger who asked us to do that concert and he's done a lot for us through the years so we couldn't really refuse."
The new album's title Ape Confronts Cosmos was inspired by atheist American author and critic Sam Harris. "I listen to his podcast quite a lot and it was just a response to something someone had said and I immediately liked it," explains Chris.
"I was sure it must have been a title someone else had used or a phrase someone had picked up on but I couldn't find any other evidence of it. To me it conjures that image of just looking up at the night sky and going, 'Holy f***, why are we here?'. It's also about us as evolved apes trying to understand what's going on in the universe.
"It kind of sums up the album, especially on the tracks where I was a little looser in letting the lyrics flow out and not being tight with my sense of meaning. If it felt good I'd let it be and not feel I had to explain every last syllable."
Weekend tickets £30 from Grouchos in Dundee and Make-That-A-Take Records.
*** Scottish songwriting legend Benny Gallagher steps out solo in Kinross tonight, Friday November 23.
One half of '70s hit-makers Gallagher and Lyle, the 73-year-old enjoys playing regularly across the UK despite having settled into semi-retirement in rural West Midlands. The Ayrshire duo were hired by The Beatles' Apple Records in 1968 and wrote for folk star Mary Hopkin before finding fame when their album Breakaway charted for 35 weeks in 1976.
Benny and Graham Lyle — whose songs have been covered by the likes of Bryan Ferry, Simon & Garfunkel and Rita Coolidge — reunited in 2012 for their first tour in 34 years and also staged four sold-out Kinross gigs in 2016. Green Hotel tickets £21.50 via ticketweb.co.uk.
*** Top tribute band The Phonics are at PJ Molloys tonight, with Oasis homage Stop The Clocks at the Dunfermline venue tomorrow. Tickets for each show are £11.25, with discounted weekend passes at Ticketweb.
*** Edinburgh-based dark electro exponent Krow is joined by Inverness groove/thrash outfit Kryora and locals Houdini Said No for a free gig at Conroy's Basement tomorrow.
*** Czech hit-maker Thom Artway plays Clarks On Lindsay Street on Wednesday. Signed to Warner Music, Thom's one of the most respected young musicians in his homeland. Tickets £6 from ticketmaster.co.uk.
*** It's The DBs and Chain Gang live at Number 57 this weekend.
*** Covers combo Cherry Bombz play McDaniels (tonight), Boars Rock (tomorrow) and Montrose's Neptune Bar (Sunday).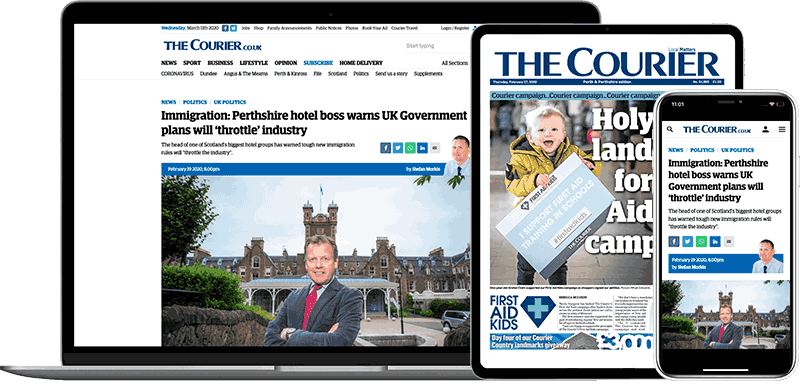 Help support quality local journalism … become a digital subscriber to The Courier
For as little as £5.99 a month you can access all of our content, including Premium articles.
Subscribe