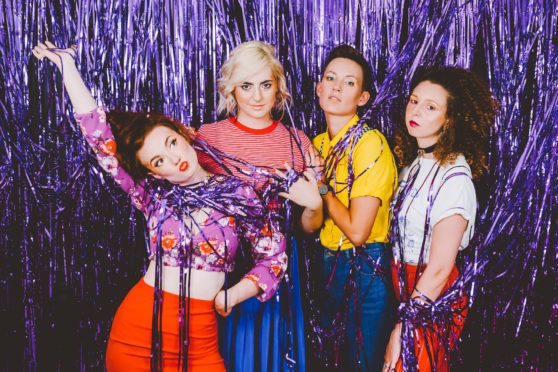 A phenomenal line-up featuring some of the best contemporary punk bands around hits Dundee tonight.
Make-That-A-Take Records' annual Book Yer Ane Fest returns for its 11th edition at its latest home at Abertay Student Centre, where the action continues right through to Sunday night.
Running until 2.30am tonight and tomorrow, the fest's opening show's headlined by Chicago-based noiseniks Canadian Rifle, who're joined on the bill by Dead Or American — playing their first Dundee show in over a decade — plus cowpunk outfits Uniforms and The Overbites, electro exponents The Twistettes, Welsh gravel punks Question The Mark, indie metal favourites Paper Rifles and Houdini Said No and instrumental post-rockers The Blood Red Moon.
Additionally, Conroy's Basement has a late session from midnight featuring surprise guests, with little time to recover before the uni venue flings its doors open again tomorrow at noon.
The monster Saturday line-up features Irish troubadours Chewing On Tinfoil, an exclusive performance from Americana legend Austin Lucas, Danish visitors Forever Unclean, a farewell from Revenge Of The Psychotronic Man, Highland rioteers Bratakus, positive-hardcore crews Get It Together and Avas, no-nonsense London noiseniks The Burnt Tapes and Meran Caesar, oary stompers The Cundeez, veteran Glasgow alt-rockers Baby Chaos, Crazy Arm frontman Warshy, new MTAT signings Queequeg's Coffin, melodic Fifers Fragile, misery champs Goodbye Blue Monday, ecossemo scenesters Please, Believe, radical skate fiends The Affect Heuristic, Dundee neo goth-folkster Nicola Madill, acoustic soulsters Holy Snakes, pop-punks Bike Notes, anarcho newcomer Rebecca Radical, Deep South road trooper Tim Holehouse and lo-fi romantics Lovers Turn To Monsters.
Local riff kings Kaddish and grinders Boak play tomorrow's late gig at Conroy's, before another lunchtime start at Abertay on Sunday.
The closing day line-up boasts Celtic legends Roughneck Riot, feminist punk queertet Dream Nails, world music warrior Babar Luck, brain manglers Fair Do's, MTAT chief Deeker Johnston's Tragical History Tour Band, ecossemo monoliths Stonethrower, anarcho riot grrrls Fistymuffs, Scots moshers Divide, Derry radicals Cherym, trip-hop bluesters Cairngorms Young Team, folky firebrands Tim Loud, Billy Liar and Lou McLean, rebel metalheads Fights And Fires and Lost Avenue, experimental soundscapers Seas, Starry and Draws Creature Mask, hardcore favourites Iron System and Bed Of Wasps, indie kids Delinquents, grindcore gang Gay Panic Defence, metal satanists Volcano X, sci-fi fans Haystack Monolith and acoustic songsmith AJ Simmonds.
Showing its progressive credentials, Book Yer Ane Fest's raising funds for Dundee's foodbank, refugee support service and Addaction branch, plus Royal Life Saving Society and Young Minds UK.
Admission tonight's £10 or £6 for unwaged, with a chance to make a £5 donation to the causes. Tomorrow and Sunday it's £15 or £10, with solidarity tickets £20.
*** Blues rocker Ben Poole's at the Green Hotel tomorrow.
The soulful guitar maestro's touring his latest album Anytime You Need Me, the hard-hitting follow-up to 2016's Time Has Come. Ben's live band includes his producer Wayne Proctor on drums, with Yardbirds great Jeff Beck among their admirers.
Tickets for Kinross £19.40 via ticketweb.uk.
*** Rising talents The Van T's play Dunfermline's PJ Molloys tonight. The Fresh Meat songsmiths are being supported by Perth garage punks Brainglue, with tickets £9 via Ticketweb.
*** Beat Generator Live has tribute kings Maiden Scotland tomorrow.
Formed in 2003, the Glasgow outfit's one of Europe's most successful Iron Maiden homages and the occasional backing band for the London legends' original singer Paul Dianno.
Featuring Martin Jakubski's awesome vocals, their set features classics such as Run To The Hills, The Trooper and Aces High, plus numbers their heroes rarely play nowadays. Tickets £11.50 from Grouchos in Dundee and tickets-scotland.com.
*** Scots folk star Emily Smith performs a festive-themed set at Perth Theatre on Monday. Tickets £17.50/£15.50 via horsecross.co.uk.
*** Hot tips October Drift are at Beat Generator on Monday. The Somerset guitar four-piece have generated a serious industry buzz since forming in 2015, with their supporters including 6 Music's Steve Lamacq and Radio X's John Kennedy. Tickets £7 from Grouchos and seetickets.com.
*** Kicking boogie band Vincent Flatts Easily Led make a Kinross debut next Friday. Led by Brummie vocalist Steve Burton, the four-piece are touring in between recording a new album due in spring. Green Hotel tickets are £19.40 via Ticketweb.
*** Classic covers outfits Miami Vince (tomorrow) and Jive Candy (Sunday) play Number 57.
*** Cherry Bombz rock Shotz (tonight), Rewind (tomorrow) and Harlequins (Sunday) ahead of joining Sex Pistols Experience at Beat Generator next Saturday.