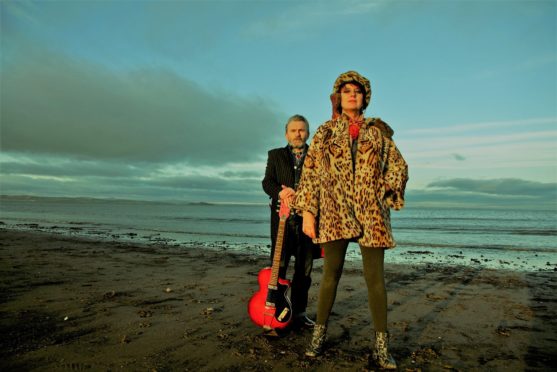 Dunfermline-born punk legend Fay Fife is set to unveil her latest musical project tomorrow night.
The Rezillos frontwoman has teamed up with guitarist Allan Mcdowall to form the duo Countess Of Fife, who'll be supporting former Goodbye Mr Mackenzie stalwarts The Filthy Tongues at Edinburgh's Liquid Rooms.
Described as an unholy mix of country, punk, soul and gospel — "insurgent country" — Countess Of Fife take a flexible approach to live performances and music-making in general, with a host of collaborators never far away.
There should be plenty of opportunity to try out a few ideas at tomorrow's gig, with Fay and Allan being joined on an impressive bill by Edinburgh glam five-piece Trama Dolls and Russian rock 'n' roll painter Maria Rud, along with headliners The Filthy Tongues — who feature ex-Mackenzies band mates Martin Metcalfe, Fin Wilson and Derek Kelly — and guest SCO cellist Su-a Lee.
Tickets £15.25 at seetickets.com.
*** A special night's in store at Clarks On Lindsay Street on Sunday for this year's The Bard Is Well.
The annual celebration of late Dundee songsmith Michael Marra's musical legacy is a 180-capacity sell-out, with all proceeds going to the Optimistic Sound charity his family set up in 2013 to help launch Sistema Scotland's Big Noise Orchestra for kids in Dundee's Douglas district.
A bumper line-up of local musicians and surprise guests will perform Michael's 1985 album Gaels Blue and a selection of other classics. "It was the first album Michael made when he came back from London after parting with his record company and he wanted to do something really Scottish," says the Lochee legend's daughter Alice Marra, who's playing at Clarks.
"It meant a lot to him and for a lot of people it's their favourite record. It's really well recorded and it's nice to put a bit of a spotlight on that. Hopefully we'll be able to do it with other albums as well as time goes by.
"My husband Colin Reid's playing and he does a song from Gaels Blue in quite a different way. It's great to hear these new takes on some of these old songs."
The Hazey Janes guitarist says she hopes to expand the themed show next year, further boosting her home city's budding young musicians. "I volunteer with their after-school club once a week because it's really nice to get in there and see what the kids're doing," adds Alice.
"It's unbelievable the opportunities they're getting — they were on stage last Wednesday night with Nicola Benedetti. It's been a huge success but we're always looking for ways to fundraise so this night's really important to them."
Limited edition Michael Marra lyric T-shirts designed by Michael's bassist son Matthew will be on sale on Sunday night in aid of Optimistic Sound.
*** Make-That-A-Take Records are presenting an alternative Hogmanay party at Conroy's Basement on Monday.
The emossemo-themed event will feature a headline set from angular punks Please, Believe, who're using the gig to launch their debut album In Potential. It's a value-for-money bill, with acoustic cowpunk troubadour Tragical History Tour — aka MTAT chief Deeker Johnston — also taking part in what'll be his 110th gig of 2018.
Others lined up for the Meadowside noisefest are electro-clash/soul/goth/punk mash-up Queequeg's Coffin — whose debut EP is due to be released on the MTAT imprint in early 2019 — and lo-fi post-hardcore rockers Buffalo Heart. Advance tickets £5/£6 or £8 on the night.
*** Post-punk legends The Skids play Dundee's Church tonight (tickets £29.81 at ticketweb.uk), before a sold-out hometown show with Big Country at PJ Molloys in Dunfermline tomorrow.
*** Beat Generator Live concludes a busy year of gigs on Sunday with a turn from the Sensational David Bowie Tribute Band. Doors open 8pm, with tickets £5 from the venue or Grouchos in Dundee.
*** Classic rock trio Sin City Blues are bringing 2019 in at Church on Monday. Tickets £5, including a buffet, from the venue or Grouchos.
*** Clarks has lined up a Hogmanay hoolie with '70s and '80s-influenced popsters Miami Vince. Monday's bash starts at 8pm — tickets £10 at the bar.
*** Covers regulars Cherry Bombz play Clarks tonight, Fintry's Powrie Bar (tomorrow) and Anstruther's Bank (Sunday).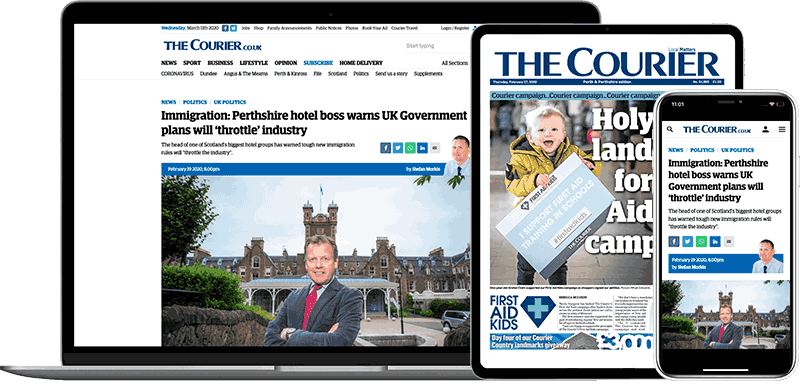 Help support quality local journalism … become a digital subscriber to The Courier
For as little as £5.99 a month you can access all of our content, including Premium articles.
Subscribe