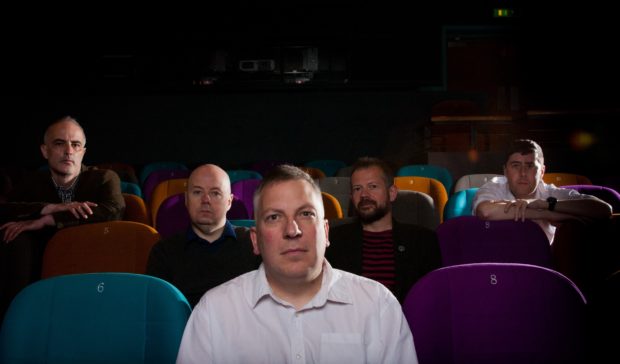 Spare Snare return to play Dundee, the first time after the release of their Steve Albini produced album 'Sounds' released on their own Chute Records last year.
The lo-fi band haven't played their hometown for almost two years and are looking forward to showing off tunes from their 12 album catalogue.
Spare Snare then head off down south to play Liverpool, Cardiff and the Rockaway Beach Festival on the South Coast, with headliners Gary Numan and Echo & The Bunnymen.
Bellshill's De Rosa have released two critically acclaimed albums ('Mend' and 'Prevention') on Chemikal Underground and a third, 'Weem', for Mogwai's Rock Action Records in 2016.
The band is currently working on a fourth long player and fans attending Beat Generator can expect to hear some of the new songs.
Broken Chanter is the solo alter-ego of Kid Canaveral's David Macgregor.
He has recorded an album with former members of Sparrow & the Workshop, Hector Bizerk and Over The Wall, due in 2019, and will preview songs from the record at the Broken Chanter Dundee debut show.
Describing De Rosa and Broken Chanter as "great" having played with both in Glasgow a few weeks ago, Spare Snare front man Jan Burnett said it was a fine way to start the new year after a "strange and busy" 2018.
"It's been a strange and busy year," he said, "initially gearing up to do the Engineers' Workshop and recording with Albini.
"I like to work fast, so straight after the recording I got the album mastered and cut by one of the world's top cutting engineers, Pete Norman.
"It's then the organising and planning of the release and what availability the band have to play some live shows as we all have day jobs.
"This led to a sold out show in Edinburgh and Glasgow as well as being offered to play some dates in England, which we do in January."
Jan said Spare Snare had appeared on a few 'Best of the year' type lists which he described as "lovely and great" – especially when it's not actually shops or people they know.
In terms of the album reaching a new audience, he said that appears to have worked.
"It's been a great year for meeting new, like minded folk, being able to get guest musicians in on the record and live shows and radio sessions has been a treat too," he said.
"We always keep on keeping on, but this record has perhaps given us a little impetus and confidence to try something a little different for the next record, which we are currently cooking up.
"Here's hoping it comes together and we can show it off later in 2019."
*Spare Snare/De Rosa (with Broken Chanter), Beat Generator, Dundee, January 5
www.beatgenerator.co.uk