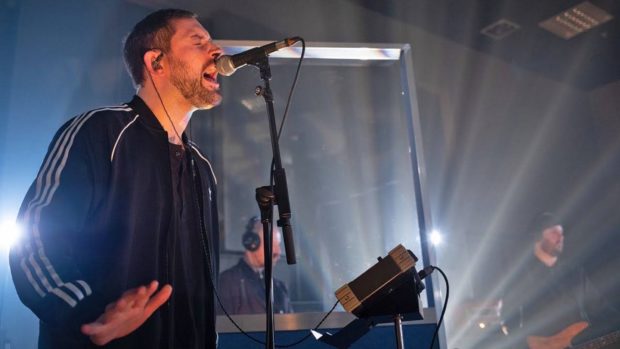 Scottish shoegazers The Twilight Sad are set to play tracks from their new album in Dundee this month.
The Kilsyth five-piece's fifth studio set It Won/t Be Like This All The Time – their first offering since signing to Mogwai's Rock Action label – hits the shops today and they're playing a series of small shows to support its release.
James Graham and his cohorts kicked off the seven-date sojourn at Glasgow's Monorail record shop last night and head south next week for further stripped-back acoustic shows before returning to Scotland for sold-out appearances at Edinburgh's Usher Hall and Dundee's Clarks On Lindsay Street on January 29 and 30 respectively.
Fans who haven't yet had a chance to check out Twilight Sad's new album can look forward to discovering out how Cure legend Robert Smith has helped develop the band's sound. "We were very lucky, from the beginning of starting this record we were sending Robert demos," says frontman James, 34.
"He said he'd like to help and gave us advice all the way through. I sent him all the lyrics but he didn't want to say anything apart from that they were good. He said, 'They are how you're feeling'.
"Musically, he was great. When we sent him the demos he rated the songs out of 10 then gave advice on how they could be better."
Boasting a host of '80s electro / goth influences, the 11 songs on Won/t Be Like This started taking shape during Twilight Sad's touring exploits supporting The Cure, before being honed into demos by their London-based guitarist Andy MacFarlane.
They rehearsed the new material after upping sticks to a remote location on Loch Fyne and subsequently laid the tracks down at Devon's Middle Farm Studios with their long-serving live engineer Andy Bush. "It's a dark record but I think there are some uplifting moments to be had too," James adds.
"There are so many extremes here – there are moments that are harsh, then others that are quite melodic and others that are stripped right down. This album definitely comes with the extremes of every side of the band, I think.
"There's a certain direct openness and candour now but at the same time I want to keep some mystery. We don't like to throw things in people's faces and spell it out for them."
*** Horror punk legend Michale Graves makes his Fife gig debut on Thursday.
The former Misfits frontman is promoting his new opus Keys at PJ Molloys, where he's being supported by Italian alt-metallers Noise Pollution, Dunfermline shock troops The Manky Hoors and old school punks Crimedesk.
Drawing on sci-fi, horror and B-movies in their music and image, iconic New Jersey noiseniks The Misfits were fronted by Graves, 43, for five years. Since leaving the band in 2000, he's gone on to release a stack of solo albums.
Tickets are £15, with booking info available on Molloys' Facebook page.
*** Make-That-A-Take Records are staging a furious three-band session at Conroy's Basement on Monday.
The Meadowside gig's being headlined by Airstream Futures, who include members of Chicago punk outfits The Methadones, The Bomb and All Eyes West. It'll be Devon Carson and co's first Dundee appearance since 2017 and they'll be unleashing new material at the Conroy's tear-up.
Support on the night comes from English noiseniks Mean Caesar and ecossemo lo-fi purveyors Woolen, who comprise Gay Panic Defence and Our Smallest Adventures personnel. Admission's £6 or £5 in advance via makethatatakerecords.com.
*** There's a host of fresh talent in the spotlight at PJ Molloys this weekend.
The Dunfermline venue has a free to enter jam session tonight from 7pm-11pm featuring Stone Roses / Oasis-influenced Perth five-piece A Month Of Sundays, Auchterarder alt-rockers Heavy Duty Box Company and acoustic songsmith Chelsea MacRae, with Oskar Braves frontman David Stevens helming the lateshift from 11pm-3am.
Hometown boys Between The Lines are the main attraction tomorrow, supported by Kirsty Donaldson, Calum James and newbies The Untethered. Tickets £6.95 via www.ticketweb.uk.
*** Paul and Art tribute The Sounds Of Simon are at the Green Hotel next Saturday (Jan 26). Tickets £23.60 via Ticketweb.
*** Number 57 has Glasgow retro rockers Itchycoo Park tomorrow from 5.30pm, plus local covers exponents Tivvy on Sunday at 7pm.
*** Hard-gigging Cherry Bombz play McDaniels tonight, Arbroath's Station Bar tomorrow and Harlequins on Sunday.