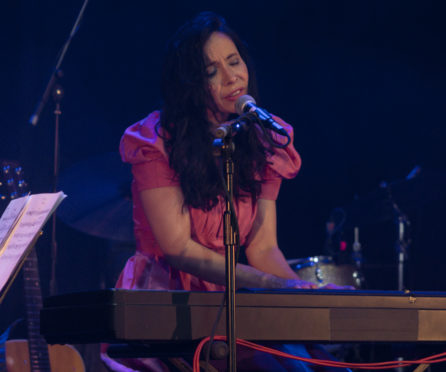 Acclaimed songwriter Nerina Pallot is Clarks On Lindsay Street's big draw next week.
The Jersey-raised balladeer has been a nominee in the female solo artist category at the BRIT Awards, while her hit single Sophia was among the contenders for the Ivor Novello Award in 2007.
Nerina, 44, set up her own indie label following the release of her 2001 Polydor debut album Dear Frustrated Superstar, and saw her sophomore effort Fires reach 21 on the UK album charts in 2006, with accompanying singles Everybody's Gone To War and Sophia both enjoying commercial success.
Her next three self-penned albums — 2009's The Graduate, Year Of The Wolf (2011) and The Sound And The Fury (2015) — all breached the top 50, with her most recent offering on her Idaho Records, 2017's Stay Lucky, also charting.
Multi-instrumentalist Nerina played guitar, piano, keys and percussion on her self-produced sixth album. She's also made a name as a songwriter for others with the likes of Kylie Minogue and Diana Vickers performing her work, while her past musical collaborators include Dundee legend Gary Clark, of Danny Wilson fame.
Tickets for Wednesday's gig are £16.50 via ticketmaster.co.uk.
*** Manchester rockers Slow Readers Club are heading to Dundee.
The alt-popsters are stopping at Beat Generator Live! on March 7 as part of a 32-date UK tour that's also taking in shows in Inverness, Aberdeen and Edinburgh.
Led by frontman Aaron Starkie, Slow Readers Club's third album Build A Tower — the follow-up to 2015's Cavalcade — reached 18 on the UK charts last year. "This is the first opportunity we've had to do a full on UK tour," says Aaron.
"Up until this point we've all had day jobs to work around but we've had tons of people ask us to play all over the UK so here we go."
Tickets £16.50 via www.theslowreadersclub.co.uk.
*** Punk bands are staging a benefit for Angus Cat Rescue at Beat Generator tomorrow.
There's 13 outfits involved including Slaughter II — who include ex-members of Cranked Up Really High legends Slaughter & The Dogs — along with The Eddies, The Overbites, Subvision, Buzzbomb, Killjoy and Sunday Punk Club, with every one featuring on a new CD recorded live at the venue's Punktoberfest last year.
All proceeds, including raffles, will go to the feline charity. The Punk For Pussies noisefest runs from 1pm to midnight, with tickets £10 from Grouchos in Dundee and Big Cartel online.
*** Guitar maestro John Verity plays Kinross's Green Hotel tomorrow.
The Bradford-born six-stringer replaced songwriting maestro Russ Ballard in prog legends Argent in the '70s and has gone on to forge a reputation as one of the UK's leading R&B exponents. Tickets £21.50 via www.ticketweb.uk.
*** French melodic punks Heavy Heart head up a strong line-up at Conroy's Basement on Monday.
The Nantes outfit, who're promoting their recent Love Against Capture LP, are being joined by their countryman Quentin Sauvé, who's known for post-folk emo vibes. Local riff exponents The Marx and Conroy's debutants Dog Eared complete the Meadowside bill.
Advance tickets £5 from Make-That-A-Take Records or £6 on the door.
*** Edinburgh-based DJ / producer J Wax heads up a Beat Generator electro rave on Friday. He's supported by Juteopolis Records' PSA plus Chris Taylor and Craig Rice, who'll be burning up the decks from 9.30pm until 2.30am. Admission's £5.
*** Conroy's is hosting upcoming acoustic songsmiths on Tuesday.
The Make-That-A-Take Records extravaganza features London punks Fresh, Leeds troubadour Tea Leaf — aka John Samson — and electronica-tinged anti-folksters Me Rex and Dundee-based lo-fi popsters Opus Fluke.
Advance tickets £5 via MTAT, or £6 at the door.
*** It's Americana duo My Darling Clementine at Perth Theatre on Monday. Husband-and-wife duo Michael Weston King and Lou Dalgleish will perform tracks from their four albums at the venue's Joan Knight Studio, with tickets £16.50/£14.50 via horsecross.co.uk.
*** Alt-rock trio Heyup headline at Conroy's on Thursday, supported by Perth indie exponents A Month Of Sundays and Fife four-piece Splendid Suns. Tickets £6.60 via seetickets.com.
*** Clarks has Morrissey and Marr tribute outfit Frankly, The Smiths on Sunday (doors 3pm). Tickets £12 from Eventbrite, Grouchos and Assai Records.
*** Scotland's leading Police tribute act are at the Green Hotel on Friday. Tickets for The Polis are £19.40 via Ticketweb.
*** Retro rockers Cherry Bombz play McDaniels tonight, Powrie Bar tomorrow and Admiral Bar (Sunday). Tickets for the band's Beat Generator show on March 9 from Grouchos or Facebook.
*** Covers favourites Itchycoo Park play Number 57 tomorrow, with classic rockers Bedrock live on Sunday.