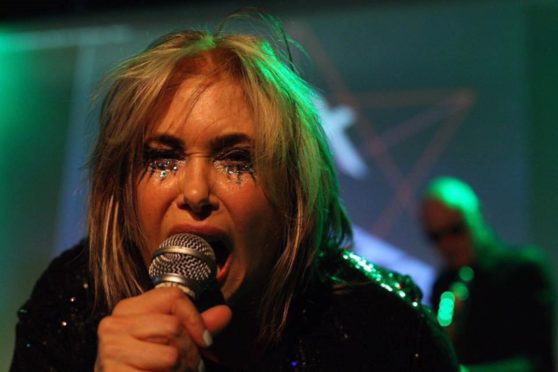 Brix and The Extricated fans can expect to hear plenty tracks from the band's latest album at Beat Generator tomorrow.
The indie rockers started a short Scottish tour in Edinburgh last night to relaunch their self-released Breaking State set — the follow-up to 2017 debut Part 2 — which has attracted rave reviews since dropping last October.
Extricated frontwoman Brix Smith Start — who formed the band in Manchester in 2014 with ex-Fall colleagues Steve Hanley (bass), Steve Trafford (guitar) and Paul Hanley (drums), plus Irish guitarist Jason Brown — sees the trip as a chance to build up momentum ahead of more dates next month. "We now have plenty of our own music to choose from," she explains.
"This tour heavily features Breaking State but we still have a lot of stuff from Part 2, like Something To Lose, Valentino, Hollywood, Pneumatic Violet — all those ones that work really well live. I love doing Hot Cake and also Vanity — that's us moving in a new direction — and we always throw in a few songs that we wrote during our time in The Fall that're fun to play.
"The most important thing is to just transmit your passion when you're up there doing it and hopefully it's infectious for the audience and they're getting a buzz out of it too. It seems to work and it feels good to us."
The Extricated proved a Beat Generator hit at previous gigs and LA-raised Brix, 56, says she rates the Dundee venue highly. "It's pretty much an old school proper music club where the sweat drips off the walls and it's very intimate — we like it," she declares.
"I think we've played Dundee more times than Edinburgh or Glasgow. It feels like…not exactly coming home but coming back to a lovely familiar place. We get a great reception. Hopefully it'll be a bit warmer than last time but the Scottish audience has been extremely supportive and it's a great stronghold for us, so we always look forward to playing there."
Following solo work in 1997 Brix struggled for confidence and eventually moved into the fashion industry. Now she's clearly happy to be putting her spell in the musical wilderness behind her. "After I left The Fall for the second time I basically had a breakdown and I was so brokenhearted about music I couldn't write anymore," says the ex-Adult Net star.
"I completely lost it and I had to reinvent myself in another area. I stopped doing music altogether and turned my back on it so when it all came flooding back it was like literally being given a gift from God. I'm just so grateful to be playing music again and that people are giving me recognition and love for what I contributed in my time in The Fall.
"It feels really good and like I'm at the top of my game songwriting-wise. I can honestly say that if I can just sit and write music every day, all day, it's just my happiest thing. I just absolutely love writing."
The great news for Extricated followers is she's already demoing tracks for a third album. "We're firing on all cylinders and it's a great treat to play with musicians as great as these guys — we're having a great time and that's what life's about," says Brix.
"We've got nine songs ready and we want to keep growing from album to album. This is still the beginning for us but we're spreading our wings and starting to really find who we are as a band. There's an initial sound that's there but we're pushing musical boundaries on the next one in a slightly different direction.
"We're still touring Breaking State while writing and recording so we're a little bit ahead, but it's good. It's all adds momentum and energy to what we're doing and we'd love to bring an album out every year.
"I don't really want to give too much away, but the next one's feeling a little darker. There's lots of melodies and deep, heavy hypnotic grooves and really strong riffs, and there's also delicate beauty in there. It's all just gelling into place now so it's too early to start corralling it into a theme, but it's feeling really strong."
The as-yet-untitled album's likely to appear later in 2019. "We haven't put a date on it but I'd love it to come out in the autumn and tour again then," says Brix.
"Things happen, but we're working sort of to that timeline. We're ahead of where we were this time last year but it's not about running a race. Everything has to be right, so whether that's a little bit longer or shorter doesn't really matter as long as we're 100% happy with it. It's looking good."
The Extricated are supported by Wozniak and Drainpipe, with tickets £16.75 from Grouchos, Tickets Scotland and WeGotTickets.
*** Blues rocker Mike Bowden's at Kinross's Green Hotel on Sunday with his A917 quartet. Tickets £16.25 via Ticketweb.
*** Glasgow art-popsters Fauves play Clarks on Sunday, with Captain Beefheart tribute Orange Claw Hammer live on Thursday. Tickets from Grouchos and Assai Records.
*** Number 57 has regulars Bedrock tomorrow and Sunday.
*** Cherry Bombz play The Tavern tonight and Harlequins on Sunday.