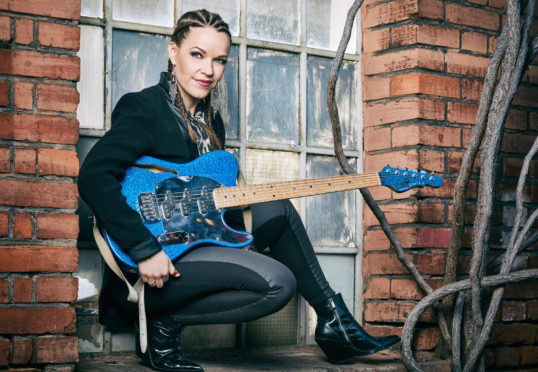 Ahead of an intimate gig at the Green Hotel in Kinross, Finnish blues musician  Erja Lyytinen speaks to Michael Alexander about her career.
When "Finnish slide goddess" Erja Lyytinen played in front of 85,000 people during the New Year's Eve party in Helsinki at the end of 2017, it was the biggest audience of her career.
Her growing reputation saw the 2017 European Blues Award winner go on to open for Santana at Helsinki's Kaisaniemi Park in June last year – the cherry on the top coming when Carlos Santana invited her to play on stage with him in front of 20 000 people.
"It was inspiring to see her play – it was from the future and I like the future," Santana said giving her a nickname "Lightning" referring to Lightnin' Hopkins.
But amid a UK tour which brings her to the far more intimate setting of The Green Hotel, Kinross, on March 24, Erja says that in many ways the smaller gigs are often more difficult.
"A gig is a gig," Erja told The Courier in an interview from her home town in Finland.
"It doesn't matter if it's small or a big audience. Actually the smaller the audience the harder it is to do the show.
"It's more intimate and everyone can relate to you and see how you feel on stage.
"You are kind of under the magnifier!
"I really loved supporting Santana – it was amazing. I really loved it.
"The biggest audience I ever played was 85,000 on New Year's Eve in Helsinki last year. It was an amazing experience and good fun.
"Then sometimes you play these smaller clubs and you get amazing audiences there as well.
"Every gig you do you want to give the best of yourself."
Born into a musical family in the town of Kuopio, Erja first entered a recording studio some 15 years and quickly emerged as an artist to watch in her native country.
She recorded her international debut Pilgrimage after signing with Germany's prestigious Ruf Records label in 2005.
The 2006 Blues Caravan tour gave audiences in Europe and the United States a first taste of her spirited live performances.
The solo follow-up Dreamland Blues took her back to the USA to record with David and Kinney Kimbrough (sons of Mississippi blues legend Junior Kimbrough).
After two years on the road, she returned with Grip of the Blues in 2008, mixing hard-edged blues with modern R&B.
Her 2010 release Voracious Love was regarded as even more adventurous.
Canada's Blues Underground Network chose The Sky Is Crying as Best European Blues Album and Best Tribute Album of 2014.
It also placed it in the top three international albums of 2014 as chosen by writers at Britain's Blues Matters, who also honoured Erja as the #2 international solo artist.
The album Stolen Hearts followed, and this April her next album Another World is due for release.
Having previously played Edinburgh, Glasgow and the Fife Blues Festival, Erja is looking forward to returning to Scotland – a country which she sees as having a number of similarities to her home nation of Finland.
"You guys have such an exotic accent!" she laughs.
"And yes, I think we have some similarities. It's cold, right in the north and you guys like hard alcohol – like Finnish people! There's also an open-ness in conversation which I think I similar."
However, she also realises when speaking to The Courier that she once played in a charity football match with former Finnish Dundee United footballer and manager Mixu Paatelainen. "It was a long time ago!" she laughs again.
Erja's music usually reflects "some kind of emotion" – and she said the Kinross audience can expect a mix of new and old material.
*Erja Lyytinen, Green Hotel, Kinross, March 24.
www.mundellmusic.com/erja-lyytinen-plays-an-afternoon-show-in-kinross/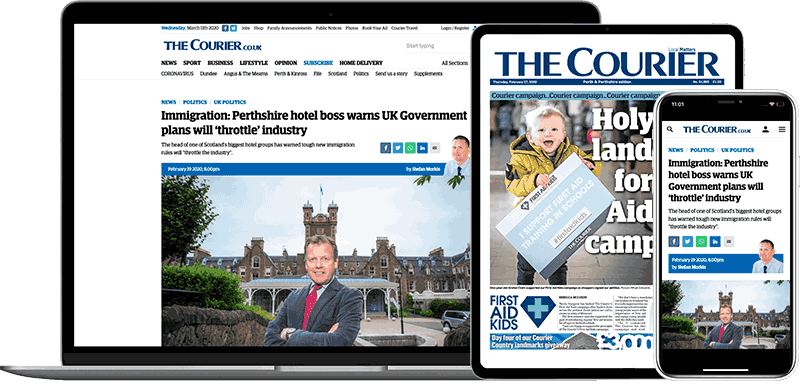 Help support quality local journalism … become a digital subscriber to The Courier
For as little as £5.99 a month you can access all of our content, including Premium articles.
Subscribe