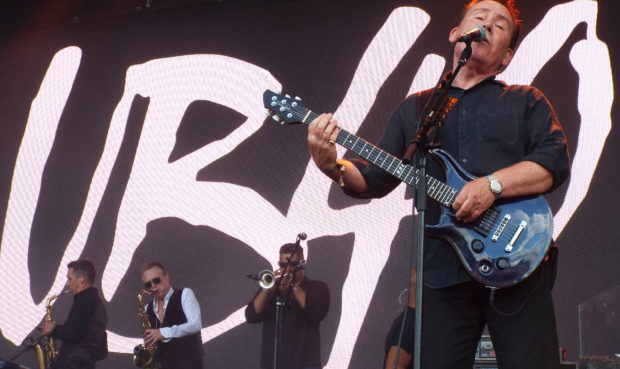 Reggae-pop legends UB40's 40th anniversary UK tour's on course to arrive in Courier Country on May 1.
The Birmingham outfit are due to bring their bumper live celebration to Perth Concert Hall on Wednesday week but the epic undertaking's been plagued by misfortune.
Devastating news broke late last month when it was revealed on the eve of the tour that the band's saxophonist Brian Travers — an original member of the band — had been diagnosed with a brain tumour and would be sidelined due to emergency surgery.
UB40 had been ploughing through their 40-plus scheduled gigs up to this week when they were forced to postpone shows after co-founder Robin Campbell lost his voice due to a chest infection. Thankfully, however, their Perth show — the first of three in Scotland in early May — remains unaffected.
Formed in December 1978, UB40 have clocked up forty Top 40 hits in the UK — including Food For Thought, One In Ten, Kingston Town and Red, Red Wine — plus record sales of over 100 million worldwide. They're recognised as one of Britain's most successful bands of any period and their latest album For The Many — which gives its name to the anniversary tour — entered the charts at 29 on release last month.
The band's current line-up also includes three more original members in Jimmy Brown, Earl Falconer and Norman Hassan, plus long-time cohorts Duncan Campbell, Martin Meredith, Lawrence Parry and Tony Mullings. Original frontman Ali Campbell left in 2008 and has led a separate version of UB40 for the past five years.
Tickets £41/£46 via Horsecross.co.uk
*** Punk veterans UK Subs are set to storm Beat Generator on Friday.
Originally formed in 1976 as UK Subversives, the London outfit are led by original frontman Charlie Harper and long-serving bassist Alvin Gibbs. They enjoyed a string of Top 40 hits between 1979 and 1981, including Stranglehold, Tomorrow's Girls, Warhead and Teenage.
The band's third album Crash Course reached the Top 10 in 1980, with their other early LPs Another Kind Of Blues, Brand New Age and Diminished Responsibility also denting the charts. Despite rotating guitarists and drummers down the years, UK Subs have never split up and rock legends Guns'N'Roses famously covered their track Down On The Farm on 1993's Spaghetti Incident album. Their 27th LP Subversives, a set of covers of work by the likes of Motorhead, David Bowie and MC5, was released last year and they've just dropped a new EP, Screaming Senile.
Tickets £13.50 from Grouchos in Dundee and Tickets Scotland.
*** Thrash punks Get It Together are launching their latest album at Conroy's Basement on Friday.
The Make-That-A-Take Records signings have produced a limited 300-copy vinyl run of Live Free, which was overseen by PMX linchpin John Harcus. They'll be supported by Glasgow hardcore outfit Divide — playing their first Dundee show in almost a decade — electro-goths Queequeg's Coffin and Fife noiseniks Us Versus Them. Tickets £5 via the MTAT website.
*** Danish hard rocker Mike Tramp lands at Church on Wednesday.
Now aged 59, the glam metal star's best known for his work with USA-based outfits White Lion and Freak Of Nature but has released several solo albums since 1998, including Songs I Left Behind, Nomad and this year's Stray From The Flock. Tickets £14.75 via Tickets Scotland.
*** London-based authentic Who tribute Who's Next will be celebrating the 40th anniversary of the release of mod movie Quadrophenia — based on their heroes' classic 1973 album — at Beat Generator tomorrow. Tickets £11.50 from Grouchos and Tickets Scotland.
*** A trio of Fife's best up-and-coming acoustic songsmiths — Kirkcaldy-based Murray Torrance, Leven's Cody Feechan and Joe Fisher from Burntisland — play Dunfermline's PJ Molloys tonight. Tickets £6.95 via ticketweb.uk
*** Southern rock soundalikes The Petty Heartbreakers pay tribute to the late Florida-born great at Kinross's Green Hotel on Friday.
Started in 2011, the Leeds band plays songs from across Tom Petty's career, ranging from classics such as American Girl and Refugee through to later material. Tickets £19.40 via TicketWeb.
*** Glammed-up Ballingry rock'n'roll revolutionaries Paris Street Rebels are set to blitz PJ Molloys tomorrow.
The four-piece's first Dunfermline headline show will include supports Glasgow rebels The Roly Mo and Edinburgh indie purveyors Vandal Palace. Tickets £6.95 from TicketWeb.
*** It's vintage covers outfit Ringer at Number 57 tomorrow from 5.30pm, with Tivvy welcoming fellow music-makers at the Dock Street venue's open floor session on Sunday from 7pm.
*** Covers exponents Cherry Bombz play Campbeltown Bar tonight (9pm), Rewind tomorrow (9.30pm), and The Last Tram on Sunday (7pm).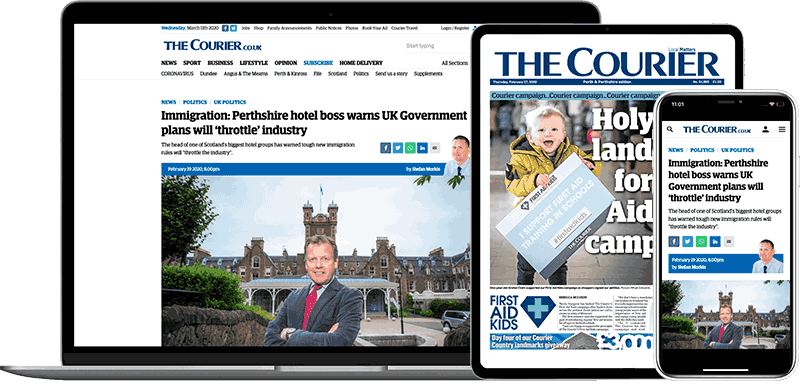 Help support quality local journalism … become a digital subscriber to The Courier
For as little as £5.99 a month you can access all of our content, including Premium articles.
Subscribe