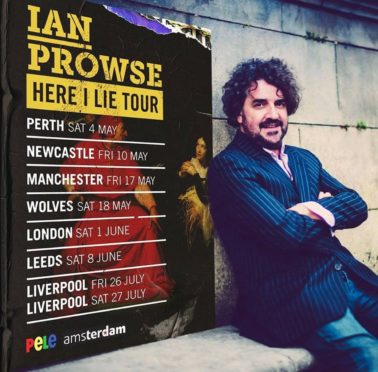 Celtic rocker Ian Prowse is set to kick off his latest UK tour in Perth.
The Liverpudlian's at the Green Room next Saturday (May 4), where he'll play tracks from his new solo album Here I Lie along with a host of past favourites.
Ian, 55,  initially made his name fronting Pele in the early '90s, before forming current band Amsterdam in 1999 and releasing his solo debut Who Loves Ya Baby in 2014.
He says it was witnessing mod legends The Jam up close as a youngster that fired him to take up music — but it was Scots troubadour Mike Scott who became his key influence. "I was writing songs in the '80s after I'd seen The Jam that weren't great, and then The Waterboys' Fisherman's Blues album introduced me to Celtic soul and kind of put me onto the fact that that's the area I'm from — Liverpool is drenched in that sort of thing," the songsmith explains.
"That's when everything that I did came into focus. I realised that you could marry rock 'n' roll and heartfelt pop music with that aspect as well, so I honour them for that."
A favourite of late Radio 1 legend John Peel, Ian's third solo album's out today and he's looking forward to returning to Perth. "We've got a six or seven-piece band and we play loads of Pele songs, all the well-known Amsterdam songs and we'll play some songs off Here I Lie," he declares.
"I wrote them all so I love playing all my old songs as well as the new ones. We can't wait to get up there." Tickets £10 via thegreenroomperth.co.uk
*** It's veteran tribute Roxy Magic at Kinross's Green Hotel tomorrow.
Renowned for recreating every phase of Bryan Ferry's epic career from his early Brian Eno collaborations through Roxy's classic art rock years to sophisticated later solo offerings, the Birmingham six-piece — who impressed over two nights at Kinross last August — are led by look-and-soundalike Kevin Hackett. Tickets £21.50 via TicketWeb.
*** Genesis homage The Watch clock in at Church on Monday and Green Hotel on Tuesday.
The Italian prog outfit will perform 1974's epic Lamb Lies Down On Broadway album in Dundee and 1973 classic Selling England By The Pound on their third visit to the Kinross venue since 2016, plus a selection of other Hammond / Mellotron-soaked renditions of their Peter Gabriel-led heroes' work.
Since starting out in 2001, the five-piece have released seven studio albums with their most recent featuring a turn by ex-Genesis guitarist Steve Hackett. Kinross tickets £21.50 via TicketWeb.
*** Wishbone Ash legend Martin Turner's back at the Green Hotel on Friday.
A year on from their previous Kinross date, the veteran singer/bassist and his band are celebrating 50 years of Wishbone by performing 1976 album New England in full for the first time on their latest tour. They'll also play other classics, including highlights from 1972 touchstone Argus. Tickets £26.75 from TicketWeb.
*** Mathias Kom and Ariel Sharratt from Canadian indie popsters The Burning Hell are at Clarks on Sunday, with support from Highland nu-folk songsmith Adam Ross, aka Randolph's Leap. Tickets £13.21 via brownpapertickets.com
*** Springsteen fans The Rising — the Scottish seven-piece — play a two-hour tribute to The Boss at Beat Generator tomorrow. Tickets £11.50 via Tickets Scotland and Grouchos in Dundee.
*** Dundee-born acoustic troubadour Peter Watters launches his new album Nobody Ever Did Anything By Doing Nothing at Conroy's Basement tomorrow. Support comes from mods The 1:21s, Pete Smith and The Walkers. Tickets £5.50 via seetickets.com
*** Manchester hip-hop MCs The Mouse Outfit are at Beat Generator on Thursday, with support from Glasgow gutter-rockers Girobabies and Dundee's own India Rose. Tickets £13.75 via seetickets.com
*** Fife hopefuls Astral Suns, Ivory Caves and Splendid Suns compete in a WestFest / EH6 band battle semi-final at Dundee's Church tomorrow. Tickets £5.50.
*** Metal outfits Daniel Wax Off, Rend Them Asunder, Evil Blood, At Their Mercy and Bastyon descend on Dunfermline's PJ Molloys tonight. Admission's £10.
*** Covers crew The Sixties roll back the years at Clarks tomorrow with hits from The Who, Kinks, etc. Tickets £5.83 from Eventbrite, Grouchos and Assai Records.
*** Courier Country blues veterans Wolftrain play McDaniels tomorrow ahead of a trip to Newport's Brig O' Tay on May 11.
*** Number 57 has Itchycoo Park and indie rockers The Wolves tomorrow, plus a Chain Gang-led jam on Sunday.
*** Non-stop gigging machine Cherry Bombz play McDaniels tonight, Arbroath's Coast tomorrow and Harlequins on Sunday.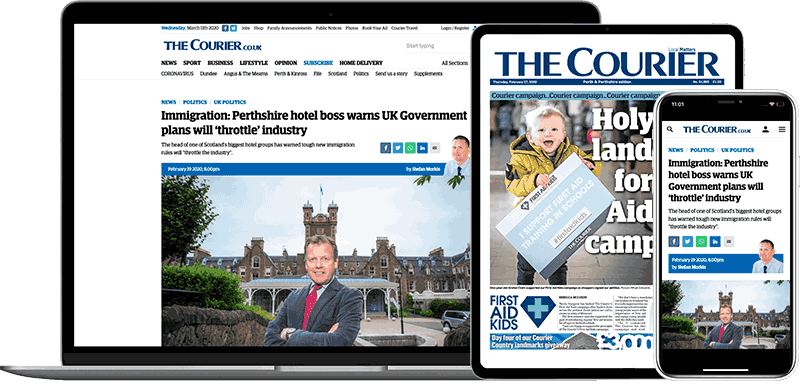 Help support quality local journalism … become a digital subscriber to The Courier
For as little as £5.99 a month you can access all of our content, including Premium articles.
Subscribe