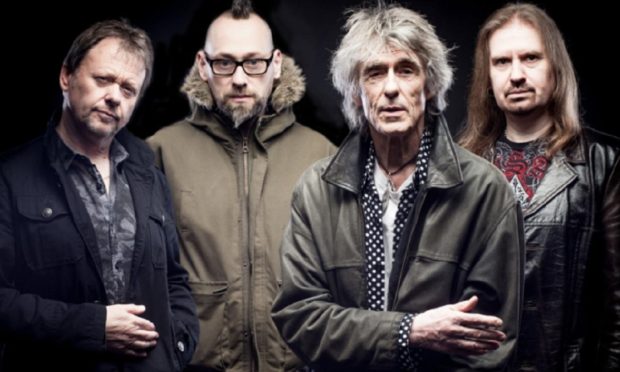 Ex-Wishbone Ash frontman Martin Turner's at the Green Hotel tonight.
The singer/bassist's back in Kinross a year on from delivering a stunning set that included a rendition of Wishbone's fifth album There's The Rub in its entirety. This time round he's focusing on the Devon band's 1976 classic New England on a gold-themed tour celebrating 50 years since linking up with ex-bandmates Steve Upton, Andy Powell and Ted Turner.
After releasing their eponymous debut album in 1970, Wishbone went on to forge a unique and influential melodic rock blueprint that yielded some bona fide classics plus millions of album sales. Responsible for penning the lyrics for their most important songs, Turner, 71, has continued to perform his old band's material since going his own way in 1991. Nowadays he collaborates with guitar duo Danny Willson and Misha Nikolic, plus drummer Tim Brown.
It's the first time Connecticut-recorded New England's been performed in full, including such highlights as Runaway, Mother Of Pearl, Lorelei and instrumental epic Outward Bound. Turner's award-winning 2015 set Written In The Stars was followed by live album Beauty of Chaos and newer songs also feature in his live show alongside other career touchstones, including favourites from 1972 breakthrough Argus. Tickets £26.75 from TicketWeb.
*** Status Quo's Rhino Edwards is back in Courier Country next week.
The bassist's side project Rhino's Revenge is on the road again after a successful UK and European tour last year, and he's playing Kinross next Friday and Saturday. Rhino's bandmates include FM guitarist Jim Kirkpatrick and sticks veteran Richard Newman, who's worked with Paul Rodgers, Rory Gallagher and Jefferson Starship.
The Quo mainstay of the past 33 years is currently working on his other band's third album. Tickets £26.75 via TicketWeb with the tour supporting Save The Rhino International.
*** A host of bands are playing a benefit gig at Dunfermline's PJ Molloys on Sunday.
The annual Leroy Day event from 4pm will boost learning disability charity Fairway Life with sets from the likes of Honk, Factory Janet, Wolves, Cognac Twins, The Magic Village and Singleskin. Admission's £10.
*** Old school rockers The Mentulls hit the Green Hotel tomorrow with a new look.
Formed by brothers Andrew and Jamie Pipe in late 2008, the energetic North Yorkshire outfit mix blues rock with prog instrumentation. They've released three albums since 2011 and have supported Wishbone Ash, Focus, Walter Trout and Dr Feelgood. A new singer, David Crabtree, has recently been recruited to join the siblings and drummer Nick Colman. Tickets £19.40 via TicketWeb.
*** Aberdeen power-popsters The Xcerts play Beat Generator tomorrow.
Originally formed as a school band back in 2001, the trio recently released a new four-track EP, Wildheart Dreaming, their first offering since last year's limited edition Late One Night. Tickets £12.10 via Ticketmaster.
*** Scots folk veteran Ivan Drever is set for a Courier Country double next week.
The Orkney songsmith's playing the Green Hotel on Monday — with support from rising star Beth Malcolm — then heads to Crieff's Strathearn Artspace on Thursday. Admission's £9 / £10.
*** Cowpunk outfit Uniforms are joined by political songsmiths Bird Law, pop-punks Dog Eared and lo-fi indie folksters Opus Fluke in a Make-That-A-Take Records special at Conroy's Basement tomorrow. Admission's £5.
*** Brooding alt-popsters The Little Unsaid are at Clarks on Wednesday. The Reveal Records signings, who're fronted by John Elliott, are due to drop their fourth album Atomise next month. Tickets £11 from Clarks, Grouchos, Assai Records and WeGotTickets.
*** Fife guitar guru Al Hughes plays Green Hotel on Thursday. A cohort of Kingdom funksters Lights Out By Nine, the blues and soul exponent plays a custom-built 12-string resonator. Tickets £13.10 at TicketWeb.
*** Beat Generator has garage rockers The Good Arms plus Luna The Professor, th13ves, The Roques and late-night indie grooves on Friday. Tickets £7 via Skiddle.
*** Tribute troubadours Total Stone Roses play PJ Molloys tomorrow. Tickets £16.50 via WeGotTickets.
*** Clarks welcomes '80s soundtrack homage Miami Vince on Sunday. Tickets £6 from the usual outlets.
**** Cherry Bombz play a trio of shows at Kirriemuir's Bonfest tonight (6.30pm), tomorrow (9pm) and Sunday (4pm), plus Powrie Bar on Sunday night.
*** Number 57 has Chain Gang and The Mess Arounds tomorrow ahead of a sold out seven-band session on Sunday.