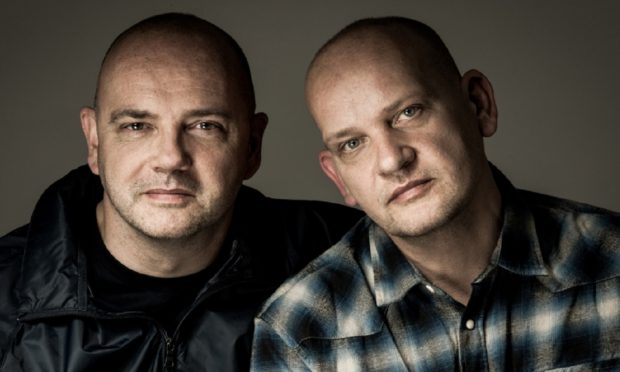 It's going to be a busy stage at Perth Theatre for Hue And Cry's show on Tuesday.
The veteran sophisti-pop outfit will line up nine-strong at the Fair City's Festival of the Arts, with the Kane brothers promising quality in depth.
"The band are the best musicians we can find in Scotland at the moment, and that's a very high standard," says elder sibling Pat.
"We've jazz musicians who just make the whole thing swing like a barn door. It's a big old band and a celebration of funk and soul. We don't go out too often with the full line-up because it's incredibly expensive but when we get the chance we always take it."
The PFA gig's a change for Pat, 55, and brother Greg, 52, fresh from an acoustic tour to mark 30 years since live album Bitter Suite.
"People can get into a dancing groove, even if they don't know the songs," says the frontman. "Labour Of Love will always get people up out of their seats and we also pick some choice numbers that we love from the '80s, such as Prince's 1999, Never Too Much by Luther Vandross or Terence Trent D'Arby's Wishing Well."
After wrapping LPs Hot Wire, September Songs and Pocketful Of Stones in recent years, the duo are planning a bold direction change.
"Our last album was an attempt to make a pop and chamber music crossover," Pat, from Coatbridge, explains.
"There was strings all over it and it was two men in their early to mid-50s writing songs about their life. What we're trying to do now is figure out how to do an electronic dance music record and we'll be pulling that together over the rest of the year. That's a whole new frontier again.
"Sometimes you can go back to the root of what you're about and it turns out it's just as contemporary as it always was. I remember enjoying early Simple Minds, who were like an electronic dance band, and Scritti Politti. They were both early influences on me. We keep setting ourselves new challenges and if a song's strong enough to be performed as piano / vocal — that's the core of what we do — then it can be rendered in any style."
Pat says he hopes to provoke thought and euphoria in equal measure. "If you listen to the climate scientists we have only 10 or 12 years before we tip over into complete disaster, so I'd like us to write a record that motivates people to take bold action in their lives," he declares.
"That's very much in the spirit of Labour Of Love way back but it's an even bigger crisis now so we need to write even bigger songs. Lyrically it's going to go very can-do and optimistic. It's going to be kind of utopian and collective and joyful. You know, you ask people to shoot for the stars and they shoot for the moon."
The singer says he feels an affinity with chart-topper Lewis Capaldi, who's performing at the Perth event tomorrow.
"Pocketful Of Stones was partly a response to these sensitive young male singer-songwriters like him, George Ezra, Hozier and James Blake, who were coming out and just baring their soul," adds Pat.
"That's always been something that we've wanted to have the chance to do. It's just really nice to be able to see people who are able to be intimate with the audience on a mass level. If you can establish that early on you'll have a long career because you're burning into people's heads and hearts because they're caught up in the sensitivity of what you're doing. That's a good route to success so I'll watch his career with great interest."
Hue And Cry tickets are £26.50 via perthfestival.co.uk
*** Americana troubadours Peter Case and Sid Griffin are at Kinross's Green Hotel tomorrow.
Since launching a solo career in 1986, Case has worked with such as Roger McGuinn and Tom Petty cohorts Mike Campbell and Benmont Tench, while ex-Long Ryders and Coal Porters frontman Griffin's tours extensively. Tickets £19.40 via Ticketweb.
*** Beat Generator hosts alt-rock legends Goodbye Mr Mackenzie's first gig in 23 years tonight. Known for their hits The Rattler, Goodwill City and Love Child, five of the Edinburgh outfit's original six members are back in tow, including guitarist Big John Duncan. Tickets £16.75 from Grouchos and Tickets Scotland.
*** Country rock legend Albert Lee plays two sold out shows at Green Hotel next week. The London-born guitarist's early stints in Chris Farlow's Thunderbirds, Heads Hand And Feet and The Crickets led to siding for his idols The Everly Brothers. A Grammy winner, he's best known for his anthem Country Boy and fronting Hogan's Heroes.
*** Anarcho-punks Subhumans hit Church next Friday. Formed in 1980, the Dick Lucas-led Wiltshire made their mark with indie LP The Day The Country Died in 1983. Tickets £12.50 via Tickets Scotland.
*** Frank Zappa cohorts Muffin Men are at Green Hotel next Friday. The avant-rockers have clocked up 2000 Euro gigs since 1990 alongside the late icon's ex-bandmates. Tickets £21.50 via Ticketweb.
*** Acoustic songsmith David Starr unveils his new John Oates-produced album Beauty And Ruin in Kinross on Sunday. Tickets £16.25 via Ticketweb.
*** Aberdeen mods Target 5 are at Beat Generator tomorrow. Tickets £9.50 from Grouchos and Tickets Scotland.
*** Mike Vass guests at Monday's Glenfarg Folk Club from 8pm at the Green Hotel. It's £9 for non-members.
*** Cherry Bombz play Clarks tomorrow (9.30pm) and Brechin's City Royal on Sunday (4pm).
*** Number 57 has Ringer, Miami Vince and Chain Gang this weekend.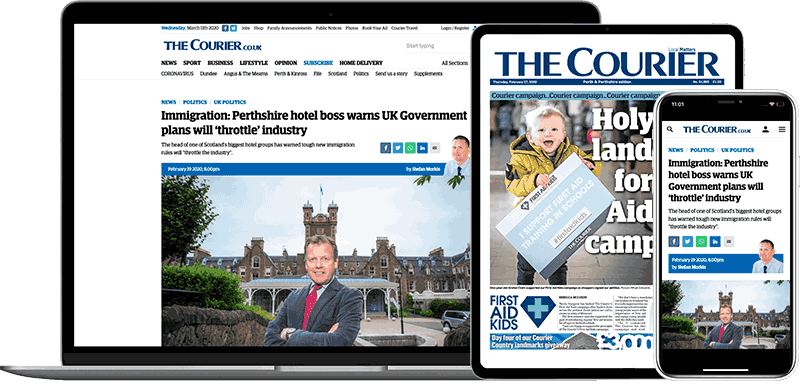 Help support quality local journalism … become a digital subscriber to The Courier
For as little as £5.99 a month you can access all of our content, including Premium articles.
Subscribe