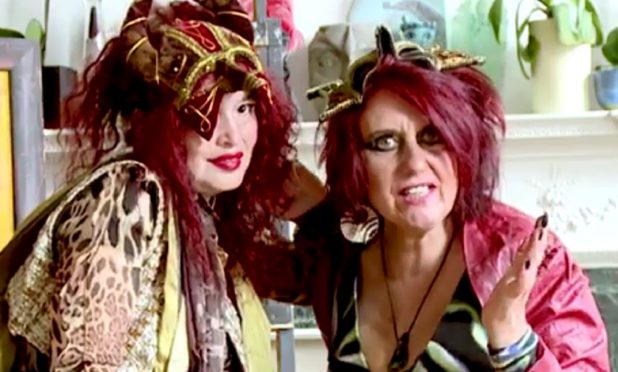 Rezillos frontwoman Fay Fife heads up a spectacular mixed-media gig next week.
The Dunfermline-raised songsmith's Shamanic project's at Glasgow's Cottiers on Wednesday — with a Courier Country debut likely later this year.
Also featuring Goodbye Mr Mackenzie and Filthy Tongues leader Martin Metcalfe, plus live projected painting from Russian artist Maria Rud, the visceral work's only previous staging was in Edinburgh last autumn.
Fay likens the Velvet Underground-influenced experimental rock feast to a screen soundtrack.
"Shamanic's quite cinematic," she declares. "When it's in its real flowering glory we really like to project it on buildings outside and it's really big, but we can do it smaller as well. It draws on everyone's influences and interests and Martin brings a particular sensibility. It's quite dark and sparse and edgy, which I really like."
Death and the afterlife dominate in Fay's Shamanic songs, including Hell Bent, Wandering Star and Bad Breed.
"Perhaps you think about that more as you get older, but there's another element to it," she says. "Death is symbolic for transformation and rebirth and certainly the idea of the project is about going into somewhere dark and coming out transformed. It's more than the literal meaning of death."
The line-up also includes Rezillos bassist Chris Agnew, with GMM drummer Derek Kelly in for Fife legend Mike Baillie, who's undertaking Skids duties.
"It's a very collective thing and I'm hoping it's going to stay flexible," explains Fay.
"I may be the very strange and unconventional ringleader but it's all about collaboration. I'm asking people to join who I think can give a real essence of their own creative direction and drive. Mike brought his own thing to it which was absolutely fabulous, but then you get somebody like Kelly coming in and bringing something different altogether."
Onlookers shouldn't expect Rezillos-style punk or a country vibe akin to Fay's other band Countess Of Fife.
"Shamanic draws from a lot of influences that're in my other projects, but it's quite garage-y and very earthy," she adds.
"None of us who're involved do three-minute pop songs, those days are kind of gone. The songs are long and they go into different sections, and in an out. In places the music becomes a bit more incidental to let the paintings have more of a focus but quite a lot of the time it's very present."
Plans are afoot to eventually unleash a Shamanic recording. "We're already discussing that and it's a matter of frustration that we haven't done it yet, but these things take time to coalesce and develop," says Fay.
"One show's not enough to really know what the thing's about, even for the musicians. You have to settle down with it. There could be a live recording that's released but also we're talking about doing studio recordings. One of the nice things about having Kelly involved is that both he and Martin have a particular producer's way of looking at things.
"After the first show we tried to rationalise things a bit and we did some demos that Kelly amended, so we have the backbone of really good studio recordings. I think that's the next step."
With Rezillos and COF both active, it's a busy time for Fay — and Shamanic's due to visit her old stamping ground.
"There's great interest to do something with it in Fife and it's going to be a big outdoor show," she reveals. "With a bit of luck it's going to happen by the end of this year."
Tickets £22 via pmmusic.co.uk
*** It's 3pm doors for Belfast-based Weller tribute Jam Pact at Clarks tomorrow. Tickets £5 from Grouchos, Assai Records and Lindsay Street.
*** Reformed glam rockers Geordie play Kinross's Green Hotel on Thursday. Widely known as AC/DC frontman Brian Johnson's old band, the Newcastle outfit are playing 1974 album Masters Of Rock in full. Tickets £21.50 via Ticketweb.
*** Eighties survivor Mari Wilson's at Green Hotel next Friday. The Just What I've Always Wanted hit-maker was nominated for a Daytime Emmy Award in 2017 for her song Moon And Back and guested with British Electric Foundation at Rewind Scotland. Tickets £26.75 via Ticketweb.
*** Classic pop-influenced Amy Lou & The Monday Club are on home turf at Dunfermline's PJ Molloys tomorrow. Admission's £7.
*** Anthemic rockers Declan Welsh & the Decadent West play Beat Generator next Friday. The Glasgow four-piece's debut EP, All My Dreams Are Dull, drops tomorrow following recent 6 Music and Radio Scotland backing. Tickets £8.25 via seetickets.com
*** Kirkcaldy songsmiths Shambolics are at Church on Thursday, along with Ruvellas and The Medinas. Tickets £8.80 from Grouchos, Assai and gjpromotions.uk
*** New York State punks Jukebox Romantics debut at Conroy's Basement on Monday, plus London noiseniks Triple Sundae and The Overbites. Tickets £5 online.
*** It's Headroom at Number 57 tomorrow, and newbies The Mivvies on Sunday.
*** Cherry Bombz rock Arbroath's Coast tonight and Admiral Bar, Sunday 4pm.