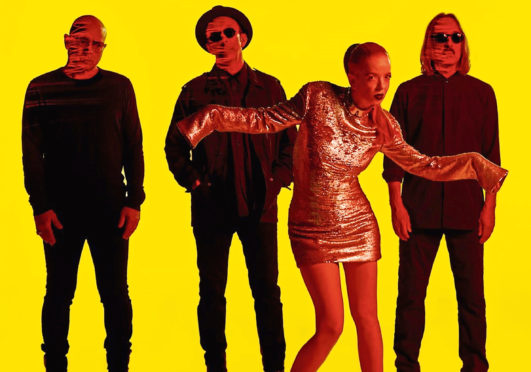 New material's likely to be thin on the ground when Garbage play Dunfermline on Wednesday.
Despite the American alt-rock giants being in the midst of recording their seventh album, their Scottish frontwoman Shirley Manson says it'll largely be highlights from their 24-year back catalogue at Alhambra Theatre.
"We don't leave anybody or anything behind ever — we play songs from all the records," says Shirley, 52. "We've got a record scheduled for release in 2020. We wrote most of it last year and we were recording before we left on tour and when we get off tour we're going back into the studio to finish it."
Garbage have played big shows in Europe in recent weeks after drafting in Morrissey's drummer Matt Walker to replace founder member Butch Vig who tore his rotator cuff last month just days before the tour.
UK dates start at London's Kew The Music tomorrow and the Stupid Girl hit-maker says all concern for ex-Nirvana producer Vig's been put aside. "Our travel schedule's insane — once you start on the road it's pretty tough," she adds.
"There's very little time to think about anything other than our own sanity and good health. Everybody in the band really works hard to try and put on the best show possible regardless of what's happening around us.
"That's one of the reasons I think we've enjoyed such a long career. Nobody's taking this for granted. Everybody's aware of the pressure of the clock and the competition and how difficult it is. Nobody's walking onto stage half-hearted in Garbage ever.
"We're all old but nobody's jaded yet. I feel like every show seems magical. Basically we're still like kids and our psychological make-up is suited for being in a travelling circus."
Shirley admits her relationship with her older bandmates Vig, Duke Erikson and Steve Marker — who all first met in the late-1970s — remains fraught even after a quarter of a century. "I've thought about this a lot and the three of them are really tight," she explains.
"They've known each other a long time and they're very different personalities but they're incredibly sympatico the way they choose to communicate or not. There's this tension between us that exists that creates a good trajectory. There's always a funny little edge in Garbage.
"I operate very differently from the way that they do and that's been a very successful tension in the band for us. I love them, they're my brothers, but I wouldn't say we're like buddies. We're just a great unit."
Although the band are three-quarters American, the Edinburgh-born singer reckons her background has played a crucial part in their international success. "I do think having a different perspective has been really helpful within our career," says Shirley, who started out in Goodbye Mr Mackenzie in 1984.
"I've constantly demanded that there be some view to the rest of the world outside of the US. Our management are American, the band are American, so there's a tendency towards just looking at how can we make sure everything's perfect for our US release. I'm always the one saying, 'No hold on a minute, what's happening overseas? What's happening over here?'
"As a result we've always have had a global view, unlike many of our peers who'd only tour where they were really successful. They'd only want to be big rock stars playing stadiums in America. They didn't want to go and play clubs in Bulgaria, whereas we were like, 'Nah, we're going everywhere, we're going to the far reaches of the world because it's important to us and we're interested in the rest of the world'.
"It's been an enormous education to see how other people live, their perspectives and what they consider important compared to what the US considers important."
With a string of monster albums such Version 2.0, Bleed Like Me and 2016's Strange Little Birds plus a James Bond theme song to her name, Shirley says she's more confident about songwriting than she's ever been. "I was expected to write the second I got off the plane in Madison to join Garbage," she reveals.
"They just naturally assumed because I'd been in a band for 10 years that I could write, and I had never written. So what you hear on the first Garbage record is essentially my first efforts at writing. Now I approach it very differently.
"I don't get uptight when I'm going into the studio to write. I feel excited about being creative and seeing where we can take it, whereas before I was very unsure and hard on myself and always on the cusp of tears."
Garbage tickets are £37.50 from the Alhambra on 01383 740384.
*** Lo-fi indie popsters Poverty Bar play Conroy's Basement next Friday, plus Avril Smart and Finland-based Mike Lennie's Opus Fluke, art-punks Min Diesel and slacker exponents Too Slow. Tickets £5 via Make-That-A-Take Records.
*** Number 57 has country rockers Longstay tomorrow and The Mivvies on Sunday, with live faves Cherry Bombz next at Admiral Bar, The Powrie and the Douglas Club.
*** Dunfermline's PJ Molloys has Citrus Circus, Marcus Basi and Chelsea Macrae for free tonight.