Five decades after a Dundee photographer took one of the most famous photographs in music history, Michael Alexander looks at the legacy of The Beatles' iconic album cover Abbey Road.
Fifty years ago a Dundee-raised photographer climbed up a ladder in the middle of a quiet London street called Abbey Road – and within just 10 minutes he had created the image for one of history's most famous album covers.
On August 8, 1969, Iain Macmillan took six pictures of the Beatles as they walked over the zebra crossing near the EMI Studios where the band did their recordings.
One of the seemingly simple shots became famous as the cover of the Beatles' Abbey Road LP – and it ensured iconic status for the zebra crossing which today remains a popular destination for Fab Four fans from around the world.
But the image chosen turned out to be one of the last to show the Beatles together as John Lennon secretly quit the world's biggest band just weeks later.
Dundee lensman who snapped iconic Beatles Abbey Road photo remembered on what would have been his 80th birthday
"The whole idea, I must say, was Paul McCartney's," recalled Macmillan in an interview later.
"A few days before the shoot, he drew a sketch of how he imagined the cover, which we executed almost exactly that day. I took a couple of shots of the Beatles crossing Abbey Road one way.
"We let some of the traffic go by and then they walked across the road the other way and I took a few more shots.
"The one eventually chosen for the cover was number five of six. It was the only one that had their legs in a perfect 'V' formation, which is what I wanted stylistically."
The photograph remains one of popular music's best known and most widely imitated photographs.
On a cover of Rolling Stone magazine, Homer, Marge, Bart and Lisa of The Simpsons played the roles of John, Ringo, Paul and George respectively while the Red Hot Chilli Peppers' The Abbey Road EP saw the band appear nude on the same crossing apart from some tactfully placed socks.
The crossing featured on Trainspotting and on Blur's Parklife video, while in 1993, Paul McCartney invited Macmillan to return to Abbey Road to take the cover for the 'Paul is Live' album which parodied his original picture – this time using the single Beatle and his old English sheepdog.
However, it was once central to a bizarre 1960s 'Paul is dead' conspiracy theory.
An American student spuriously claimed the cover had clues to substantiate this rumour: George dressed as the gravedigger, Paul barefoot as the corpse, Ringo as the funeral parlour manager, and John as the priest. The VW Beetle tag reads '28IF' – supposedly Paul would be 28 IF he had lived.
But of course the date was wrong!
Born in Dundee in 1939, Iain Stewart Macmillan grew up in the city's Lawside Avenue. After leaving Dundee High School aged 15 and training as an ergonomics engineer in the jute industry, he left to study professional photography at Regent Street Polytechnic, London, in 1958.
After working on a cruise ship and freelancing for leading newspapers and magazines, he soon became immersed in the celebrity world of the Swinging 60s and early 1970s, even living with Lennon and Yoko Ono for a while.
During this period he snapped hundreds of shots of musicians and models, including The Who guitarist Peter Townshend, model Twiggy and a 16-year-old soul singer Stevie Wonder.
But Gill Poulter, exhibitions director at Dundee Heritage Trust who helped organise the first major retrospective of his work in his home city in 2010, said that even now, 13 years after he lost  his battle with lung cancer and died in Roxburghe House, Dundee, she still feels he is a "bit of a forgotten son" of Dundee.
"During his career, Iain photographed many famous artists, actors, writers and pop stars," she told The Courier.
"However, unlike his contemporaries such as David Bailey and Terry O'Neill, he did not become a celebrity himself.
"He was an incredibly modest man, only reluctantly talking about his work and it is this modesty that partly explains why the name of Iain Macmillan is not as well-known as it deserves to be.
"He is a bit of a forgotten son of Dundee but the city should be very proud of his artistic legacy."
Ernie Sutton, treasurer of the British Beatles Fan Club, said Iain Macmillan was one of a unique handful of photographers to have the pleasure of shooting a Beatles album cover.
"Robert Freeman took most of the early album photographs up to Rubber Soul in 1965," he explained, "with the exception of their first album, where the cover was taken by Angus McBean.
"Peter Blake famously designed the cover to Sergeant Pepper's Lonely Hearts Club Band with his then wife Jann Haworth.
"By the time of Abbey Road in 1969, The Beatles were close to breaking up and this album is seen as their finale.
"Let it Be was released later, but recorded before Abbey Road.
"Many people today still visit Abbey Road and stop to recreate the photo on the crossing, much to the annoyance of drivers.
"The photograph and the crossing have become probably the most visited Beatles site in the UK.
"The album with Macmillan's photograph has become one of the most famous album sleeves of all time.
"Abbey Road has become an iconic venue and one every Beatles fan must visit.
"Even though the Beatles recorded most of their work there, I doubt if it would get as many visitors today without that photograph and album sleeve."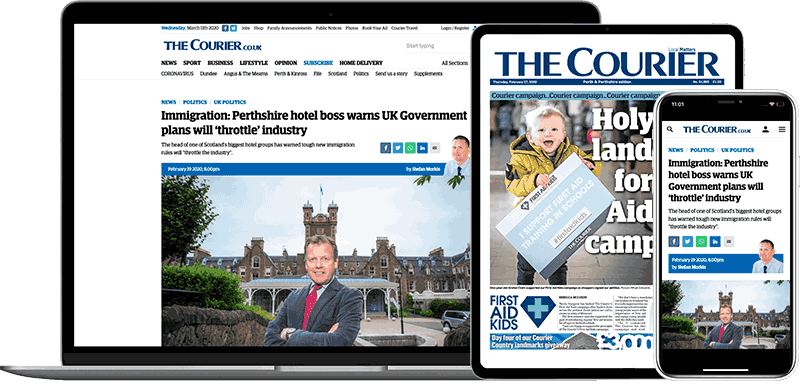 Help support quality local journalism … become a digital subscriber to The Courier
For as little as £5.99 a month you can access all of our content, including Premium articles.
Subscribe