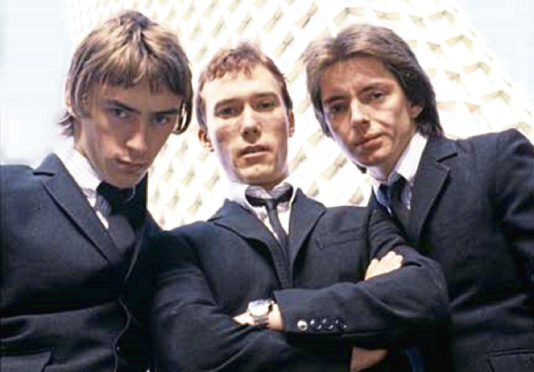 Jam legend Rick Buckler's hoping to forge a few bonds when he appears in Dundee next week.
The drummer — who joined frontman Paul Weller and bassist Bruce Foxton in one of the UK's biggest-ever power trios — will be talking about his life and career with Sham 69's Tim V at Beat Generator on Thursday.
Rick, 63, did a few similar events three years ago to promote his autobiography and he says the time's right to hit the road again. "When I first started the spoken word gigs I was absolutely terrified," he admits.
"I hadn't done anything like that before. Once you get a few under your belt you sort of loosen up a little bit and the great thing about it is you're among friends. You do get the odd person who's angry at something or other but generally speaking everybody's on the same page.
"The people who come along appreciate hearing about the days of The Jam. A lot of them were there back in the day and some weren't. It's quite therapeutic for everybody all round and can be really good fun."
Still based in Woking, Surrey, where he formed The Jam as a teenager in the early '70s, Rick says he looks back on the band's six classic studio albums with equal fondness. "In The City was very much what we thought we were about live-wise, it's a very honest album in that respect," the dad-of-two declares.
"Settings Sons was much more a production album and things like The Gift was going back to stripping everything out again. But I think we were always exploring, so everything stayed pretty exciting.
"Up to All Mod Cons we were pretty much on a steep learning curve but from then on we became a lot more comfortable in the recording studio. There wasn't quite so much pressure, but playing live was always the most important thing to us anyway.
"It took me ages to go back and listen to the albums. It's the more obscure tracks that I find myself being drawn to, like Ghosts, Tales From The Riverbank and Absolute Beginners. I was nice to have that distance in time to rediscover some of the songs. The only one I think wasn't really quite up to the mark was Precious."
Following The Jam's split in late-'82 Rick and Bruce pursued Weller and his father John — the band's manager — for unpaid royalties, which eventually resulted in an out-of-court settlement years later. "I don't bear any grudges but I don't think Paul quite appreciated the damage he was doing by his dad being so greedy," says Rick.
"There was no need for it, it wasn't as if he was short of money himself. So I've never been able to understand the thinking behind that, why he didn't step in and say, 'It's obviously their money, why are you taking it away from them?' It seemed so ridiculous — almost petty — but there you go."
Tickets £13.50 from Grouchos and Tickets Scotland.
*** Ex-Elton John sideman John Jorgenson plays Kinross's Green Hotel on Thursday.
Know for his rock, blues and gypsy jazz stylings, the guitar maestro greatest accolades include a Grammy Award. His live band includes Scottish bassist Alan Thomson — a bandmate of the late John Martyn — drummer Cesare Valbusa and keys wiz Franz Bazzani. Material by Jorgenson's past cohorts Elton, Hellecasters, Desert Rose Band and The Byrds features alongside originals. Tickets £26.75 via Ticketweb.
*** Green Hotel has cult songsmith John Otway tomorrow and Sinnerboy's tribute to Irish guitar legend Rory Gallagher on Sunday.
Aylesbury-born Otway debuted in 1972, making it big with Really Free five years later. Paired with Wild Willy Barrett he scored a minor hit with DK 50/80, with solo effort Bunsen Burner going top 10 in 1992 after surreal B-side Beware Of The Flowers was hailed in a BBC poll. Tickets £21.50 via Ticketweb.
*** Breaking indie rockers Reflekter hit Beat Generator on Sunday.
Formed last year, the four-piece are being likened to Black Keys and Kasabian and they're looked after by fellow Nottingham boy Jake Bugg's management. Tickets £6.25 from Grouchos and Tickets Scotland.
*** Perthshire bands play a Round Table fundraiser in Strathearn tomorrow.
Carloways, The Return, True Gents and Scoogz are on the bill at the Rocktoberfest bash in Crieff's Academy Hall from 3pm to midnight. Email crieffroundtable@hotmail.com for tickets (£15).
*** There's an Associates reboot at Clarks on Sunday.
The Help Musicians Scotland benefit will see ex-Grace River and Paul Haig singer Audrey Redpath's Band A reimagine the Dundee legends' 1980 debut The Affectionate Punch. Tickets £8.
*** Extreme metal's on offer at Beat Generator tomorrow.
The annual Hordes X event has underground outfits Krysthla, Bloodyard, Dog Tired, Ramage Inc, Threshold Sicks and Darkness Divine from 3.30pm. Tickets £10 via wegottickets.com
*** Church hosts prog veterans Curved Air tonight.
Formed in 1970, the Londoners' hit Back Street Luv was later covered by Salad. The Sonja Kristina-fronted outfit's most recent LP was 2014's North Star. Tickets £21.45 online.
*** Irish songsmith Dermot Kennedy plays Fat Sams on Monday for Dundee's Assai Records. The County Dublin troubadour went top 20 this week with his track Outnumbered and he's just dropped his debut album. Tickets £11.
*** View frontman Kyle Falconer kicks off a short tour at Arbroath's Webster Theatre on Tuesday, supported by Vivace Friends Club. He's also at Perth's Ice Factory on Thursday. Tickets £17.60 via Gigs In Scotland.
*** Number 57 has Sixties, Junkyard Dogs, Headroom, Ringer, Chain Gang and Mivvies on Sunday from 3pm. Tickets £7.50.
*** Cherry Bombz play The Ambassador on Sunday.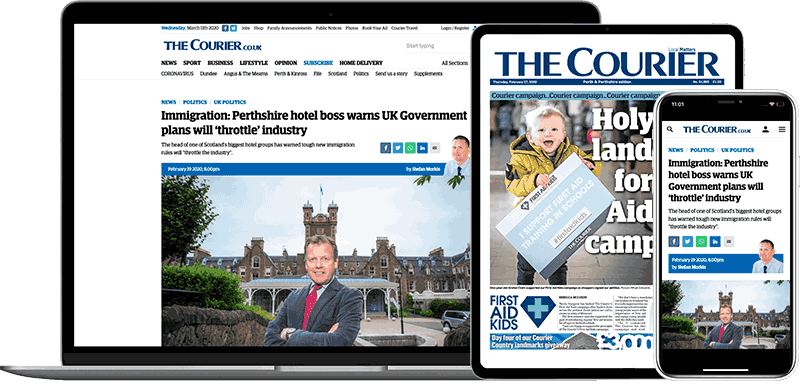 Help support quality local journalism … become a digital subscriber to The Courier
For as little as £5.99 a month you can access all of our content, including Premium articles.
Subscribe