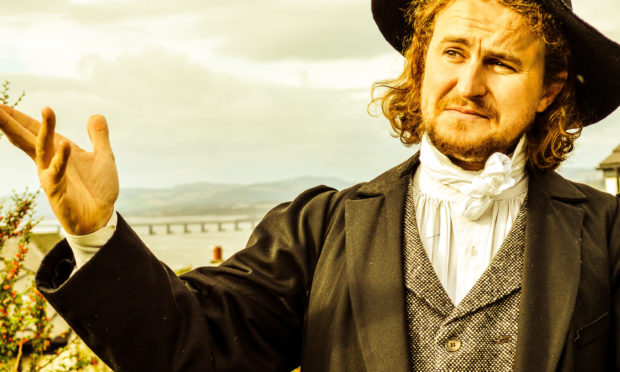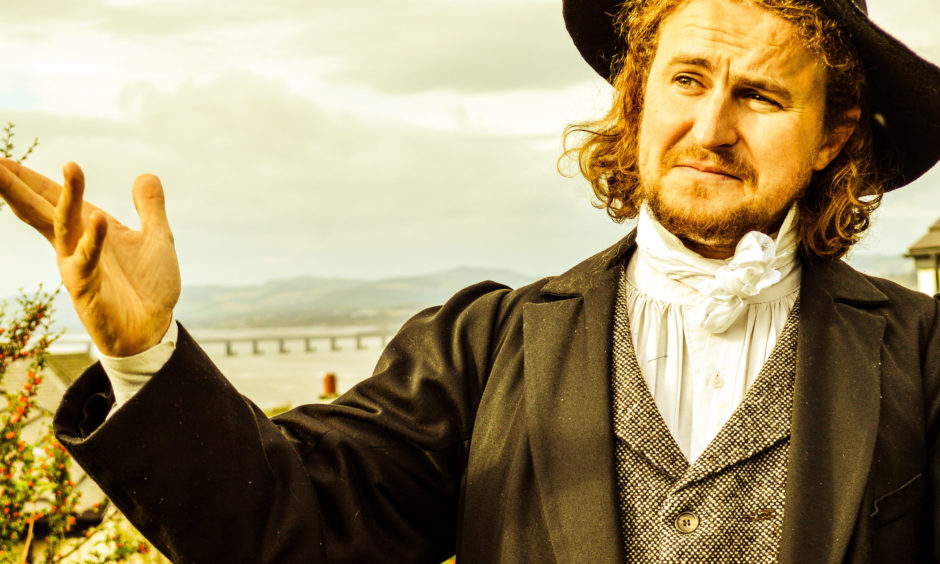 Three top Scottish comedians have given The Courier their take on the classic Christmas tale. Michael Alexander spoke to Glasgow-based writer, performer and William Topaz McGonagall expert Gary McNair to find out how he thinks the legendary 19th century Dundee poet and tragedian might have interpreted Christmas 2019.
If 19th century poet and tragedian of Dundee William Topaz McGonagall were alive today, what would he make of a 21st century Christmas?
The challenge of answering the question was posed to Glasgow-based writer and performer Gary McNair by The Courier when we asked him to come up with a festive literary creation in the mind-set of McGonagall.
The 33-year-old recently brought his critically acclaimed show McGonagall's Chronicles (Which Will Be Remembered For a Very Long Time) back to Dundee Rep after a successful performance there in March last year.
A tragic comedy, McGonagall's Chronicles charted the life story of McGonagall who has come to be known as the world's worst poet.
It tried to understand how he could be so bad at what he did and got to the heart of the dilemma that surrounds his legend- is it okay for us to laugh at someone's obvious and relentless failings?
Putting his mind to what McGonagall would make of Christmas 2019, Gary, a father-of-two young children, is certain that the poet would be a "huge campaigner" for a greener Earth and a progressive advocate for a cleaner, brighter future.
"I love McGonagall and I love imagining what he would make of the world around him if he were ever to return," said Gary.
"What would he make of the V&A, Donald Trump or the X Factor? We'll never know.
"What we do know is that, as well as all the bad poetry, McGonagall was a very moralistic person.
"And while he would get on people's nerves when he'd turn up in pubs and warn of the dangers of the demon alcohol, he'd also fight for causes that were driven by pure empathy and I think that some cases, such as his rousing work on Women's Suffrage, he should be looked at as quite progressive.
"There's no denying he cared about fairness and for people to be treated well. "I think he'd be a huge campaigner for a greener Earth and would write poems celebrating Gretha Thunberg, David Attenborough and the polar bear. I'm not saying they'd be good. But he'd write them!
"When asked to write this, I kept wondering of how he would view the modern spectacle against the backdrop of waste and greed. Here's what I think he might make of it…"
CHRISTMAS CHEER by Gary McNair
As we draw to a close of the second millennium's 19th year
I ask the people of Dundee to lend me your ear
So that you are able to hear
The thoughts I have on Christmas cheer
So I will tell you them now without the least bit of fear
Christmas cheer is a lovely thing
It makes our hearts feel light and our mouths for to sing
It gives us a chance for us to show thanks to our loved ones 
As we enjoy a fatted turkey with tatties and onions
It causes people to be at their merriest 
Much more than when they are very pissed
Because when it's time for Christmas cheer
We tend to have our loved ones near 
To enjoy this most joyous part of the year
And perhaps you like get each other a gift
A thoughtful wee present that will gives the receiver a lift
Something that will make them smile very swift 
Not something that will leave them miffed
That's all you need at Christmas, more or less
Though I'd advise you to donate something to the homeless
Because they deserve cheer as much as you
So passing some on is a good thing to do
So if you ask me
That's the way it should be 
Some time together 
And thinking of others 
But as I look round the Christmas of the present day
I'm afraid that I am loathed to say 
I fear it may have lost its way 
As people seem more stressed than bonnie and gay
Christmas used to last just a day, maybe two
It was something to really look forward to
But now people are wondering when it's going to be over 
As it's been going on since the middle of October 
And I hope I won't sound indecent 
When I say there are too many presents 
In my day a carrot would have been enough
To show your spouse that it is them you do love
Now people seem to buy so many toys 
To give to all the girls and all the boys
And what's worse it's all made from something called plastic 
Which I'm told is nothing short of drastic 
As it will never decay like we do as through this life we hurtle
And will end up in the ocean where it's likely to choke a turtle
And if that's not enough to make you open your eyes
The manufacturing of plastic is making global temperatures rise
And I am told by those who are very wise 
That this will soon lead to our demise 
I know you think you need all this fool's treasure 
Because you're put under endless amounts of pressure 
From multinational super-conglomerate companies 
That are using up natural resources and killing all the bumblebees
And aim to hold you in the invisible prison
That is the debt caused by rampant capitalism 
I dare say it must be said 
We all must start using our heads 
And that this year
We return to the heart of Christmas cheer
And ask your yourself when buying gifts 'do they really need it?'
And then do away with the commercialism and let Christmas cheer supersede it
You see the carrot I got each year for my wife 
Actually helped sustain her life
And none of it ever went to waste 
They were juicy and crunchy and she really loved the taste
So at the risk of repeating the same thing over and over like a parrot
This year,
Choose cheer
And on the 25th of December
Make it one that we'll always remember
By giving your loved ones a carrot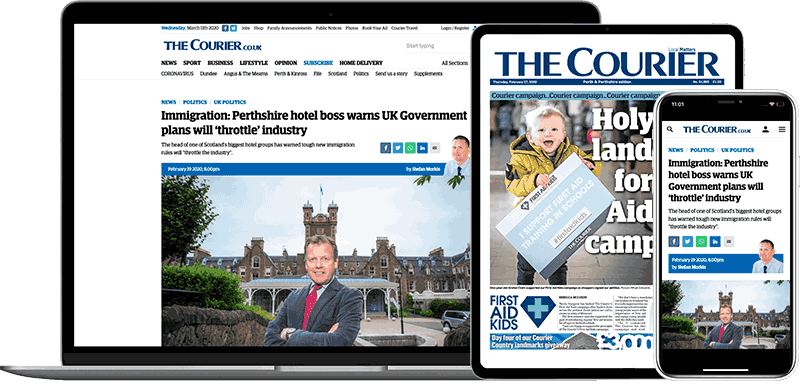 Help support quality local journalism … become a digital subscriber to The Courier
For as little as £5.99 a month you can access all of our content, including Premium articles.
Subscribe