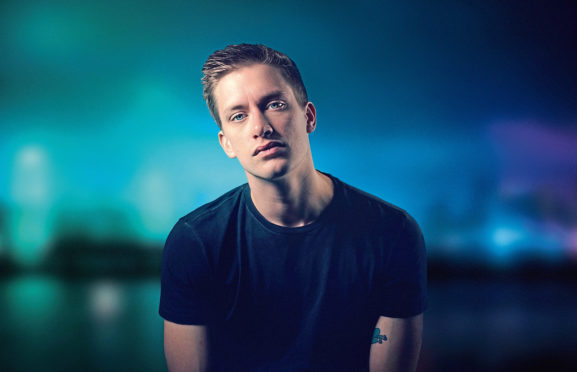 Daniel Sloss thinks his new show, X, is worth going to – but he won't say much about it.
Asked to explain what it's about he responds: "No. Come and see it. You know those funny movies where all the funny bits are in the trailer? I can't run the risk of being the comedy equivalent of that. It's a funny show. It's my best show yet. But if you're easily offended then please go away forever."
He may not be happy to give away any of his jokes but Netflix certainly thinks he's funny. The streaming giant has recorded two of his shows, X and Jigsaw, throwing his comedy in front of a massive new audience spanning 190 countries and 26 languages.
"Getting the Netflix deal was a huge moment for me," he continues. "It was literally 5 years in the making and I'd lost a lot of faith that it was going to happen. Then right when I'd fully given up on it, they gave me it. The moral of the story? Give up on your dreams sooner."
Brought up in the East Neuk of Fife, Daniel started writing material for Frankie Boyle aged 16 and had his first Edinburgh Fringe run under his belt by the time he turned 18.
Now 29, he's been a full time comic for well over a decade and has several world tours to his name as well as the Netflix specials.
What are his favourite cities to perform in? "The European cities are all incredible. Vienna, Llubjana, Zagreb, Tallinn. And most of the UK dates are excellent.
"Some of them absolutely suck, but I can't specify which ones suck because I'm doing them again this year and they'll get upset that I think they suck as an audience. Once I've burned all my bridges there I'll be sure to let you know."
Daniel's stateside career has been boosted by numerous appearances on Conan O'Brien and on fellow Scot Craig Ferguson's The Late, Late Show – in fact he's appeared a record number of times on Conan. He explains: "It's a tense time in America and they're all very proud people despite having done very little to be proud of in recent years. They rock as a crowd though. Comedy started there and the audiences are real intelligent and fun. I love gigging there."
Next week Daniel will be back in his home county of Fife for a performance at Dunfermline's Alhambra. It's the only Scottish date on his current tour.
He's based in Edinburgh these days. He credits the Fringe with launching his career and continues to perform there each August.
"That's where the Conan people saw me, that's where Netflix saw me, that's where Live Nation saw me. That's where my agent saw me when I was 17.
"I owe a lot to the Edinburgh festival and the people that have seen my shows there."