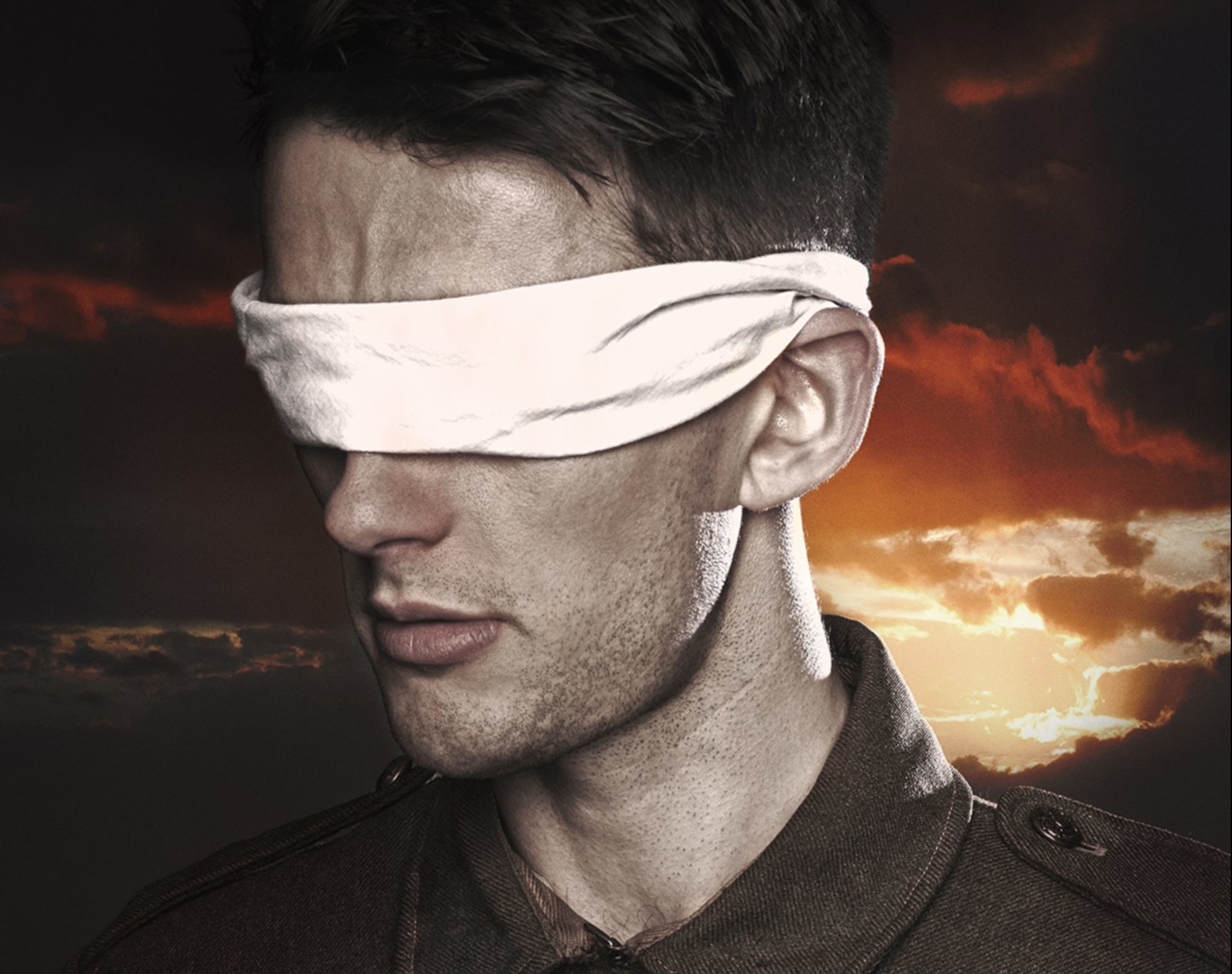 A barn in the heart of Perthshire is the setting for a new piece of music theatre. Gayle Ritchie visits the site ahead of the performance, which charts the journey of 306 British soldiers executed by their own side during the First World War
An eerie mist hangs in the trees and music floats from the barn across the verdant Perthshire countryside. It's chilling, spine-tingling, poignant and beautiful.
The cast members of a new National Theatre of Scotland play are huddled inside in a tight circle, singing in harmony and filling the huge space with their voices. The acoustics are sensational.
The barn is the perfect setting for the production, which charts the heart-breaking journey of three of the 306 soldiers executed for cowardice, desertion and mutiny during the First World War.
Based on true events, it explores the lives of these unknown soldiers – who appear on no war memorials – and gives them back their voices, stories and names. These are stories that need to be told.
The play, titled The 306: Dawn, is the first part of a trilogy and is set in France around the time of the Battle of the Somme.
It marks the centenary of the battle in which more than 1,000,000 men were wounded or killed, making it one of the bloodiest battles in human history.
So why stage the production here, in an unassuming agricultural barn at Dalcrue Farm, near Pitcairngreen?
"The Perthshire landscape is very similar to the Somme, so it made sense," explains producer Pamela Walker.
"In our story, the soldiers are kept in a barn, blindfolded and marched into a field to be shot at dawn, so it felt right to stage it there."
When I visit the site a few weeks ahead of the performance going live, there's a real buzz of excitement among the cast and crew. They've been rehearsing in Glasgow but today is the first time most of them have set eyes on the barn.
Having been most recently used as a dog training centre, there's a great deal to be done to transform the space into what will essentially be a theatre set.
It's in a stunning location – with fields and trees forming the backdrop, and what the landowner presumes to be an old ruined schoolhouse crumbling beside it.
And as luck would have it, the NTS team are able to rent a house overlooking the barn to use as their dressing room.
It's early days and the barn is fairly empty – aside from some stacked up dog training kit and caboodle – but the lighting, stage and sound equipment and props will soon arrive.
Ushering me over to a miniature model of how the final set will look, set and costume designer Becky Minto talks about the research behind the design.
"You see a lot of tree stumps, charred trees and duckboards in battlefield photographs; we used these images as inspiration for the set design," she explains.
"We bought 200 chairs from charity shops and recycling centres and burned them in a workshop with a blow torch to represent the charred wood of the trees in the photographs."
Audience members will sit on these (don't worry, they've been varnished).
She's also sourced corrugated iron, Ministry of Defence-style duckboards and wooden sleepers.
Becky is particularly excited about what she terms "rifle trees". These jagged strips of wood, inspired by Enfield rifles, will be positioned around the set to give the impression of a forest. There will be 306 of them.
"It's about making 'site-responsive' theatre really work," says Becky.
"The director [Laurie Sansom] and I discussed setting the piece in a place of solitude and realised we didn't want to recreate a World War One barn – it's more about how we reflect back.
"We didn't want to feel we'd dropped a set into the environment; rather we wanted the set to be connected to the environment. It needed to feel as if we were responding to the site."
Memorialising the dead
The 306:Dawn is written by the celebrated writer Oliver Emanuel whose work for the NTS includes Dragon and The Day I Swapped My Dad for Two Goldfish, based on Neil Gaiman's book of the same name.
It was back in 2012 that inspiration took hold when Oliver and composer Gareth Williams were looking at planned memorials for the First World War.
"It felt like all the stories were about bravery and sacrifice and heroism," says Oliver. "And while these were powerful testimonies, it seemed as if there was something missing.
"What about those who failed to live up to this ideal? When we found out about the 306 men shot for cowardice and desertion – and the story of their families and the hundred year campaign for their pardon – it was an instant connection. This story challenges what we think about the war and how we memorialise the dead."
It's an emotional challenge for the actors, by any stretch of the imagination, but they've been busying themselves with research; reading books, watching documentaries about trench warfare, and chatting to First World War historians.
"What happened was harrowing and hard to comprehend," says Scott Gilmour, who plays 17-year-old soldier Joseph Byers from Glasgow.
"The barn is a huge space to fill and so fitting for the play. It's beautiful and barren. People are so used to experiencing theatre in cities. But it's so far removed from that kind of experience out here in the country. It's the perfect place to reflect on an event we can't really comprehend."
Scott's character, Joseph, was too young to enlist and like so many, he lied about his age to join other men at the front. However, his dreams of being a soldier were quickly destroyed by the brutal realities of trench warfare and he found himself in trouble with the authorities.
"He was the only soldier in the world to plead guilty, which makes you feel he didn't know what he was pleading to," laments Scott.
Joshua Miles takes on the role of 24-year-old Lance-Sergeant Joseph Willie Stones from Durham. He was accused of casting away his arms in combat – an offence punishable by death. He believed he was protecting his men, but the top brass wanted to make an example of him to maintain discipline in the ranks.
Then there's Josef Davies, who plays 25-year-old Private Harry Farr from London.
"Harry is suffering from PTSD and shell shock and is unable to fight," says Josef. "He's completely traumatised by things he's seen and lived through as a serving soldier. Ultimately, he's convicted of cowardice and, as he waits to hear his fate, he dreams of his wife and hopes for a last minute reprieve."
The play gives a fascinating insight into the worlds of the soldiers' wives and families back home, via flashbacks and dreamlike scenes.
"The shame of the men, their wives and families was monumental," says Emily Byrt, who plays Harry's wife, Gertrude.
"Gertrude is the only female in the piece but she represents a lot of the stories of those back home. There are some magical moments which demonstrate, through movement, the unconditional respect, trust and love these war couples had for each other and how tragically, they lost each other."
A story that needs to be told
Staging such an epic production in a barn in the middle of Perthshire is a colossal undertaking and Dalcrue Farm, normally a haven of tranquillity, is a hive of activity.
Farmer Alistair Alston, who owns the barn, watches, mesmerised, as lorry loads of lighting, sound and stage equipment, chairs, rifles and other props trundle into the yard.
He's preparing himself for the production's opening date on May 24 when audience members will be bussed in from Perth most days, and sometimes twice daily, until the last performance on June 11.
A huge theatre fan, Alistair, 74, was more than happy to oblige when production manager Gavin Johnston approached him and asked if they could "borrow" the barn.
"Gavin had been on a recce for a few weeks, driving round Perthshire looking for the 'right' barn," he says.
"This one was built in the mid-80s and has been used for all sorts. I've kept sheep and straw in it and it can take 5,000 tonnes of grain. It's been used by Perth Dog Training Club for years but I had to ask them to move out for a few weeks to make way for the NTS. I found them a marquee and a field nearby and luckily they were very accommodating."
What really sealed the deal for Alistair was the offer of lifetime membership of Perth Theatre.
"I'm not helping out for the money!" he smiles. "I used to go to Perth Theatre frequently and had a season ticket as a young boy."
His seats are already booked for "at least a few" performances of The 306: Dawn. And he's even considering staying up for the special 2.15am dawn performance on May 28.
"It's definitely a story that needs to be told and the NTS and their co-producers are not sparing any expense in doing so," says Alistair.
As the man who found the barn, Gavin can't wait for the production to take shape.
"I travelled all over Perthshire to find exactly this," he tells me. "When I opened the door of the barn at Dalcrue and saw the backdrop of trees, with the sun shining through, I knew I'd found the right one."
A unique experience
Back in the barn, I pause a while to listen to the music, composed by Gareth Williams and performed live by the Red Note Ensemble alongside the actors.
The words they sing over and over – "I have no name, no name. Shot at dawn, grave unmarked. I have no name" – are impossible to ignore.
Costumes are yet to be finished, so the actors are just sporting jeans and trainers, but they're so passionate about what they're doing, they somehow manage to carry it off.
"They won't be going full military anyway because they play so many different roles in the piece – corporals, lieutenants and sergeants," says Becky.
"We're giving the costumes a contemporary slant and creating a more modern take on uniforms you could find any young man in."
In a break from traditional theatrical staging, audience members will be positioned round the action.
Everyone who comes to watch the play will see it from a different angle.
"Nobody will ever see or experience anything like this ever again," she says.  "I hope people take a leap of faith and get on the bus. It's a show in a barn in the middle of Perthshire. It's going to be a one off – a totally unique experience."
info
The 306: Dawn is a co-commission with 14-18 NOW, the UK's First World War centenary cultural programme and Perth Theatre, in association with Red Note Ensemble. It's the first in a trilogy of new plays commemorating the First World War, to be presented in 2016, 2017 and 2018.
The play opens for preview on May 24 and runs until June 11, with a special dawn performance on May 28.
Audiences will be transported from Perth Concert Hall to Dalcrue Farm and tickets must be bought in advance.
Buy tickets for The 306: Dawn at www.nationaltheatrescotland.com and www.horsecross.co.uk.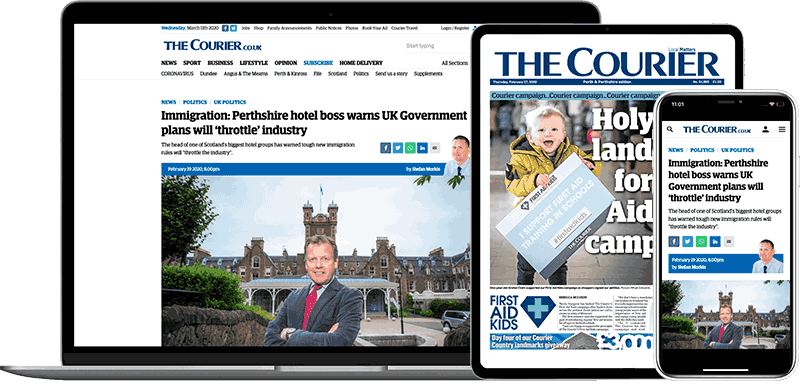 Help support quality local journalism … become a digital subscriber to The Courier
For as little as £5.99 a month you can access all of our content, including Premium articles.
Subscribe