As Dundee Rep Theatre's new Fife-raised artistic director, Andrew Panton, officially takes up his post, he tells Michael Alexander of his ambition to further the work of the theatre's award-winning Ensemble across the UK and worldwide.
He has worked everywhere from Edinburgh's Royal Lyceum Theatre to Perth Theatre and was responsible for directing the famous dancing Tunnocks teacake segment of the Glasgow 2014 Commonwealth Games opening ceremony, which was watched by an audience of more than one billion world-wide.
But Fife-raised Andrew Panton admits that it's his recent appointment as artistic director of Dundee Rep Theatre – and his vision to take the work of the theatre's award-winning Ensemble far and wide – that fulfils a life-long ambition.
The former pupil of Burntisland Primary and Balwearie High School, Kirkcaldy, has been coming to see shows at the "magical" Rep since he was a young boy.
And he vivivdly remembers the day when, as a 10-year-old, he told his parents he would like to run the theatre one day.
"When I think about coming to Dundee as a child I loved it," smiles the 43-year-old.
"It had that charm and was a bit rough around the edges. To me they spoke funny, which is very rich being a Fifer!" he laughs.
"But Dundee Rep was always a magical place to me. It had that vibe – and still does.
"So, taking up this post really has been a dream come true!"
Andrew is delighted that Dundee Rep is firmly established as a cultural hub within the city's expanding and impressive creative scene.
However, he thinks the venue deserves wider recognition across the UK and internationally for the quality of its artists and productions.
The Rep is the only theatre in Scotland with a permanent full-time company of actors and he is committed to ensuring the skills of the Ensemble are promoted in and outside of The Rep.
"I want to work in partnership with theatres around the world; using our actors, directors and productions to expand our audience and give the Ensemble the recognition they deserve" he says.
"At the moment Dundee it feels to me like a city that is reaching out to the rest of not just Scotland and the UK but it's shouting to the world and saying 'look we are cool, we are great at what we do, look at us as an exciting cultural hub'.
"That's very much what I feel about the next episode for the Rep and for the Ensemble – to let people know about the work that we do – to get the work out there."
Andrew is well-known to Dundee audiences having directed the Ensemble in John Kolvenbach's Love Song to huge critical acclaim in 2016.
He was previously assistant director for the National Theatre of Scotland's Black Watch, director for The Mill Lavvies and movement director for Sweeney Todd.
It's apt, however, that when The Courier caught up with him this week, he was in New York – and already working hard to further the Rep's international reputation.
"I'm directing a development workshop of a new piece about Stanley Robertson who was the last of and one of the most prolific storytellers of the travelling people in the North East of Scotland," he reveals.
"It just happens it's a Broadway producer that's got the rights to the story so it's kind of ironic I've had to travel over here to develop a story that's pretty much about our neck of the woods around Dundee, Perthshire and Aberdeenshire – but I'm not complaining!" he laughs.
"It can take five or six years to develop this sort of thing through re-writes and stages of development. We are midway through the process. I'm hoping it's something we'll be able to work on at Dundee Rep over the next few years."
Describing his appointment as "very fortunate" given the stiff competition for the post, Andrew was offered the job at Dundee Rep on the same day he received his professorship from the Royal Conservatoire of Scotland last year.
He regards the Ensemble as the "engine room" of the Rep and that will continue to be "at the centre of everything we do",
Andrew says his vision is very much for Dundee audiences. But he adds: "I also want audiences from much further afield to see this fabulous work of the Ensemble, the amazing work of our creative learning department who consistently go above and beyond with our youth theatre work.
"I also want to expand and consolidate our visiting programme of work – just the diversity of what we bring to Dundee in terms of visiting companies is just phenomenal."
With the first season for the autumn to be announced on May 27, Andrew promises an "ambitious and engaging programme" including Scottish premieres, musical theatre and interdisciplinary story-telling using live music and movement.
Yet while excited about the cultural renaissance of Dundee, he won't be forgetting the more socio-economically challenged residents of the city as his tenure moves forward.
"In any post-industrial city you've got different faces to the city. You've got the side the tourist board will tell you about and you've got the other side as well. I think Dundee is not alone in having all those issues and problems.
"We do a lot of work through the Rep community learning department with particularly deprived areas of the local community, making sure we are not creating elitist work.
"We also keep a very stringent eye on our price points to make sure that if people want to engage with the work, the financial side should not be a barrier.
"I'm actually engaged in talking about doing a piece in the next couple of years which is about the homelessness problem in Dundee. It's a reminder that theatre should be accessible to everyone."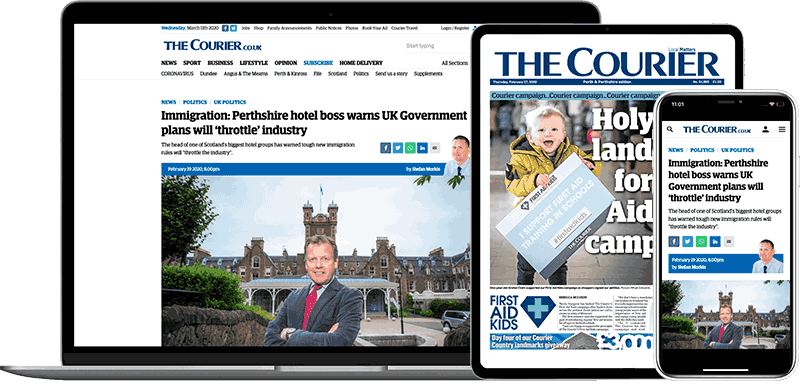 Help support quality local journalism … become a digital subscriber to The Courier
For as little as £5.99 a month you can access all of our content, including Premium articles.
Subscribe