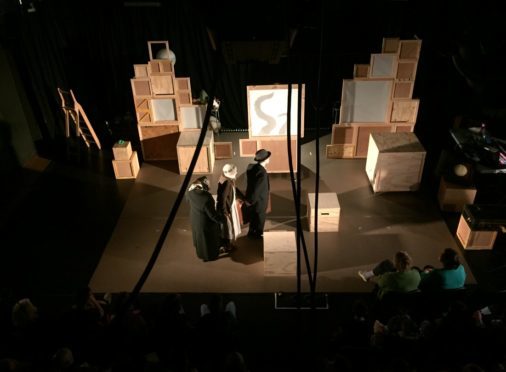 Glasgow-based theatre company Solar Bear comes to Dundee with their brand new stage adaptation of Shaun Tan's award-winning wordless graphic novel The Arrival.
It's the timely story of a man who makes a journey to start a new life in another country.
He soon finds himself in a city of bewildering customs, peculiar animals and weird vegetables.
He doesn't speak the language; he can't read the maps or signs.
He is helped along the way by sympathetic strangers, each carrying their own story: stories from our past and present, stories of survival and hope.
The four-strong Scottish cast features both deaf and hearing performers: Craig McCulloch, Kirsty Eila McIntyre, Moira Anne McAusland and Jatinder Randhawa.
It is directed by Solar Bear's Creative Director Jonathan Lloyd, with design by Janis Hart and movement direction by Ramesh Meyyappan.
The play embraces visual and physical storytelling, music and puppetry, with some scenes in British Sign Language (BSL) and English.
The unique show works for both deaf and hearing audiences, including those with English as an additional language. Aimed at young people and adults, it's suitable for anyone 11 and over.
Alongside the public performances, The Arrival will visit schools across Scotland with a series of immersive in-school events – from a mysterious man with a suitcase making origami birds in class to someone who doesn't speak English desperate for directions to the headmaster's office, via curious missing posters plastered in the hallway – developed with input from children at the Deaf Unit at St Roch's school in Glasgow.
Solar Bear's Creative Director Jonathan Lloyd said: "We can't wait to bring Shaun Tan's extraordinary book to life. Working with a cast of deaf and hearing actors, embracing a visual style of storytelling, we're excited that it'll be a playful, inclusive and moving experience."
*Solar Bear's The Arrival, Tayside Deaf Hub, Dundee, October 5
https://thearrival2018.wordpress.com/