Michael Alexander speaks to Fife-raised theatre director, actor and former 1990's 'indie kid' Cora Bissett about her autobiographical gig-theatre show What Girls Are Made Of.
It's three years since Cora Bissett's dad passed away, and as the celebrated writer, theatre director, actor and musician was helping to clear out the family home in Glenrothes, she came across boxes and boxes of diaries she kept religiously as a teenager.
Little could she imagine, however, that when she started wading through the material, and rekindling old memories, it would inspire a tour this year traversing Scotland and Northern Ireland and ending up in Brazil and the USA.
The diaries included the "mad crazy time" in Cora's life when, as a 17-year-old indie kid fresh out of St Andrews RC High School in Kirkcaldy, she put her place at Glasgow University "on hold" after successfully responding to a quintessential 'Band looking for singer' advert in her local newspaper.
Within months, the band Darlingheart – comprising two slightly older musicians from Kirkcaldy and her "amazing drummer" friend Catherine who she recruited from school – had made a demo, got on the radio and had been picked up by a manager.
The band secured a massive five-album deal, and, before they knew it were sharing a tour bus with Blur and supporting Radiohead.
However, like so many "classic indie rock oblivion" stories, the highs were followed by an equally massive low as the band didn't sell as many records as the label wanted, the band was dropped by the label and, within two years, the band had split up – incurring massive debt.
Written and performed by Cora, who went on to enjoy a successful career in acting and theatre, What Girls Are Made Of, which visits Kirkcaldy and Dundee this month, takes audiences back to 1992 to tell the autobiographical story of Cora's rollercoaster journey from Fife schoolgirl to indie music bright new thing, to "wised-up woman and mother."
Directed by former Traverse artistic director Orla O'Loughlin and performed with live backing band – with Susan Bear and Simon Donaldson reprising their actor/musician roles and guitarist/actor Harry Ward joining the tour party – this "epic piece of gig theatre" covers the whole story and poses the question: 'what wisdom should we pass on the next generation, and which glorious mistakes should they be allowed to make for themselves?'
"I kind of perform a whole life story from 17 up to the present day and I kind of act as narrator between the audience," said Cora, who now has a 3.5 year-old daughter.
"I speak directly to the audience. It's very informal. It's very chatty. But I kind of jump into these scenes with the rest of my band who are all playing the band members but they are also playing my mum and my dad and the record company and the dodgy manager – they play the whole world of the story."
Cora said the reception so far in Glasgow, Edinburgh and Belfast has been amazing.
However, she's really looking forward to coming back to Kirkcaldy where she went to school and to performing it in Dundee where the story will be recognised as "very familiar territory".
Cora added: "The play starts in Glenrothes and charts my teenage self, looking for the big adventure that life might hold.
"I was overwhelmed by the response we got in Edinburgh (at the Fringe) last year, where it seemed to resonate with everyone from teenage girls, to middle-aged men and women with teenage kids, and to older people who felt that teenage self rekindled. But it seemed to be everyone's story.
"When I look back I think I was quite an old soul on young shoulders, but I think we're all a mixture at that age," she added.
"I was a very young unworldly girl and I'd not really been out of Glenrothes or Fife much.
"Suddenly I was playing all these gigs in London and mixing with the biggest bands of the day. For the wee bumpkin from Fife it was like 'whaaaat is going on?!
"But at the same time I wasn't wooed or impressed by the a**holes we came across in the music industry.
"People blabbing their credentials, trying to impress you. I could see through all that. I wasn't impressed by that.
"I think I had my feet quite firmly on the ground, and maybe that's got a lot to do with my upbringing and my parents being very down to earth.
"It's a weird mixture. There was a maturity and an incredible naivety all together all at once."
Having caught the eye of promoters at The Fringe last year, the show moves on from Scotland to Sao Paulo, Brazil, then South Carolina, USA at the start of June.
But Cora has yet to decide whether to put a wee glossary at the back of the programme explaining what 'fud' means.
"God knows how Brazil are going to take to all the Fife-isms!" she laughed.
*What Girls Are Made Of, Adam Smith Theatre, Kirkcaldy (May 7/8) & Dundee Rep (May 14/15)
www.corabissett.co.uk/what-girls-are-made-of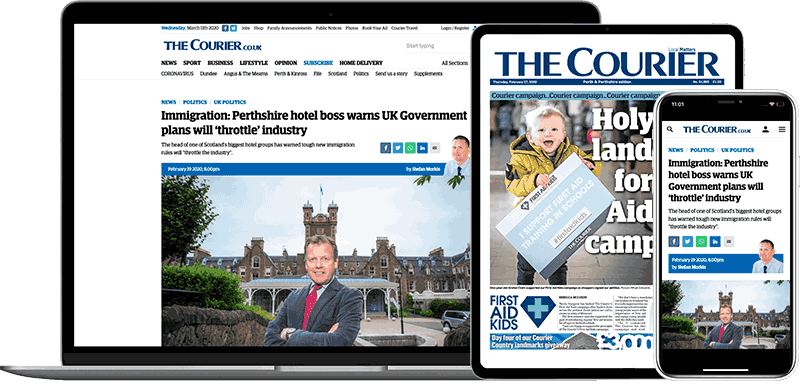 Help support quality local journalism … become a digital subscriber to The Courier
For as little as £5.99 a month you can access all of our content, including Premium articles.
Subscribe