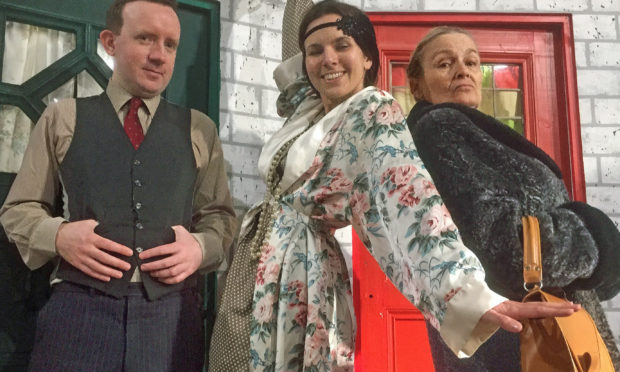 The writer Lorna Moon's story is worth a play of its own, but for this revival of Mike Gibb's touring 2010 production, just Moon's own memories of her upbringing in rural Aberdeenshire are the subject.
The book she wrote caused a scandal of its own, although Moon's extraordinary life story is worth repeating.
Born in 1886 in Strichen, Aberdeenshire, she married a man staying at her parents' hotel and eloped to Canada at the age of 19, eventually finding her way to Winnipeg with her second husband, where she worked as a journalist.
Reportedly sending the Hollywood mogul Cecil B. DeMille a letter criticising his 1919 film Male and Female, he invited Moon to Hollywood to do better; she took him up on the challenge and spent the 1920s writing screenplays for actors including Gloria Swanson, Greta Garbo, Lon Chaney and Lionel Barrymore, before her early death of tuberculosis in 1930.
Published in 1925, Doorways in Drumorty was a book of short stories set in a fictional Aberdeenshire town, but based on her own recollections of Strichen – and apparently these tales were so recognisably scandalous that the book was banned in Strichen library for 50 years in case it offended the locals.
"I was doing a reading in Strichen Library a month ago, just before this tour of the play started," says playwright Gibb, "and someone told me she'd spoken to a woman in her eighties who refused to come along because she'd 'have nothing to do with that Lorna Moon woman'. Not all of them have forgiven her.
"It's a wonderful bit of writing, though, the characters are so strong and it's beautifully observed, with great moments of comedy. In the play I've focused on one story about an elderly spinster who takes on the rest of the village as they try to drive out a young woman who's fallen pregnant and isn't married. It's a beautiful story, so we use that and break out into other tangents. There are only three actors, but there are thirteen different roles."
An early retiree in the 2000s, the Aberdonian Gibb took to writing plays with a local Scottish focus, including his Dundee trilogy at the Rep: Mother of All the Peoples, about the missionary Mary Slessor; Five Pound & Twa Bairns, about the Tay Bridge Disaster; and Sunday Mornings on Dundee Law. "When we first did Doorways at the Rep in 2010, I wasn't sure if it would travel because it's about life in the North-East," he says, "but it went down a storm, which encouraged me."
The play toured again in 2011, and was put away until the Awkward Stranger company asked Gibb if they could tour it once more – this Rep show is the final night of 18.
"I  kept my nose out and hadn't seen the production until it came to Aberdeen," says the writer, "but I'm delighted with what they've done, it's breathed fresh life into the play."
Doorways in Drumorty, Old Kirk, Kirkcaldy, May 17 and Dundee Rep Theatre, May 18
www.dundeerep.co.uk