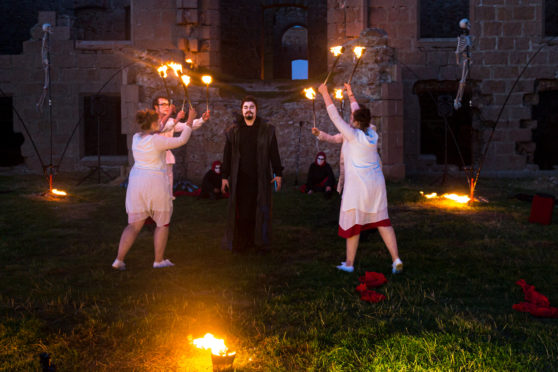 Doricula. Dracula, but with a Doric twist.
That's how a show produced by Modo, a performing arts theatre based in Peterhead, is billed.
With Halloween on the horizon, I could think of no better way to enjoy a Saturday night than watching Doricula, especially as it was being performed outdoors at atmospheric Slains Castle.
Most folk will have heard the story that the clifftop castle, just outside Cruden Bay (eight miles south of Peterhead and 25 miles north of Aberdeen) inspired Bram Stoker to write Dracula. Apparently, he fell in love with the area, and while staying at the Kilmarnock Arms Hotel in Cruden Bay, he began penning the horror novel.
Some even say that the fangs of the vampire's teeth were inspired by the jagged Scaurs – the hazardous rock range surfacing out of the sea at the end of Cruden Bay beach.
Whether that's true or not barely matters when it comes to the concept of Doricula.
"Why perform Dracula in Doric?" you might well ask. Well, according to Modo, who admit the idea of a Doric version of Dracula "sounds rather remote from the original", Dracula actually contains a phrase in Doric: "I wouldn't fash masel' about them, miss", as spoken by a Yorkshire fisherman. Apparently Bram's great-grand nephew Dacre Stoker reckons that Bram wrote this as a tribute to the people of Cruden Bay…
All this reasoning aside, I decided Doricula would be worth a watch, especially as I have a longstanding soft spot for Slains Castle. As a quine fae Aiberdeenshire masel', I've explored the crumbling ruins on many occasions, once camping beside it with a bunch of teenage pals and inevitably getting creeped out by the swirling mists and strange sounds emanating from within the eerie building.
Fast forward a couple of decades and I found myself strolling up the rutted track to the castle as dusk was falling. The show started at 7pm, and I was greeted by a vampiric vision of a young girl who stamped "blood" marks on my neck and invited me to take a seat.
I was instantly blown away by the weird, creepy atmosphere, taut with anticipation. Audience members were sat directly in front of the castle, and silence ensued as the bearded, dark-eyed figure of Dracula/Doricula emerged and began waxing lyrical about "bleed" being spilled – that's "blood" in English.
It soon became apparent that the show wasn't so much a literal take on the story of Dracula as it was an abstract interpretation, which was a good thing. Yes, the brooding character of Dracula/Doricula did speak Doric and oozed charisma, but his poetic outbursts were interspersed with showstopping displays of juggling, fire-eating, flirting with his harem of lady friends and dancing.
The flyer bills the show as "a highly physical production that combines circus, clowning and street theatre with infectious, atmospheric music, bringing to life one of the great classics and its debt to Aberdeenshire," Yep, I can confirm it does exactly that.
As the show gathered pace, night fell  until we were lit only by blazing flambeaux and subtle spotlighting. Creepy shadows appeared on the castle walls as the actors moved around, lending the show a wonderfully edgy, spine-tingling aura.
A doll's head on a spike, lots of biting, bucketloads of blood and a severed head completed the scary factor – suffice to say, the show might not be suitable for young kids or those with a nervous disposition.
I was incredibly impressed by the actors' skills – even though I spent quite a lot of time on the edge of my seat praying they wouldn't drop their juggling balls or sticks of fire. And thank goodness they didn't.
The music throughout was suitably creepy, tribal and atmospheric and sent shivers down my spine – exactly what was required.
When the show finished up around 8pm, the cast got a well-deserved standing ovation.
If I was to offer any advice, other than yes, go and see the show, it would be to wrap up warm. It was quite a chilly night when I had the honour of watching Doricula, and I was glad of my hat, gloves, fleece and scarf.
The next performance of Doricula is at Aden Country Park near Mintlaw on October 11 and it'll be interesting to say how Modo makes it work at this venue.
The show returns to Slains Castle for two more nights – on Thursday October 17 and Saturday October 19 – and I highly recommend it.
For tickets, see www.ticketsource.co.uk/modo
info
Harnessing the skills and thrills of circus, Modo helps young people across Aberdeenshire to improve life chances and to gain skills and confidence while celebrating and creating the culture and community of the area. www.modo.org.uk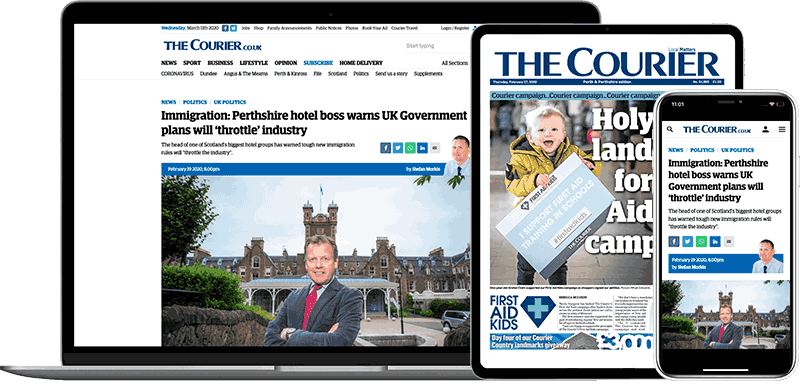 Help support quality local journalism … become a digital subscriber to The Courier
For as little as £5.99 a month you can access all of our content, including Premium articles.
Subscribe