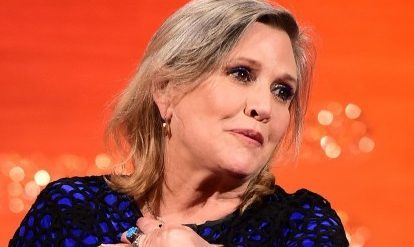 Star Wars actress Carrie Fisher has died in hospital, days after suffering a heart attack on a transatlantic flight.
The 60-year-old, who became an international screen star and inspirational figure overnight when she first portrayed the hard-headed Princess Leia in the 1977 sci-fi blockbuster, was taken ill on a flight from London to Los Angeles on December 23.

Harrison Ford, Carrie Fisher and Mark Hamill in Star Wars (AP/20th Century-Fox Film Corporation)
In a statement released on behalf of Fisher's daughter Billie Lourd, spokesman Simon Halls said: "It is with a very deep sadness that Billie Lourd confirms that her beloved mother Carrie Fisher passed away at 8.55 this morning.
"She was loved by the world and she will be missed profoundly. Our entire family thanks you for your thoughts and prayers."
Fisher has been in London on a promotional tour for her new memoir, The Princess Diarist, which also coincided with the release of Rogue One: A Star Wars Story.
Such was her far-reaching legacy, there has been an outpouring of condolences on social media from those who knew, worked with or were simply fans of Carrie Fisher, from throughout the entertainment world.
I'm deeply saddened to learn of the death of Carrie Fisher. I will miss our banterings. A wonderful talent & light has been extinguished.

— William Shatner (@WilliamShatner) December 27, 2016
She was the brightest, funniest, bravest, kindest, cleverest and sweetest person I ever knew. A crushing blow to lose @carrieffisher

— Stephen Fry (@stephenfry) December 27, 2016
RIP Carrie Fisher. Such a terrible loss.

— Dave Mustaine (@DaveMustaine) December 27, 2016
Carrie Fisher was a lovely lady. Met her a few times in the States. She was always friendly and warm. Very sad news today in a sad week

— Colin Baker (@SawbonesHex) December 27, 2016
Carrie Fisher was smart, funny, talented, surprising, and always a hell of a fun time to be around. Family Guy will miss her immensely.

— Seth MacFarlane (@SethMacFarlane) December 27, 2016
I'm deeply saddened at the news of Carrie's passing. She was a dear friend, whom I greatly respected and admired. The force is dark today!

— Billy Dee Williams (@realbdw) December 27, 2016
no words #Devastated pic.twitter.com/R9Xo7IBKmh

— @HamillHimself (@HamillHimself) December 27, 2016
Beyond Star Wars, she was known for roles in many other cult films and television programmes such as The 'Burbs, When Harry Met Sally, Frasier, Smallville and most recently in TV sitcom Catastrophe.
Star Wars: Episode VIII, which is understood to feature one of Fisher's last performances, recently completed filming and is due for release next December.