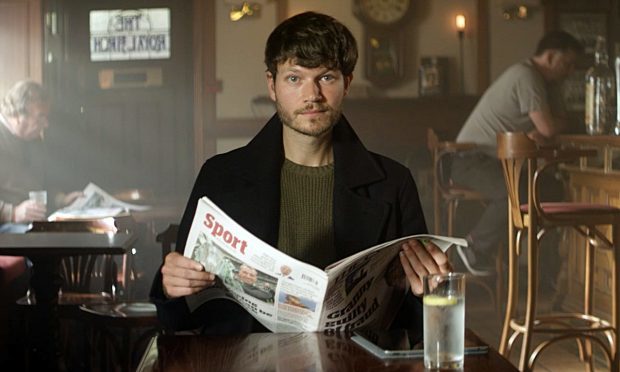 A high quality commercial for The Courier which hit 40 cinemas and millions of Scottish TV screens in June has been shortlisted for a prestigious national advertising award.
For The Real Stories, produced by Edinburgh-based Greenroom Films, has been shortlisted for the commercial over 21 seconds category of the Scottish Creative Awards, which will be presented on October 26.
The awards are the succession of the Scottish Advertising Awards and have been awarding top creative work since 1997.
Over the course of two days in May, the 30-strong cast and crew attached to Greenroom Films shot at carefully selected locations throughout Dundee and Tayside – and the real Courier was given exclusive 'behind-the-scenes' access to the film-making process.
We followed the team as they zipped around locations including The Caird restaurant in Dundee city centre, Murray's chippy in Broughty Ferry, waste ground at Dundee's Kingsway East, the Prego shoe boutique in Broughty Ferry – finishing up with a memorable scene atop Arbroath cliffs.
The script, which questioned whether stories are black-and-white or whether a complex truth exists somewhere in-between, was filmed over two days with potentially hours of footage edited down later into a one minute advert for cinemas and a 30-second commercial for TV.
Glasgow-born freelance film director Martin Smith, 44, who won a Scottish BAFTA in 2006 for his gritty short film Tracks and has made numerous high profile documentaries, said it was "incredibly satisfying" to get industry recognition.
He told The Courier: "It's by no means why we make films, but when you get awards or nominations it makes you feel proud.
"One of the things I love in particular is that you can contact people who worked on the project, and we had a great crew who made it happen – the cast, the casting director, cinematographer and the camera team, art director, make-up, costume, the list goes on and on.
"It's often the director or the production company who get credit when these awards come up but it's a massive team effort.
"That's why they are so fun to make, even when the days may be long and the bones are creaking."
Mr Smith said The Courier was a "great company to work for" and was "really involved with creative ideas from the first moment".
He added: "I think that's why the films have done so well – the audience recognise themselves in the films, they can see the local area and hopefully that resonates with them.
" A huge part of what the film was about was the strength in journalism – our film aimed to touch on fields that The Courier covers – news, the arts, culture, shopping, food – we tried to touch on a lot of bases and that made the film pretty ambitions.
"I hope in some small way this nomination is recognition that we've done something right."