As comedian Arabella Weir prepares to host the 2018 Festival of Ideas in Kirkcaldy, Michael Alexander speaks to her about  her Fife roots, Dr Who and her experiences of sexual bullying.
Seated on a train hurtling through the English countryside between London Waterloo and Winchester, comedian, actor and writer Arabella Weir is putting on her best Scottish accent as she reminisces about her "Dunfermline granny": the strict and formal woman where "niceties" had to be observed during childhood visits and where her parents' sarcasm helped her look at life in a "skewed wry way".
We're talking about what influenced her to become an actor and how her Scots parents' self-deprecating humour made her "funnier".
"Blowing my own trumpet -or getting too big for my boots as my Dunfermline granny would say – I'm definitely the funniest person in my family!" says the San Francisco born former British diplomat's daughter who was brought up as "Scottish" despite living overseas.
"At my Dunfermline granny's there was always that juxtaposition where we had to mind our Ps and Qs – mum and dad pretending we were going to church all the time – all that kind of thing. It was so different to being at home.
"I remember thinking we are living one life but pretending we live another when we came back to Scotland.
"You might say both my parents were a little sarcastic. But looking at life in a kind of skewed wry way did make me funnier."
You might not guess it from her educated, non-specific accent, but London-based Arabella, 60, whose big break came on 1990s comedy The Fast Show, remains close to her parents' roots in Fife and Melrose.
She has a "wonderful" story about her dad Sir Michael Weir, who, from humble beginnings, was Dux of Dunfermline High School, and earned a scholarship to Edinburgh University.
After being conscripted into the RAF at the tail end of the Second World War, his talent for learning Arabic saw him recruited into the then British spy school in Palestine before transferring to Oxford and a career with the diplomatic service.
It took him all over the world and saw Arabella and her siblings grow up in places like Washington DC, Cairo and Bahrain.
But a year after she performed at the Adam Smith Global Foundation's Festival of Ideas alongside former Labour MP and 'Strictly' star Ed Balls,  Arabella returns to Kirkcaldy later this month as artistic director of the 2018 event, which runs at the Adam Smith Theatre from March 16 to 18.
This year's already sold-out highlight will be 'An Audience with David Tennant'.
The Broadchurch and Dr Who actor will appear in conversation with his close pal Arabella who first met him on the set of Taking over the Asylum in 1994.
She will quiz him on his childhood growing up in Scotland, his rise to fame and what it's like to be the most popular Dr Who ever.
"I'll be doing the heavy lifting – he'll be doing the 'oh I've got an amusing anecdote'!" she laughs.
Arabella's also looking forward to the appearance of comedians Sandi Toksvig and Kieran Hodgson – and she hopes this year's "hard hitters" will make an impact.
But she has another heavyweight – former Kirkcaldy Labour MP and Prime minister Gordon Brown – to thank for getting her involved in the first place.
"I knew Sarah Brown and then through Sarah I met Gordon," says the Labour Party member.
"When Gordon invited me to last year's festival, I  said 'oh you can't have me on before an economist and after a man who knows all about coding'. I found it fascinating, but I think one of the first jokes I made was 'I don't think I've ever been the warm up act for an economist!'
"So in his very efficient, quite sort of brisk way, Gordon said 'right why don't you be the director then?' And I thought he was joking, but  he said 'no you know what you are doing so just do that'. So I said 'alright I will'.
"So I am now the artistic director which I think means you've just got to know what makes an entertaining weekend – and how to cash in a few favours!"
Arabella is currently starring as Beth in the third series of BBC Scotland comedy Two Doors Down.
She describes the writing as "spot on" and is pleased that the latest series seems to have "crossed the border into English consciousness" with very favourable reviews.
She says that working again with Scottish comedy stalwarts Jonathan Watson and Elaine C. Smith is "like a family get together".
"It's very much a team show – there are no stars," she says.
Arabella says she first got into acting because she was a "show off" at school and "naturally" funny.
"Living abroad, I learned very early on that the way to make a mark was to be a wise ass, a show off, a smart mouth!" she says wryly.
Going on to drama school, she did regular acting but "felt like a complete phoney" when she was auditioning for Shakespearean roles.
It was whilst working with 1980s stand-up comedian Alexei  Sayle, however, that she realised she "belonged" in comedy.
She wrote a sketch for him about a Lesbian couple who ran a bike shop in Hackney called the Menstrual Cycle.
"I suddenly thought this is where I should be and I can be here whereas before I always thought 'they are going to find out I'm not a proper actress!'" she laughs.
Arabella made her name on The Fast Show with her catch phrase Does my Bum Look Big in This?
https://www.youtube.com/watch?v=ilszdbjkgKg
It changed her life as she went from being the "girl in the sketch" with the likes of Lenny Henry and Harry Enfield to suddenly writing and performing her own material in a show where she was central.
"I suppose I should be thankful I didn't have to take my top off on Benny Hill!" she says.
But there's a serious side to the issues surrounding negative body image which influenced her early on – and in this post-Harvey Weinstein era, she admits she too has endured varying degrees of sexual harassment in her nearly 40-year career.
"As a jobbing actress from 21, I wasn't just neurotically introvertedly obsessed with being thinner," she says.
"It was pretty much every audition I went for they would say 'can you lose weight'?
"I'd like to think a director wouldn't dare say it now post-Harvey Weinstein, but it was a given then that if you were a pretty actress then you had to be thin, and I will have missed out on loads of jobs because of it.
"There was no 'she might just be a slightly plump girl or a different shaped girl'. You had to be pretty and thin. That was it. Or you were a kind of 'Pauline Quirke type'."
As someone who was "born to be at the very least curvy", Arabella says that by her early 30s she had a "truly developed belief in my head that everything would be fine if I had a small bum."
She decided to make light of this by coming up with the Does my Bum Look Big in This? catch phrase.
But the Harvey Weinstein sexual bullying scandal is "no surprise" to her and she says the movie mogul is simply "at the high end" of a much more historically endemic problem.
She's hard pressed to think of a job or audition she attended in the 1970s/80s during which something sexual, unwarranted and wholly inappropriate did not happen.
"When I started acting in the late 1970s, it was an exclusively male industry apart from any female actor that was on set – and the culture was like on a building site," she says, adding that not once did it occur to her to object or complain, as there wasn't even anyone to complain to.
"The director might have gone to Oxford and a few of the actors might have been university educated, but everyone in the crew was white, working class – and I'm not saying that every one of them was a sexist racist pig – but that was the atmosphere.
"The very first time I walked on to a TV set somebody shouted from the gantry 'nice tits on the new one lads' and they'd laugh.
"On another occasion in the 1980s, a household name suggested I come to his trailer to "give him a blow job while he sticks his fingers up my c***!"
"But the idea of that now, you'd lose your job immediately.
"You still may not have lost your job yesterday if it hadn't been for the #metoo thing because now even if people are thinking it you can't say stuff like that."
Arabella says the culture has definitely changed. On the set of Two Doors Down, for example,  at least 30% of the crew are women.
However, while she'd like to think it will be impossible for that kind of building site culture to prevail in future, she says that until there are 50% of women in all fields 'equality' will not be reached.
She's pleased, however,  that Two Doors Down is flying the flag for older women where three of the female stars are over-55.
She adds: "I am very very lucky I think.
"Put it this way I don't know of a situation where I haven't got a job yet because they've said 'oh she's a bit old'.
"What happens to people like me if you've done a lot of comedy is when the younger generation are making comedy shows, they cast you as their mum or dad which is slightly depressing!
"But I think the older woman thing is a real problem if you were a beauty.
"As far as I'm aware, if you did comedy it's not going to matter so much.
"If you are Nicole Kidman for example– and she is doing rather well – and you got cast for how gorgeous you were, you've got more to lose.
"Or someone who's not brilliant but is ok like Catherine Zeta Jones – it may be harder for her as an older woman because her principle stock was her beauty.
"But I don't know about women in comedy. I'm not having that experience, but then my stock in trade was never my gorgeousness or fabulous figure, so I think if you are doing comedy it's easier to keep mining that seam than if you are going 'do you want me for a bikini shoot'?"
*For more information on the Kirkcaldy Festival of Ideas 2018 go to www.onfife.com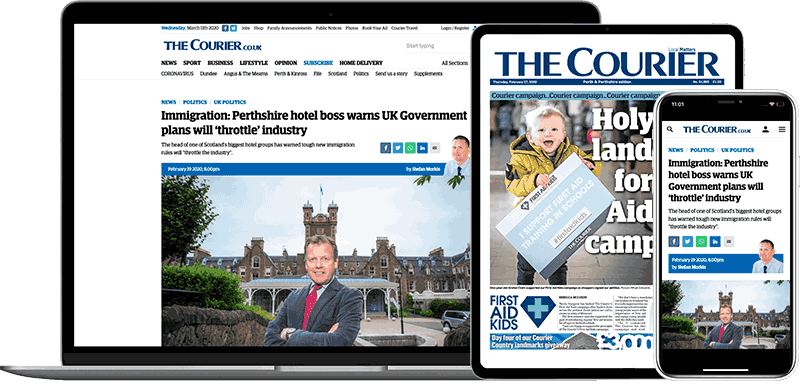 Help support quality local journalism … become a digital subscriber to The Courier
For as little as £5.99 a month you can access all of our content, including Premium articles.
Subscribe