Michael Alexander previews a two-part BBC Two Adventure Show documentary in which renowned Scottish writer and mountaineer Cameron McNeish journeys up Scotland's dramatic western seaboard.
Gazing out across the dramatic rugged coastline as seals bob amongst the crashing surf, Cameron McNeish is in his element as he strides across the clifftop with his trademark walking poles in hand to launch his latest two-part Adventure Show Special "Roads Less Travelled – Scotland's Atlantic Way".
The award-winning writer, whose interests include mountaineering, hill-walking, backpacking and bikepacking, returns to Scotland's west coast where he follows the rugged and wild Atlantic seaboard from the Mull of Kintyre to the West Highland village of Mallaig.
Cameron McNeish's Xmas special

We now have dates for @Cameron McNeish. The Atlantic Way BBC2 Scotland, Sky Digital & Freesat Thurs 27th Dec 19.00 & Fri 28th Dec 18.30. Please pass the word around. Here's a wee preview… Enjoy!

Posted by The Adventure Show on Wednesday, 5 December 2018
His adventure, being screened on BBC Two Scotland on December 27 and 28, explores 'Scotland's Atlantic Way' –  the route from the Mull of Kintyre with its 12 mile views across to County Antrim, up through the Crinan Canal and over to Mallaig, meeting and chatting with people along the way who can interpret the history, legend and culture.
He travels on foot, by bike, on the water by packraft, and in his camper van.
"I'm on a mission to explore the history, legend and culture of Scotland in these two Adventure Show specials," says Cameron.
"I will be rethinking what I know about music, discovering secret glens where our Commandos trained for the Great Wars, and putting my feet in the footsteps of St Columba at Keil Point."
It's a 200-mile route taking in Kintyre, Knapdale, up to Loch Rannoch and along Loch Linnhe.
Cameron says the part of the programme he enjoyed most was finding out more about one of Scotland's finest Gaelic poets – Duncan Ban MacIntyre, and walking in the shadow of Ben Dorain in Argyll – the great mountain his long poem praises, in what is recognised as one of the finest achievements of Gaelic literature – a rich, rhythmic, unsentimental appreciation of wild landscape which was first published in 1768.
"It was also so interesting to meet people and learn about the little places we so often pass by without knowing much about them, such as the ruined house at Loch Ailort," adds Cameron.
Born in Govan, Glasgow, in 1950, as a teenager Cameron was a competitive athlete – an international long jumper coached by John Anderson of Gladiator fame.
But he grew up dreaming of earning a living from the great outdoors, and at that time he was drawn to the hills and did a bit of hillwalking.
In his early career he did a variety of jobs, including a stint as a Glasgow police officer, selling insurance, and working as a ski instructor.
But when the opportunity arose for him and his wife to be wardens in a Highland Youth Hostel, his love of climbing mountains and the great outdoors really took off.
He has written over 20 books about the great outdoors and walking especially.
He first met the Adventure Show television producer Richard Else, of "Wainwright's Way" fame on Mount Elbrus in Russia where he was filming with Sir Chris Bonington.
Cameron was leading a trek with a group from the UK.
They got talking and when the opportunity came up to make a BBC programme about the author W H Murray, Richard invited Cameron to present it.
A long working relationship began, with Cameron presenting many Adventure Show specials over the last 25 years.
Throughout those decades he has been involved in making numerous television programmes for the BBC, ranging from mountaineering and rock climbing films to his own highly personal accounts of long backpacking trips through the Highlands and Islands, routes that include the Sutherland Trail, the Skye Trail and the Scottish National Trail.
A former Chairman of the Nevis Partnership, Cameron is an Honorary Fellow of the Royal Scottish Geographical Society and is patron of Mountain Aid and Scottish Orienteering.
Nominated by the public and his peers as a mountain hero who celebrates achievement, accomplishment and the spirit of adventure, he joined the Fort William Mountain Festival Hall of Fame as the 2018 recipient of The Scottish Award for Excellence in Mountain Culture in the Fort William Mountain Festival.
In 2010 Cameron was given a Lifetime Achievement Award by PPA (Periodical Publishers Association) Scotland for his services to magazine publishing.  In 2015 he was given a Lifetime Achievement Award by the National Adventure Awards.
In 2016 Cameron was presented with the Oliver Brown Award by the Scots Independent newspaper for his work in showcasing Scotland.
Cameron McNeish lives in the Scottish Highlands in the shadow of the Cairngorms with his wife Gina.
*"Roads Less Travelled – Scotland's Atlantic Way" is on BBC Two Scotland on December 27 at 7pm and December 28 at 6.30pm. It will also be available on BBC iPlayer for 30-days thereafter.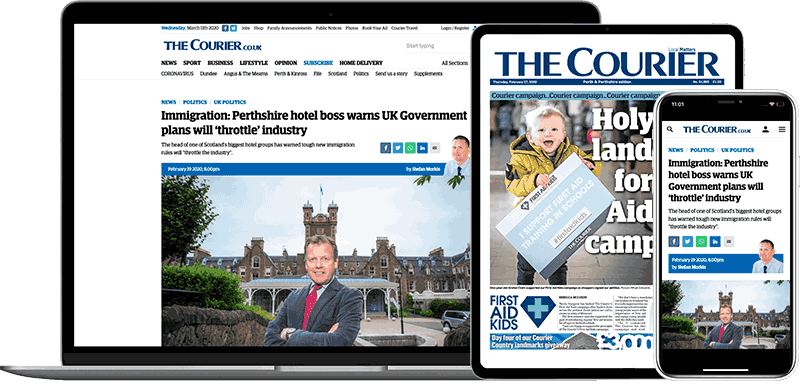 Help support quality local journalism … become a digital subscriber to The Courier
For as little as £5.99 a month you can access all of our content, including Premium articles.
Subscribe