Vice begins with a disclaimer. "We did our f**king best" it reads. It's a bold statement in a bold film often forced to use dark humour and gonzo flair as substitutes for cold-hard facts to tell the story of one of the most secretive political figures of modern times.
Adam McKay's first film since 2015's The Big Short follows the life of America's former Vice President Dick Cheney (portrayed by an exceptional Christian Bale), President George W Bush's right-hand man from 2001 until 2009. Cheney played a major role in some of the most pivotal moments in modern history, doing so firmly in shadow of his superior.
The film begins in the immediate aftermath of 9/11 with Cheney assuming almost total control of the US response to the attacks before the audience is taken back to the 1960s. Here we see a very different Cheney, a hard-drinking college drop-out forced to clean-up his act by future wife Lynne (Amy Adams). Taken on as a congressional intern under the Nixon administration, the silent, calculating figure quickly rises through the ranks of the Republican party as a key player under the Ford and both Bush administrations.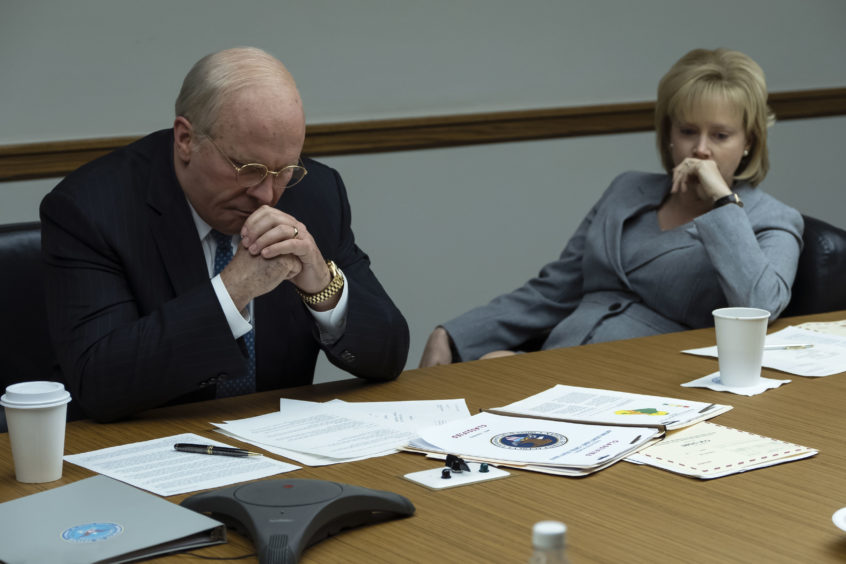 Where there are gaps in Cheney's life story, and there are many, McKay experiments with form and structure to fill them in. An alternative ending midway through the film (complete with end credits) ironically pokes fun at what might have been had Cheney shied away from a return to frontline politics (he was CEO of oil giant Halliburton from 1995 until he left to run for Vice President in 2000). At one point there's a hilarious transition to Shakespearean dialogue deployed as McKay, who also wrote the script, imagines a conversation between the Cheneys as Dick dithers with running for VP.
In Vice, McKay – who hired journalists to help corroborate facts about Cheney – draws laughs from the darkest of material. During one scene, a waiter reads Cheney and his cronies a list of war crimes from a restaurant menu (they order them all). There's even humour present in the deadpan manner Bale's Cheney reacts to a series of heart attacks (the politician suffered five before undergoing a heart transplant in 2012). The director also has fun toying with genre styles, evoking the mood of a heist movie as, behind closed doors, Cheney and his closest allies in the White House plot to stretch presidential powers to the limit through what's known as the unitary executive theory. A recurring visual metaphor also juxtaposes the Republican's passion for fly fishing with his approach to political dealings.
McKay is perhaps best known for his collaborations with Will Ferrel and John C. Reilly in comedies such as Anchorman and Talladega Nights, and the wit of his Vice script is undeniable; but some of the biggest laughs here are shock factor ones. Dick Cheney, after all, is often described as the most powerful Vice President in American history. Given extra influence over the likes of energy, military and foreign policy; Cheney essentially re-shaped the role of the Vice President from a ceremonial one to one of unprecedented power. The creation of Guantanamo Bay, spying on US citizens, justifying the invasion of Iraq through questionable intel and overseeing the introduction of "enhanced interrogation" techniques during the War on Terror are just a few of the topics Vice covers from Cheney's time under "Dubya". And McKay goes one step further, linking Cheney's decisions in office to the rise of Isis in the Middle East and Halliburton profits during the Iraq war.
The film's finale is bolstered by a dark and increasingly epic score complete with thumping drums and orchestral crescendos. It's a Machiavellian backdrop provoking a sense of power beyond limits. The lighting, and indeed the trajectory of the main character, also seems to take influence from The Godfather (Wubya, bathed in light; Cheney, cold and often silhouetted).
Bale – who underwent another astounding physical transformation to take on the role of Cheney, gaining almost three stone – is brilliant. Gruff and unreadable, with every mannerism down to a tee. Amy Adams is flawless as Lynne Cheney, Dick's chief confidant, adviser and motivator. What little heart Vice finds in Cheney's tale comes from the scenes between Bale, Adams and their two daughters. When youngest Mary comes out of the closet, Cheney quickly accepts her with a hug and kiss – despite his own party's stance on gay marriage. Elsewhere Steve Carell as Donald Rumsfeld is on boisterous form and Sam Rockwell steps into the shoes of the pawn-like Dubya with ease.
Love of power? Post 9/11 paranoia? A genuine belief he was doing the right thing? What Cheney's motivations were as Vice President is something that Vice never really answers. This is a story about power itself and one man's apparent obsession with it; a stark warning of what one "quiet man" can achieve from the shadows of the Oval Office.