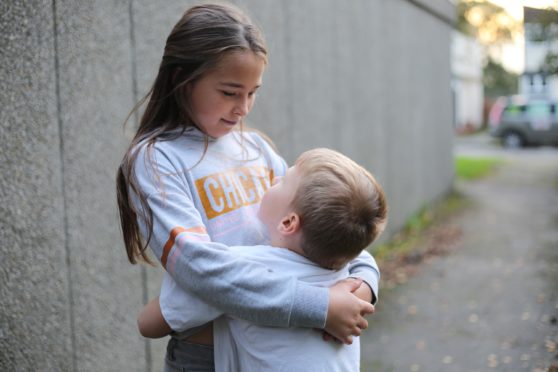 This week, Paul confronts the shameful truth of child poverty in Britain.
NEXT WEEK'S TV
GROWING UP POOR: BRITAIN'S BREADLINE KIDS
Monday, Channel 4, 10pm
As we inch ever closer to the most important General Election in years, Channel 4's Dispatches team present this vital, devastating report on poverty. More than four million British children are growing up hungry. Unforeseen circumstances can send families into tailspin. We meet a mother of two who was forced into emergency accommodation after fleeing from an abusive partner. She's struggling to support her kids via the catastrophic Universal Credit system. They couldn't survive without access to one of the many food banks that exist in this great unequal nation of ours. No one should have to live like that. Meanwhile, a depressed teenager who lives with her family in sheltered accommodation struggles with suicidal thoughts. Watch and weep.
HOW TO SAVE £1000 ONLINE
Tuesday, Channel 4, 8pm
Hey, we all love shopping, right? Of course we do! But did you know that online retailers use mendacious techniques to strip you of your hard-earned cash? Don't worry, though, as here come a pair of breezy experts to tell you how to avoid being ripped off. The immediate beneficiaries of their valuable teachings are two shopaholic families who waste thousands of pounds every year on expensive clothes and holidays. You'll be forgiven for struggling to care about the overwhelming plight of these poor, beleaguered people. It beggars belief that Channel 4 would show this programme just 24 hours after the transmission of Growing Up Poor: Britain's Breadline Kids, but I don't suppose the contrast ever occurred to them.
MY GRANDPARENTS' WAR
Wednesday, Channel 4, 9pm
As if to apologise for the previous evening's blundering transgression, Channel 4 get back on track with part two of this compelling WWII history series. This week's famous guide is anti-war campaigner and one of the world's greatest living actors, Mark Rylance. His grandfather, Osmond, spent almost four years as a Japanese prisoner of war. A Hong Kong-based banker with no military experience, Osmond bravely joined a volunteer defence force in December 1941. On Christmas Day of that year he was shot and imprisoned. Rylance, who comes across as a lovely, sensitive soul, uncovers the moving story of a man who, like so many men who endured harrowing ordeals during the war, rarely spoke about it afterwards.
COUNTRY MUSIC: A FILM BY KEN BURNS
Friday, BBC Four, 9:30pm
Multi-award-winning documentarian Ken Burns is renowned for his epic accounts of American history. It was only a matter of time before he got around to country music, an ancient stream at the heart of the nation's divided, complex culture. In episodes five and six he reaches the mid-1960s, a tumultuous era of change and revolt when certain preternaturally rebellious artists from the largely conservative world of country music commented sympathetically on current events. He focuses on Godlike feminist trailblazers Loretta Lynn and Dolly Parton, indomitable human rights activist Johnny Cash, Fellini-inspired hippie cowboy Kris Kristofferson and the extraordinary African-American country singer Charley Pride. Country music prides itself on integrity: these guys are the ultimate bastions.
FILM of THE WEEK
FATAL ATTRACTION
Friday, Channel 5, 11:05pm
This morally dubious film is basically appalling, but if you switch off your brain (which it actively asks you to do), there's some schlocky fun to be had as craven Michael Douglas pays the price for having an affair with mentally unstable Glenn Close. It's a melodramatic B-Movie elevated by superior talents. Crass, entertaining rubbish on a grand scale. Different times, as they say.
LAST WEEK'S TV
KILL YOUR TV: JIM MOIR'S WEIRD WORLD OF VIDEO ART
Sunday 24, BBC Four
If you've ever wondered where Jim Moir, aka comedian Vic Reeves, gets his kerrazy ideas from, you only have to watch programmes such as this. Moir is an avant-garde artist who became a comedian by mistake. This documentary, in which he explored the colourful history of artists exploiting video technology for wild, subversive means, was probably the closest we'll ever get to a mission statement from someone whose work defies logic.
MEAT: A THREAT TO OUR PLANET?
Monday 25, BBC One
Humans feast upon 65 billion animals a year. Scientific research has confirmed that meat production is one of the biggest causes of our environmental crisis. In this commendably grim and urgent documentary, animal biologist (and meat-eater) Liz Bonnin became increasingly horrified by her findings. She also provided some hope via rational solutions to the problem. Remember rational solutions? How quaint.
THE MAN WHO SAW TOO MUCH
Wednesday 27, BBC One
Say what you like about Alan Yentob (I always do), but fair play to the man: his stark documentary about Boris Pahor, a 106-year-old survivor of the Nazi concentration camps, was riveting. Pahor spent time in Dachau, Bergen-Belsen and Natzweiler. The latter is rarely spoken about, despite being one of the most horrific camps of its kind. A powerful piece of television.