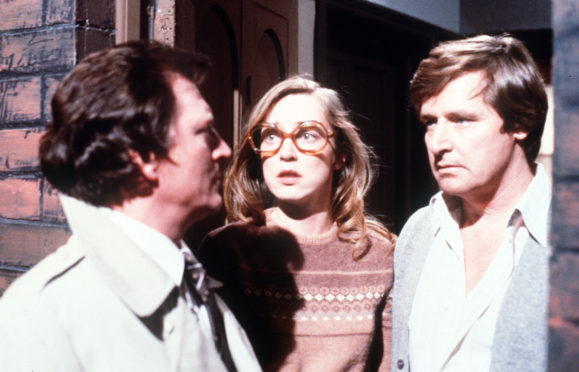 This week, Paul takes a nostalgic stroll along the cobbles…
NEXT WEEK'S TV
CORONATION STREET: STORIES THAT GRIPPED THE NATION
Monday, STV, 8:30pm
Over the last few months, the Corrie team have carefully rationed the phalanx of episodes they recorded before the world went to pieces. Production is set to resume soon, but this emergency package of compilations should help to bridge any potential gap in proceedings. It's pure nostalgia, shameless filler, Just Another Clip Show, but there's a lot to be said for that in times of crisis. Don't ever underestimate the mild power of mindless escapism, especially when it involves the greatest soap ever baked. It begins with the explosive Ken, Deirdre and Mike love triangle. Of course it does. Mercifully, for once, there are no intrusive talking heads, just loads of clips and some affectionate narration from Jason Manford.
THE SECRETS SHE KEEPS
Monday and Tuesday, BBC One, 9pm
Agatha is a lonely supermarket employee who is about to give birth. She becomes obsessed with Meghan, a pregnant woman with a perfect upper middle-class lifestyle (she's forever chopping vegetables on her kitchen island). Inevitably, Meghan's world isn't as peachy as it seems. This risible Australian psychological thriller – Peyton Place with delusions of grandeur – thinks it's blowing minds with massively signposted twists etched in flaming neon letters. Laura Carmichael (Lady Edith from Downtown Abbey) almost transcends her surroundings with a fairly sensitive performance, but there's no getting around the fact that Agatha embodies the offensive stereotype of people with mental health issues as figures to be pitied and feared. It's 2020, we're supposed to be better than this.
BEING BEETHOVEN
Monday, BBC Four, 9pm
Ludwig Van Beethoven was a child prodigy, a natural born genius who was never allowed the chance to be anything else. That's the poignant theme of the first instalment in this vivid, probing, elegant series, which strips away the layers of myth to uncover the man underneath. An estimable symphony of classical musicians and musicologists rake over Beethoven's traumatic childhood. One of them, with affection, describes him as "a tiny, friendless, grubby kid who was somehow always in a world of his own all the time." Fans of that other notable pop genius, Brian Wilson, will recognise the contours of this story: Beethoven's dad was an aggressive alcoholic and frustrated musician. Peter Capaldi narrates passages from the great man's jottings.
THERE SHE GOES
Thursday, BBC Two, 9:30pm
The daughter of writers Shaun Pye and Sarah Crawford was born with an extremely rare, severe and undiagnosed learning disability. They've funnelled their experience into this admirably honest and entirely unsentimental comedy-drama, which first appeared on BBC Four in 2018. Series two picks up the story eighteen months later. As before, occasional flashbacks are employed to place their situation in ever-changing context. David Tennant and Jessica Hynes are low-key and convincing as the parents of a child whose very existence makes well-meaning people feel uncomfortable. But There She Goes gains its strength from a determined refusal to preach or judge. Life isn't etched cleanly in black and white, it's strange, sad, difficult and funny. Profound, I know.
FILM of THE WEEK
INDEPENDENCE DAY
Wednesday, Film4, 9pm
This agreeably ridiculous sci-fi disaster movie is irresistible. The plot couldn't be more straightforward: a vast battalion of evil aliens invade the Earth via flying saucers. (God bless) America saves the day. Will Smith plays a wisecracking fighter pilot, Bill Pullman plays an absurdly heroic President, Jeff Goldblum plays himself. Independence Day is a blockbuster that knows it's a blockbuster.
LAST WEEK'S TV
COMEDIANS: HOME ALONE
Monday June 29, BBC Two
One day, probably next year, we'll be treated to a compilation of clips from programmes made during the Covid-19 pandemic. An important historical document. Footage from this hastily cobbled-together sketch show will almost certainly be included. Future generations will look back at that strange time when bedraggled famous faces broadcasting pointless froth from the lockdown safety of their own homes was briefly normal; like that scene towards the end of Threads, when post-apocalyptic children gaze uncomprehendingly at crackly VHS footage of Words and Pictures. The penultimate episode featured contributions from the witless Russell Kane and those insufferably smug My Dad Wrote A Porno podcast dullards. World's Funniest Man Bob Mortimer solemnly providing a list of silly cat names (Gustav Hosiery; The Gift of Barry; Brigadier Knickers) was the sole highlight. God help us if there's an actual war.
ART OF PERSIA
Monday June 29, BBC Four
In the final episode of her fascinating odyssey, Samira Ahmed confronted the apocalyptic horror of Genghis Khan's invasion of Syria and its far-reaching aftermath. Where will programmes like this find a home when BBC Four is abolished? If that happens, as threatened, then BBC Two must revert back to its original remit. A healthy culture requires these nutrients.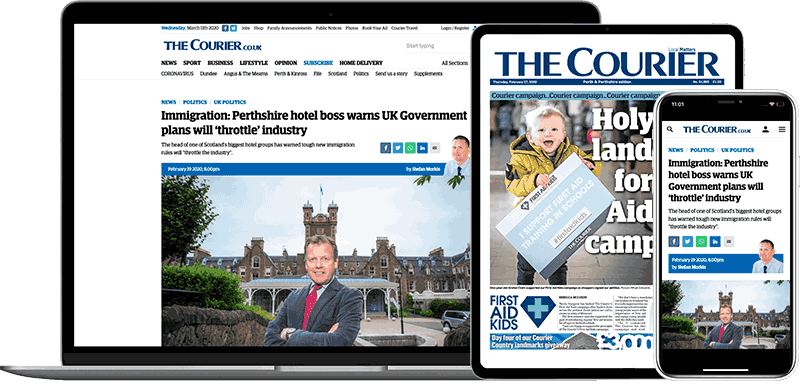 Help support quality local journalism … become a digital subscriber to The Courier
For as little as £5.99 a month you can access all of our content, including Premium articles.
Subscribe