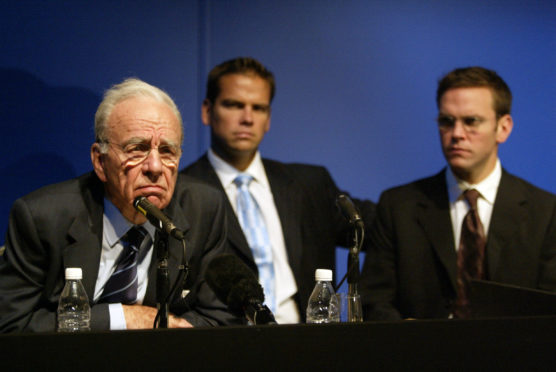 This week, Paul wades into the toxic murk of Rupert Murdoch's legacy…
NEXT WEEK'S TV
THE RISE OF THE MURDOCH DYNASTY
Tuesday, BBC Two, 9pm
Rupert Murdoch has for decades used his vast media Death Star as a devastating political weapon. He has the power to dictate the results of a UK general election. He made sure that Brexit happened. His influence is terrifying. This solemnly absorbing series depicts him as a ruthless, bitter man driven by an obsession with the future of his empire. It features a motley roster of talking heads including Nigel Farage (who claims that he received Murdoch's blessing to participate), Alastair Campbell and former News Corporation employee Piers Morgan. Tony Blair, Rebekah Brooks and the Murdochs themselves are conspicuously absent. It begins in 1995, when Blair and Campbell made a pact with the Devil. Both parties got what they wanted.
AMAZING HOTELS: LIFE BEYOND THE LOBBY
Tuesday, BBC Two, 8pm
The latest series of this globe-trotting exploration of how the filthy rich live when they're not at home begins in the self-governing Chinese city of Macau, which is the gambling capital of the world (face facts, Las Vegas). Hosts Monica Galetti from MasterChef and obnoxious word-churner Giles Coren have a playful nose around the MGM Cotai, a luxury hotel designed to look like glittering Chinese jewellery boxes stacked on top of each other. It's a soulless spectacle, inside and out, but the focus as always is on the everyday activities of the hotel staff. Galetti visits the preposterously well-stocked kitchen and joins employees as they clean apartments belonging to elderly people from the local community. Great PR.
BEARS AROUND THE HOUSE
Wednesday, BBC Two, 8pm
Warning: this valuable series contains sickening tales of animal cruelty. It doesn't show any bears being harmed, but the details of their circumstances prior to being rescued are upsetting. That, however, is necessary in order to highlight the importance of conservationist Giles Clark's mission. He's involved in the construction of a pioneering bear sanctuary in Laos, which is home to numerous orphaned sun and moon cubs. These beautiful, vulnerable creatures are victims of the illegal Asian wildlife trade. Without the intervention of Clark and his colleagues, they were destined for a horrific life in captivity. Now they're being prepared for a life in the wild. The programme follows Clark as he gradually nurses five-month-old Mary back to health.
PAUL O'GRADY'S FOR THE LOVE OF DOGS: BACK IN BUSINESS
Wednesday, STV, 8pm
Due to the Coronavirus pandemic, Battersea Dogs & Cats Home was recently forced to close its doors to the public for the first time in 160 years. In this special edition of his irresistible love letter to our canine comrades, O'Grady returns to Battersea just before it goes into lockdown. The staff have a herculean task on their hands: they need to find homes for more than 150 dogs and cats. It's urgent. Preview copies weren't available, but inevitably it involves the hugely likeable O'Grady offering to foster one of the dogs. He already has five dogs at home and admits that he doesn't really want another one, but when he meets an adorable little puppy his hesitancy crumbles.
FILM of THE WEEK
FUNERAL IN BERLIN
Thursday, Film4, 4:30pm
The second film in the Harry Palmer series is a densely-plotted Cold War thriller in which the laconic spy (a perfectly cast Michael Caine) is sent on a mission to facilitate the defection of a Communist agent who has important military secrets at his disposal. This tricky manoeuvre is further complicated by the presence of an Israeli agent on the hunt for Nazi war criminals.
LAST WEEK'S TV
THE KEMPS: ALL TRUE
Sunday July 5, BBC Two
This enjoyable spoof documentary starred Gary and Martin Kemp from Spandau Ballet as themselves. Written and directed by Rhys Thomas in the sharpy edited, gag-packed style of his Brian Pern comedies (Simon Day had a cameo), it appeared to be partly inspired by that notorious 2018 Bros documentary, which was hilariously and tragically real. The Kemps portrayed themselves as boastful, antagonistic, yet weirdly endearing buffoons. They displayed good, semi-naturalistic comic timing throughout (they are experienced actors after all) and fully embraced the utterly daft spirit of it all. I particularly enjoyed the disastrous table-reading for Martin's time-traveling crime drama, the look back at their early career as child actors working for Ken Russell, and their desperate attempt to hijack the Radio 2 playlist. Rhys Thomas is a very funny, talented cat.
MRS AMERICA
Wednesday July 8, BBC Two
Phyllis Schlafly was an ultra-conservative campaigner who devoted her career to making life more unpleasant for people; a dire American fusion of Margaret Thatcher and Mary Whitehouse. This series dramatizes her campaign against the Equal Rights Amendment, which brought her into conflict with the Women's Liberation Movement. Written by Mad Men alumnus Dahvi Waller, it's a sharp, kinetic '70s period piece anchored by a typically fine performance from Cate Blanchett. It doesn't portray Schlafly as a one-dimensional monster, but nor does it make excuses for her. Terrible person, interesting story.