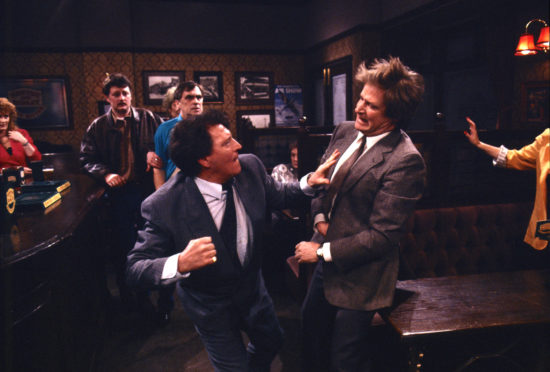 This week, Paul pays tribute to a record-breaking soap legend…
NEXT WEEK'S TV
CORONATION STREET ICONS
Wednesday, STV, 8:30pm
And here we go again, yet another piece of emergency Covid schedule filler. Still, archive clips of Corrie are always a fun distraction. Episode one pays tribute to Ken Barlow, the longest-serving character in TV soap history. It reminds us that Ken, the street's resident Guardian-reading paragon of righteous sense and virtue, a soft leather elbow patch in human form, has actually experienced his fair share of brawls and romantic entanglements over the years. In the unlikely event of anyone tuning in without ever having seen Corrie before, the programme will almost certainly leave them with the impression that Ken has spent the last six decades embroiled in a never-ending orgy of sex and violence, alleviated only by the occasional slapstick scrape. A lord of chaos living on the edge of reason.
AFRICAN RENAISSANCE: WHEN ART MEETS POWER
Monday, BBC Four, 9pm
Africa is one of the fastest-growing regions in the world. It's also demographically the youngest continent, with six in every ten people being under the age of 25, and far more culturally diverse than anywhere else on Earth. In this enlightening new series, British journalist Afua Hirsch visits three African countries – Ethiopia, Senegal and Kenya – to examine the ways in which they've reasserted their identities as leading cultural lights. The through-line in her opening essay is the extraordinary story of Ethiopian Emperor Haile Selassie, a powerful yet complex symbol of the country's proud history of fierce independence. Hirsch also meets renowned artists who are keeping Ethiopia's fecund cultural legacy and defiant spirit alive in the 21st century.
MANCTOPIA: BILLION POUND PROPERTY BOOM
Tuesday, BBC Two, 9pm
The Manchester skyline is in a state of flux. Expensive high-rise homes are popping up with such velocity, the city centre looks nothing like it did just a few years ago. Manchester's population is set to double in the next few years. Manctopia, an incisive four-part series, examines the drastic impact this unprecedented regeneration is having on existing residents. We meet a local millionaire property developer, a man with a vested financial interest in eradicating homelessness, who plans to transform the red light district into a luxury residential hub, and a single working mum who can no longer afford to stay in the increasingly gentrified area she's lived in all her life. The free market in action, folks.
UNREPORTED WORLD
Friday, Channel 4, 7:30pm
As you read this, billions of locusts are devouring crops and vegetation all across Kenya. As a result, farming families are starving and destitute. If this devastating plague continues, Kenya will be brought to its knees. The Covid-19 pandemic has compounded the catastrophe. In the latest edition of this august foreign affairs series, reporter Sahar Zand travels to a country where agriculture provides a livelihood for more than 80% of the population. She hitches an urgent ride with one of the teams responsible for spraying infested areas with pesticide. Seeing as most areas in Kenya appear to be infested – in one particularly horrifying scene, Zand visits a town where the walls are caked with locusts – their task is Herculean.
FILM of THE WEEK
SEXY BEAST
Wednesday, Film4, 10:50pm
This superior British gangster drama stars genre daddy Ray Winstone as an ex-con living the high life in Spain. His idyllic poolside life is rudely interrupted by the arrival of a psychotic gangland boss (Ben Kingsley on utterly terrifying form) with one last audacious bank heist on his mind. It's a compelling study in contrasts: Winstone's weary understatement vs Kingsley's vitriolic intensity. A minor classic.
LAST WEEK'S TV
THE AUSTRALIAN DREAM
Sunday August 9, BBC Two
The indigenous Australian football star Adam Goodes never set out to be an inspirational spokesperson for racial equality. All he ever wanted to do was play his beloved sport at a professional level. But as a prominent black public figure who has experienced blatant and casual racism throughout his life, he felt he had to make a brave stand and speak out. This intensely angering documentary examined the backlash he faced after forcing white football fans to confront the toxic vein of racism that has coursed through Australian society for centuries. And you don't need me to tell you that institutional racism isn't a problem specific to Australia. It's all around us right now. Goodes' message was clear: we need to talk, listen and learn. That's our only hope of ever developing more empathy and understanding of what racism actually means. The film is still on iPlayer, I highly recommend it.
HOW TO BEAT… PAIN
Tuesday August 11, Channel 4
Do you remember that late '80s/early '90s vogue for splicing kitschy old clips of public domain American films into contemporary TV documentaries? The geniuses behind this otherwise blandly presented health series certainly do. It's as tiresomely unfunny now as it was then, a literally cheap trick.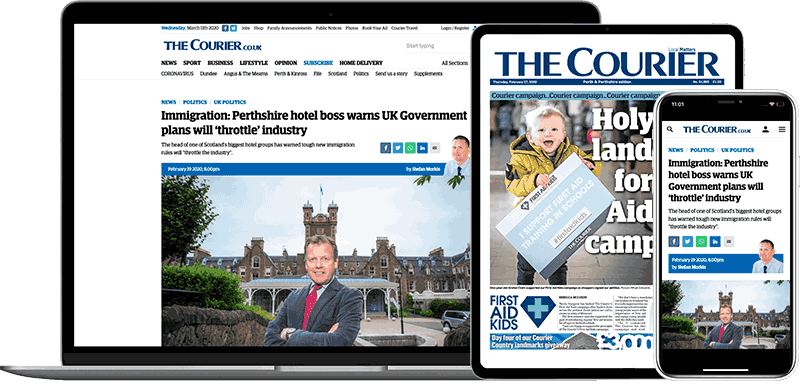 Help support quality local journalism … become a digital subscriber to The Courier
For as little as £5.99 a month you can access all of our content, including Premium articles.
Subscribe