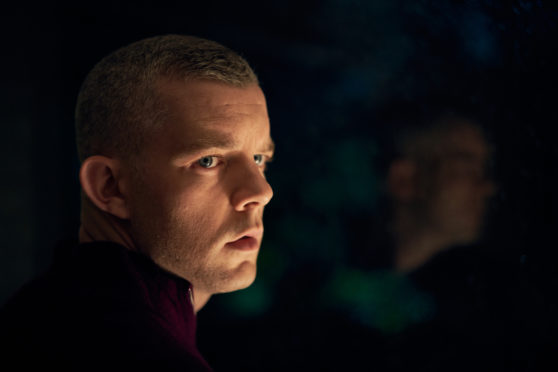 This week, Paul enjoys some spooky hokum and welcomes a sensitive documentary about the murder of Damilola Taylor…
NEXT WEEK'S TV
THE SISTER
Monday to Thursday, STV, 9pm
This spooked pulp thriller is written by Neil Cross of Luther renown/infamy, which should give you some idea of what to expect. It's knowingly daft and engulfed in histrionic murk. Typical Cross hokum. Russell Tovey stars as a man with a seemingly perfect life who is secretly haunted by his involvement in the death of a young woman several years ago. The only other person who knows what happened that night is Bob, an eccentric paranormal expert played by the shamelessly scene-stealing  Bertie Carvel (he has the mien of a creepy, druggy Dickensian weirdo). To say any more would spoil the fun, but Cross does a good job of building tension as he gradually peels away the layers of his mystery.
LIFE
Tuesday, BBC One, 9pm
In the penultimate episode of this superior drama from Mike Bartlett, Gail (Alison Steadman) returns to her terminally ill husband Henry (Peter Davison) after a much-needed period of freedom. Henry is a self-centred bully, but Gail decides that, after 50 years of marriage, she should be by his side when he passes away. He's a lucky man. Meanwhile, Belle's (Victoria Hamilton) continuing struggles with alcohol leads to yet another excruciating scene. Bartlett is obviously more invested in the Gail, Henry and Belle storylines – the others are basically subplots – but he deserves praise for his compassionate excavation of the pain, fear, loneliness and disappointment of everyday living. A barrel of laughs it is not, but that's Life. Sorry.
HAIR POWER: ME AND MY AFRO
Tuesday, Channel 4, 10:15pm
Now this is great. As part of Black History Month, academic and writer Emma Dabiri explores the vast cultural significance of afro-textured hair through the ages. For people of colour, to embrace the beauty of natural kinks and curls is an empowering form of self-expression. Dabiri meets people who grew up under pressure to conform to a Eurocentric ideal: straight hair equals good hair. Generations of kids felt compelled to attack their scalps with scorching chemical products. That's yet another form of systematically racist oppression. Dabiri also examines the social significance of barbers and salons within the black community, while highlighting various forms of micro-aggression, unconscious bias and cultural appropriation. It's a fascinating and rather beautiful essay.
DAMILOLA: THE BOY NEXT DOOR
Wednesday, Channel 4, 9pm
20 years ago, 10-year-old Damilola Taylor was stabbed and killed mere yards from his home. In this moving tribute, Yinka Bokinni, who is now a successful radio DJ, speaks about her late friend and neighbour for the first time. She paints a vivid portrait of a funny, bouncy, carefree kid whose life was tragically cut short. She also challenges the media-led view that her Peckham estate was Hell on Earth. Yes, there was crime and poverty, but it was a tightknit multicultural community. Bokinni makes a hugely important point: when you shovel people into substandard housing, you can't just wash your hands of them. That's a convenient way of ignoring the wider issue of cause and effect.
POWERING BRITAIN
Thursday, BBC Two, 7:30pm
Hornsea One, the world's biggest offshore windfarm, is situated 75 miles off the Yorkshire Coast. In the first episode of this stats-encrusted series about the hardworking pros who answer to Britain's energy demands, presenter Keeley Donovan meets some of the men and women responsible for running a hugely impressive eco-friendly project. With good reason, she marvels at this aquatic conurbation of massive turbines, each one taller than the Gherkin and wider than the London Eye (Donovan's breathless claim that they're wide enough to accommodate an adult elephant is inadvertently and pleasingly Chris Morris-esque). Mild peril warning: if you're prone to claustrophobia and vertigo, you may be triggered by Donovan's ascent of one of the turbines.
THE TRUMP SHOW
Thursday, BBC Two, 9pm
As this grimly compelling series concludes, we come right up to date. By January 2019, Trump had sacked everyone in his administration who'd tried to reign him in. His behaviour became even more bizarre and messianic. When his chief of staff admitted that the Ukranian government had been blackmailed into smearing Joe Biden, the Democrats seized their chance to remove Trump from office. The impeachment process failed in large part because Trump managed to intimidate Republican members of the Senate into supporting him. Then came Covid and the murder of George Floyd. Trump's blind mishandling of these situations has been utterly catastrophic. America, you know what to do next month. This pathological liar, this gangster narcissist, is utterly unfit for office.
MAXXX
Thursday, Channel 4, 10pm
Maxxx is a former boyband superstar who has fallen on hard times. He's a desperate mess, an insecure buffoon who struggles with various personal issues. He's also quite likeable, despite his many flaws. This new comedy actually made me chuckle at times. That, I assure you, is a ringing endorsement as far as I'm concerned. Writer/director/star O.T. Fagbenle understands that failure is funny, but only when leavened with a bit of pathos. The latter isn't overdone, it's naturally ingrained within Maxxx's character. He's lonely, heartbroken, lost. All he wants to do is make a comeback and restore his flimsy sense of self-worth. Maxxx is a fairly sharp farce and Fagbenle inhabits his creation with just the right amount of oblivious arrogance.
FILM of THE WEEK
A STAR IS BORN
Thursday, BBC Four, 8pm
The second adaptation of this cautionary showbiz melodrama (there have been four so far) is undoubtedly the best. It stars Judy Garland and James Mason on pitch-perfect form as a troubled Hollywood couple. Mason plays an A-list film idol whose career hangs in the balance due to his alcoholism. When he meets and falls in love with Garland's talented aspiring singer, he helps to make her a star. His motives aren't entirely altruistic: their high-profile relationship could revive his career. Naturally, as she ascends, he spirals further into envy-fuelled self-destruction. It was nominated for six Academy Awards, but came away with nothing. Did Hollywood resent seeing itself reflected in such an ugly light?
LAST WEEK'S TV
ROADKILL
Sunday October 18, BBC One
Hats off to the BBC for commissioning a slyly scathing political drama in which the central character is a thinly disguised hybrid of Johnson and Farage. Roadkill makes no bones about how manipulative and dangerous these self-styled 'LOL legend' charlatans are. Written by David Hare, this isn't a cosy centrist satire. It has bite. Hugh Laurie is perfect as a philandering, superficially charming government minister who blithely assumes he can get away with anything. It began with him successfully suing a newspaper for libel, but the journalist who went after him refuses to back down. Hare is clearly enjoying himself as he spins several plates at once. Let's just hope they don't all come crashing down. Roadkill has promise.
WHO DO YOU THINK YOU ARE?
Monday October 19, BBC One
In this particularly interesting episode, David Walliams discovered that his great grandfather, who served during WWI, suffered from severe PTSD. He spent the rest of his life in a psychiatric hospital, or 'lunatic asylum' as they were known in those very different times. His tragic story illustrated just how valuable this show can sometimes be as a sensitive piece of social history. On a much lighter note, Walliams was delighted to learn that his great-great grandfather was a travelling showman who eventually escaped from poverty via the fairground business. Cynical caveat: WDYTYA proves that celebrities with a hitherto weirdly incurious attitude towards their family history will suddenly develop a deep and solemn interest when there's a fee involved.