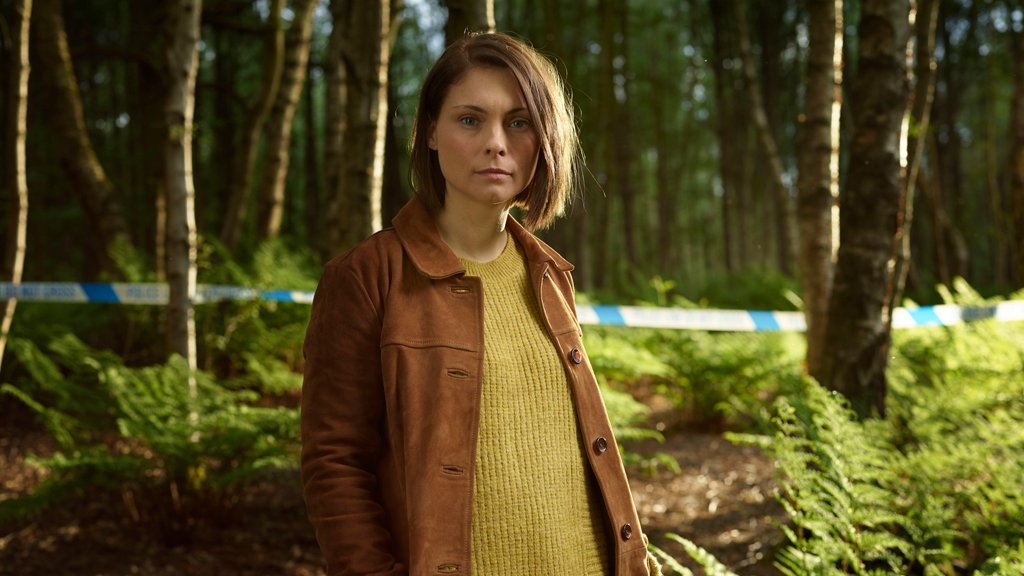 IN THE DARK + STORYVILLE: THIS WAS MY DAD – THE RISE & FALL OF GEOFFREY MATTHEWS
IN THE DARK: Tuesday, BBC One
STORYVILLE: THIS WAS MY DAD – THE RISE & FALL OF GEOFFREY MATTHEWS: Monday, BBC Four
Even with the best will in the world, which it frankly doesn't deserve, I can't imagine drearily formulaic new crime drama IN THE DARK gripping this thrill-seeking nation over the next four weeks.
Swedish actress and Ripper Street star MyAnna Buring adopts a passable Manchester accent to play Helen, a pregnant police officer who feels compelled to return to her somnambulant, rain-sodden hometown for complex personal reasons.
The husband of Linda, her childhood best friend, has been arrested on suspicion of abducting two teenage girls. One is eventually found murdered, while the other remains imprisoned in some sort of rural dungeon, of the type killers always have access to in dramas like these.
This unpleasant situation is compounded by the fact that Helen and Linda have long been estranged due to whatever the hell is going on in a mysterious series of enigmatic flashbacks, of the type troubled detectives always have in dramas like these.
Helen thinks Linda's husband is innocent, ostensibly on the watertight grounds than an outwardly ordinary man with no prior convictions wouldn't one day decide to commit such a heinous crime. However, it doesn't take a Sherlock to work out that Anna's conclusion is partly based on her need to reach atonement with Linda.
Despite containing the basic levels of intrigue one would expect from a pot-boiling thriller, the central mystery and hints of backstory just aren't compelling enough to sustain interest. The characters aren't engaging and the pace is too slow to keep enervation at bay.
Even a late-in-the-day cameo from Matt 'Super Hans' King as a flamboyant coroner – that's the first time I've ever placed those two words in that particular order – couldn't elevate it.
Writer Danny Brocklehurst has written some solid TV dramas in the past, including Ordinary Lies and episodes of Jimmy McGovern's The Street, but inspiration has run dry here.
Also, the opening scene in which pregnant Helen was punched in the stomach by a benefits-cheating "pram-faced" drug dealer left an unpleasant taste in the mouth.
It was as if Brocklehurst had, Twin Peaks style, suddenly been possessed by the evil spirit of Katie Hopkins.
The later revelation that Helen's dad is in a stable gay relationship seemed to come from the mind of a different writer entirely.
Life is such a sad, mysterious riddle. That, in essence, was the message behind STORYVILLE: THIS WAS MY DAD – THE RISE & FALL OF GEOFFREY MATTHEWS, a moving, sensitive and immersive documentary in which BAFTA-winning filmmaker Morgan Matthews chronicled the last ten years in the life of his affable yet complicated father.
It began in 2015 with Morgan visiting Geoffrey on his death bed, before flashing back to 2005 when they met up for the first time in a year. This was typical of Geoffrey's relationship with his six children, who – it was hinted – had become estranged from him due to his heavy drinking. As Morgan admitted, making this film was a way of ensuring contact.
Geoffrey and his eccentric partner Anna were constantly on the verge of bankruptcy. Despite their respective family traumas and innate sense of regret, this vulnerable couple clearly loved each other. Anna became increasingly distraught when Geoffrey became seriously ill with emphysema and cancer, as she faced up to the inevitability of life without him.
The film was essentially a chronicle of Geoffrey's decline, as his children attempted to make peace with him. The closing scenes in which they travelled to Canada to meet the father that Geoffrey never knew underlined the importance of maintaining family contact and knowing your place in the world. Life really is too short.
Despite its personal flavour, this beautiful film struck a universal chord.
TV HIGHLIGHTS OF THE WEEK
IS LOVE RACIST? THE DATING GAME
Monday, Channel 4, 10pm
Sociologist Emma Dabiri examines racism in Britain through the prism of modern dating. She gathers a group of single volunteers to find out if there's more than meets the eye behind the choices people make using modern dating apps.
ADDICTED PARENTS: LAST CHANCE TO KEEP MY CHILDREN
Tuesday, BBC Two, 9pm
This insightful two-part documentary visits Britain's only family rehab centre, where parents addicted to drugs or alcohol arrive with their children in an effort to improve their lives. It begins with four mothers making a last-ditch attempt to become sober.
THE SWEET MAKERS: A TUDOR TREAT
Wednesday, BBC Two, 9pm
Four modern confectioners travel back in time to discover what life was like for their Tudor predecessors. While learning about how our national sweet tooth developed, they get to work on a sugar banquet featuring dishes that haven't been made for hundreds of years.
THE MASH REPORT
Thursday, BBC Two, 10pm
This new topical news show comes from the team behind popular satirical comedy website The Daily Mash. Time will tell if it becomes the long-awaited UK version of US political satire behemoth The Daily Show. Don't hold your hopes up.
FILM OF THE WEEK
SEXY BEAST
Friday, Film4, 10:40pm
This superior British crime drama stars Ray Winstone as an ex-con enjoying sun-kissed retirement in Spain, when suddenly everything goes pear-shaped with the unwanted arrival of a violent psychopath played by Ben Kingsley. This terrifying hardman forces Winstone's character to return with him to Britain for one last audacious job. It's a stylish, dynamic thriller in which Winstone reminds us that there's more to him than B-grade gangster fodder, while Kingsley is an utter revelation in a mesmerising role a million miles away from his famous turn as Gandhi.