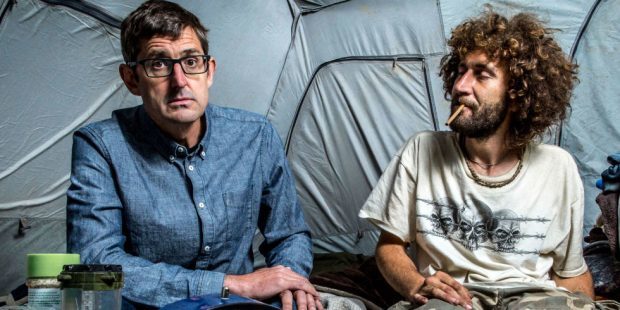 LOUIS THEROUX: DARK STATES – HEROIN TOWN + SNOWFALL
LOUIS THEROUX: DARK STATES – HEROIN TOWN: Sunday, BBC Two
SNOWFALL: Sunday, BBC Two
When you think of Sunday nights on BBC Two, you envision genteel arts documentaries or bittersweet Brenda Blethyn films. You don't imagine a blizzard of Class A drugs exploding from your screen. Yet that's what we got last Sabbath, with a heavy narcotic double-bill.
In LOUIS THEROUX: DARK STATES – HEROIN TOWN, he visited a depressed Appalachian industrial community where heroin use is rife. It's an increasingly typical victim of "the most deadly drug epidemic in US history."
He met tragic addicts such as Curtilia, who spends more than $200 a day on her habit. She confessed to Theroux that her drug-dealing boyfriend, who hovered ominously in the background, was physically abusive. She was essentially his slave.
As Theroux watched her shoot up, he gently enquired, "There's nothing I could say that would persuade you not to do that?" She shook her head with a tired smile.
Later he met her elderly uncle. He loved Curtilia with all his heart. She loved him too, but she needed his money. He knew what she was using it for. It was heart-breaking.
Theroux's point was clear. Most of these addicts turned to heroin after becoming dependent on prescription painkillers wantonly prescribed by their doctors. Following a crackdown on this irresponsible practice, illegal drugs became their only way of numbing the pain. The Big Pharma companies signed their death warrants.
To give us hope that decent professionals still exist, Theroux met a doctor who cares for recovering pregnant addicts. His work is vital, as one in ten babies born in this area are dependent on opiates.
Granted, this was yet another sad, sensitive Theroux documentary in which he looked pensive and concerned in the company of people with hellish lives. But when it comes to presenting visions of sheer hopelessness, he has few peers.
Crack Cocaine is the drug of choice in SNOWFALL, a new drama from Boyz n the Hood director John Singleton.
Set in South Central LA in 1983, it follows a black teenager as he shifts from soft low-level drug dealing to Devil's Dandruff distribution. He's the archetypal good kid getting in over his head. Naturally, his surname is Saint.
Dramas set in the recent past often have a tendency to overdo period details, but Snowfall boasts an authentic sense of time and place. There's a nice selection of classic rap and soul on the soundtrack. You can feel the ghetto-blasting summer heat.
Comparisons with The Wire are inevitable, especially when TV critics insist on making them. But what can a poor boy do? Any new American crime drama involving drugs, troubled law enforcers and a prominent black cast is destined to be judged against that monumental classic. Snowfall is more generic and less Byzantine in its storytelling reach.
It also shows, initially at least, why people enjoy taking drugs, whereas The Wire was more concerned with the grim realities of addiction, poverty and crime. I'm sure Snowfall will tackle these issues eventually, but for now it feels like a slick facsimile of David Simon's angry masterpiece.
Despite my nagging misgivings, it does show some promise. It's well-made, the performances are fine, and even the clichés are acceptable if you don't take it too seriously.
It also serves as a counterpoint to Theroux's new series. Snowfall pinpoints a time when hard drugs were beginning to become more commonplace on the working-class streets of America.
34 years later, Theroux raked over the devastating legacy of that narcotic epidemic.
TV HIGHLIGHTS of THE WEEK
GEORGE MICHAEL: FREEDOM
Monday, Channel 4, 9pm
George Michael was working on this candid documentary when he passed away in 2016. It now serves as a tribute to his life and work. Narrated by George himself, it focuses on his early bid for solo success and credibility.
CHRIS PACKHAM: ASPERGER'S AND ME
Tuesday, BBC Two, 9pm
The wildlife experts reflects upon his struggles with Asperger's Syndrome in this frank and revealing profile. While sharing his story, he investigates radical new therapies that may eradicate certain Autistic traits.
TRUMP AND RUSSIA: SEX, SPIES AND SCANDAL
Wednesday, Channel 4, 10pm
Political journalist Matt Frei travels to America and Moscow to investigate the alleged conspiracy between Trump and Russia during his election campaign. He speaks to insiders and exposes a wealth of controversial evidence.
THE GANGES WITH SUE PERKINS
Thursday, BBC One, 9pm
The comedian and presenter begins her journey along the sacred Asian river by meeting hermits and holy people, one of whom has become a successful business guru responsible for a nightly ceremony of praise.
FILM of THE WEEK
PALE RIDER
Monday, ITV4, 10:05pm
Directed by and starring Clint Eastwood, this downbeat western from 1985 could never be accused of failing to take itself seriously. Eastwood plays a mysterious preacher who comes to the aid of a struggling group of gold prospectors whose livelihood is being threatened by an unscrupulous strip-mining company. The solemn religious overtones are hardly subtle, but Eastwood delivers a typically charismatic performance. It's not one of his greatest films by any means, but it's a perfectly decent, watchable, middling entry in his filmography.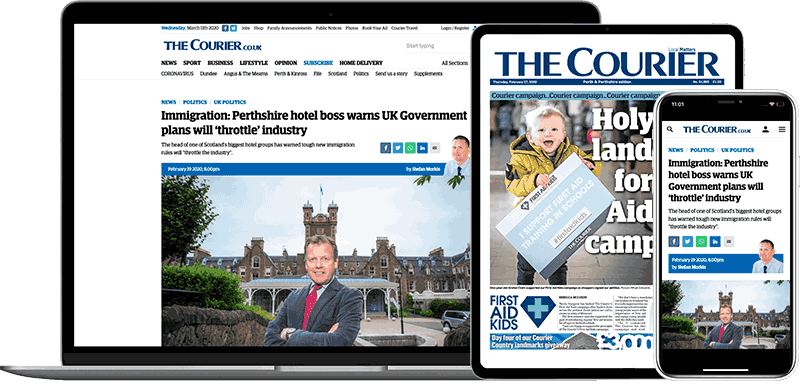 Help support quality local journalism … become a digital subscriber to The Courier
For as little as £5.99 a month you can access all of our content, including Premium articles.
Subscribe