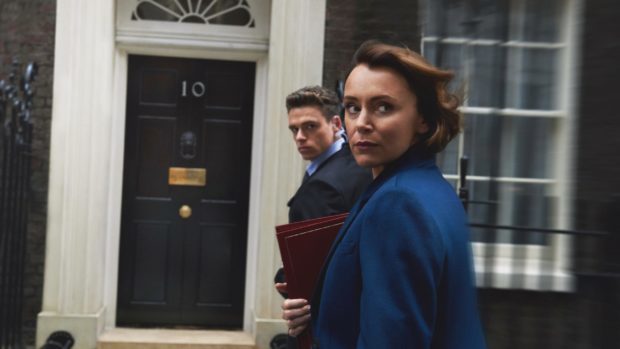 BODYGUARD + ADRIAN CHILES: DRINKERS LIKE ME
Jed Mercurio and his Line of Duty team have established an effective house style. Their new six-part conspiracy thriller, BODYGUARD, is proof of that. I'm not suggesting that they churn out their dramas on a formula-driven conveyor belt – I'm a big fan of their work – but they now have an instantly recognisable set of fool-proof templates.
Their justifiably paranoid and angry dramas are littered with acronym-heavy cop jargon, evidently derived from thorough research. Tense urban police stings jostle with compromised authority figures squirming in glass-walled offices. People refer to each other as "Ma'am" or "skipper" constantly. Melodramatic flourishes – the sort of thing you might see in 24, for instance – are rooted in grave, sincere political concerns.
Mercurio has a gift for combining entertainingly populist cop action with torn-from-the-headlines, thoughtful anguish. Bodyguard is no exception.
It stars Richard Madden as David Budd, an Afghanistan war veteran suffering from PTSD. Due to his training as, for all intents and purposes, a killing machine, his only option in civilian life is to become a policeman and security operative. When he foils a terrorist attack on a train bound for London, the Home Secretary (the always great Keeley Hawes) hires him as her bodyguard. A hard-line supporter of overseas combat, she represents everything that ruined his life. How can he protect a woman so diametrically opposed to him? How can he protect a politician responsible for so much needless death?
You can easily imagine Mercurio having a Eureka moment when he came up with this basic yet powerfully thought-provoking scenario. How better to explore the vast gulf between our cossetted lawmakers and the people whose lives they destroy?
The opening scene from episode one was a masterclass in suspense. Line of Duty is renowned for its riveting, lengthy scenes, but Mercurio sculpted his greatest example yet as Budd attempted to dissuade a terrified, brainwashed Muslim woman from setting off her suicide bomb on a train bound for London.
Stretched, with maximum tension, over 20 minutes, that dry-mouthed sequence fluently introduced the complex themes of this series. Rhetoric-fuelled politicians and zealots send people to their deaths. The trained soldiers, pointless martyrs and everyone else caught in the crossfire are the innocent, tragic victims.
Madden and Hawes deliver exceptional performances. Despite his clenched jaw and furrowed brow, Budd never comes across as a superhero. On the contrary, he exudes a lost, self-loathing, soulful quality. He apologises for his actions constantly. Hawes' character is partially based on the robotic Theresa May, but she imbues her Home Secretary with shades-of-grey nuances. She's not a one-dimensional monster. An exemplary drama, one of the best I've seen in some time.
Adrian Chiles is a functioning alcoholic. He admitted as much in the commendably honest documentary, ADRIAN CHILES: DRINKERS LIKE ME. Most of us are in denial about our occasional bouts of heavy drinking, because we don't wake up in the gutter or crack open a can of cider at 9am. We know when to start and when to stop. But how much damage are we doing to ourselves with our apparently harmless social drinking habits?
This soul-searching programme didn't offer any definitive answers, because there aren't any. It did, however, strongly imply that self-medication is no cure for deep-seated anxiety. It's just a crutch.
Chiles didn't wag a finger or make excuses, he confronted an important issue with eloquent sensitivity.
TV HIGHLIGHTS of THE WEEK
MOTHER'S DAY
Monday, BBC Two, 9pm
Vicky McClure stars in this powerful factual drama about an everyday housewife who tried to bring about peace in Northern Ireland following an IRA terror attack in 1993. She formed an unlikely alliance with a couple who lost their son.
WANDERLUST
Tuesday, BBC One, 9pm
When a therapist and her husband find their marriage in crisis, she hits upon an audacious, and rather unorthodox, plan to save them. This new drama stars Hollywood's Toni Collette and TV's Steven Mackintosh.
DIY SOS: GRENFELL
Wednesday, BBC One, 9pm
Did you know that the Grenfell Tower housed a boxing gymnasium that's supported youngsters for decades? In this uplifting two-part series, Nick Knowles and co build a new gym and community centre for the people who endured that tragic fire.
PRESS
Thursday, BBC One, 9pm
This timely new drama from Mike Bartlett of Doctor Foster renown follows the exploits of a left-leaning broadsheet newspaper as they struggle against their more right-wing, populist rival.
FILM of THE WEEK
WE BOUGHT A ZOO
Wednesday, Film4, 4pm
Based on a true story, this rather charming and poignant drama stars Matt Damon as a widowed father who impulsively buys an ailing wildlife park to cope with his grief. It's directed by the sentimentally-inclined Cameron Crowe (Almost Famous; Jerry Maguire), so you should give it a wide berth if you're cynical and miserable. It's not a perfect film by any means, but those emotional moments do hit hard. Damon and Scarlett Johansson are an appealing couple, but the teenage characters are the soul of the film.