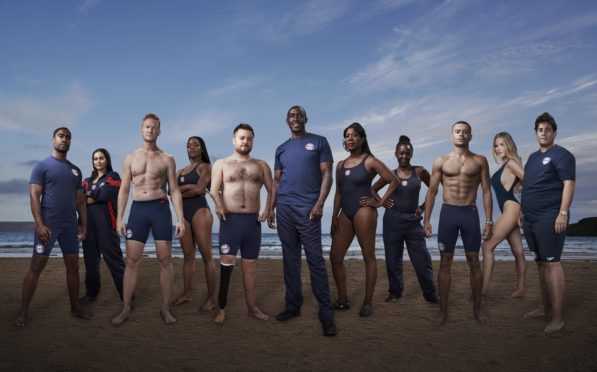 This week Paul dives into a good cause and welcomes the return of a TV iconoclast.
NEXT WEEK'S TV
SINK OR SWIM FOR STAND UP TO CANCER
Tuesday, Channel 4, 9:30pm
The annual charity campaign from Cancer Research UK and Channel 4 kicks off with this four-part series in which a group of celebrities train for a gruelling cross-channel relay swim. Alas, preview copies weren't available at the time of writing, but I feel I can predict with some certainty that it will be vaguely inspiring. The best-known members of the gang are Olympic gold medal-winning athletes Linford Christie, Tessa Sanderson and Greg Rutherford, who will presumably have an unfair advantage over the likes of Alya from Coronation Street, Simon from Blue, The Last Leg's Alex Brooker, a Love Island man, some chancer from The Only Way is Essex and Songs of Praise presenter Diane-Louise Jordan.
FRANCO BUILDING WITH JONATHAN MEADES
Tuesday, BBC Four, 10pm
The gnomic writer returns to BBC Four, his spiritual home, with a typically idiosyncratic essay on the architectural legacy of Spanish dictator Francisco Franco. Meades argues that it's not to be found in Franco's officially commissioned buildings, but in the resorts inspired by his promotion of mass tourism. With all due irreverence and deadpan disgust, Meades examines the lurid religious myths – "the preposterous past" – which informed Franco's ostentatious piety: "Tyrants build big, absolutists build bigger, fascists build biggest." These oppressively kitsch buildings formed the bedrock of modern Benidorm. "Bad taste is vigorous," drawls Meades admiringly. No one makes television quite like this witty polymath. If only his commitment to crediting the viewer with some intelligence wasn't so increasingly rare.
KATHY BURKE'S ALL WOMAN
Tuesday, Channel 4, 10:30pm
Burke concludes her frank, compassionate study of the pressures faced by women in western society with a rumination on sex and relationships. She explores the complex issue of reaching difficult compromises with a partner by spending time with the likes of Love Island host Caroline Flack, who was once on the verge of abandoning her career for the sake of her boyfriend. Burke also speaks to a self-styled gigolo who claims he's offering women freedom from having to compromise during no-strings sex, and a neurochemistry boffin from Oxford University who stresses that true love and a healthy sex life can't exist without friendship. There's so much more for Burke to explore, so fingers crossed for a second series.
FOSSE/VERDON
Friday, BBC Two, 9pm
It's 1973 and famed choreographer Bob Fosse (Sam Rockwell) is gradually recovering from his nervous breakdown by seeking solace in a luxury Long Island cottage. Rainy weekend invitees include his award-winning playwright friends Neil Simon and Paddy Chayefsky, plus ex-wife Gwen Verdon (Michelle Williams). Fosse and Verdon are accompanied by their new partners, which naturally creates some awkwardness. Verdon is keen for Fosse to start working with her on a new Broadway musical called Chicago, but Fosse is preoccupied with his Lenny Bruce biopic. This everyday story of glittering show folk continues to absorb in its quiet, sympathetic way. By and large it manages to avoid the clunky expositional pitfalls of most showbiz dramas of its type.
FILM of THE WEEK
AMERICAN HISTORY X
Wednesday, ITV4, 10pm
Edward Norton stars as Derek, a reformed neo-Nazi, in this brutal drama. After realising the severe error of his ways while serving time in prison for a racially-motivated murder, he's dismayed to discover upon his release that his teenage brother has embraced white supremacism. Derek struggles to convince him that this abhorrent belief system is a dead end. It's a necessarily violent morality tale.
LAST WEEK'S TV
THE DAY MOUNTBATTEN DIED
Monday August 19, BBC Two
27th August 1979 marked the biggest loss of military life during a single day in the 30 years of The Troubles. One of the victims was the Queen's second cousin Lord Mountbatten. He was blown up while sailing off the west coast of Ireland. This despairing documentary featured emotional contributions from Mountbatten's granddaughter India and the mother of a boy who was killed in the blast.
FIGHTER PILOT: THE REAL TOP GUN
Tuesday August 20, STV
This series follows a student squadron learning how to pilot Britain's most advanced fighter jet, the F35 Lightning. It attempts to create drama via the prospect of them failing to pass their test, but you'd find more knife-edge tension in a typical episode of Driving School. This project cost £9 billion. What was it Bill Hicks once said about feeding and clothing the poor again?
NATURAL WORLD: THE OCTOPUS IN MY HOUSE
Thursday August 22, BBC Two
In Anchorage, Alaska, a genial marine biologist and his family live with an octopus named Heidi. Her large tank is situated in their living room. The point of this intimate experiment was to find out more about how these uniquely fascinating, intelligent creatures see the world. Turns out they enjoy watching Attenborough documentaries, solving puzzles and playing games. They can also recognise individual humans. Extraordinary scenes.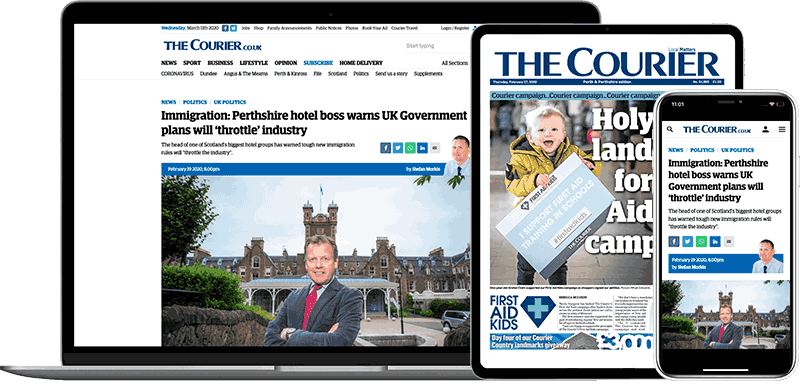 Help support quality local journalism … become a digital subscriber to The Courier
For as little as £5.99 a month you can access all of our content, including Premium articles.
Subscribe