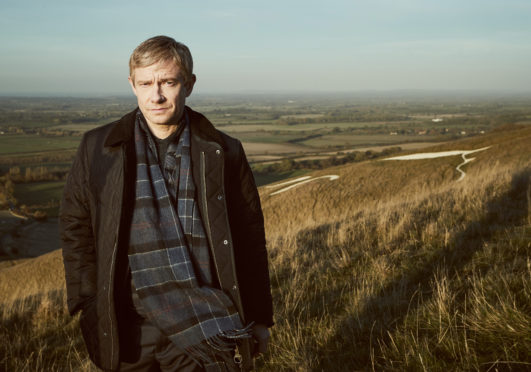 This week, Paul investigates a new true crime drama, a sobering account of Hitler's rise to power, and a damning indictment of Harvey Weinstein.
NEXT WEEK'S TV
A CONFESSION
Monday, STV, 9pm
Tim from The Office – aka the actor Martin Freeman – stars in this gritty shaky-cam factual drama from genre maestro Jeff Pope (if you've ever enjoyed a superior true-crime ITV drama produced within the last 20 years, Pope was almost certainly the man behind it). It recounts the unusual story of a senior police officer who, in 2011, breached protocol to catch the person responsible for abducting and killing a young woman. Meanwhile, a woman who lost her own daughter under similar circumstances begins to fear that the cases are linked. Jeff Pope probably has the words 'truth is stranger than fiction' on a framed macramé print above his desk, it's a maxim upon which his impressive career is predicated.
RISE OF THE NAZIS
Monday, BBC Two, 9pm
In 1930, Germany was a liberal democracy. Four years later it was governed by a totalitarian regime of murderous criminals. "This," intones the narrator of this grimly compelling new series, "is the story of how democracy died." It is, like Laurence Rees' classic series, a warning from history. Told via dramatic reconstructions and talking head contributions from expert historians, Rise of the Nazis examines the events of those four fateful years in forensic, granular detail. It's a frightening illustration of how fascism can take hold of a nation. The far-right are currently a growing threat in Europe and America. They're still using the same techniques to stir up dissent, to mislead, divide and conquer. Be afraid.
UNTOUCHABLE: THE RISE AND FALL OF HARVEY WEINSTEIN
Monday, BBC Two, 11:15pm
How did the pathological sexual predator Harvey Weinstein get away with his crimes for so long? This thorough 90-minute documentary damningly exposes a culture that enabled the behaviour of this monstrous Hollywood mogul and others like him. Taking centre stage are devastating testimonies from some of his traumatised victims. Their evidence repeats the same pattern: they felt trapped, manipulated and intimidated by Weinstein's heinous abuse of power. He faced numerous accusations of sexual misconduct throughout his reign, but always managed to suppress them. The film features contributions from guilt-ridden former colleagues who were aware of his reputation and those who tried in vain to expose him. The king may have been dethroned, but the #MeToo fight continues.
THE CAPTURE
Tuesday, BBC Two, 9pm
The current glut of nervy TV thrillers hasn't emerged by mere coincidence. Television, as always, reflects our fearful preoccupations. The zeitgeist, if you will. This new Line of Duty-esque drama follows a British soldier accused of needlessly murdering a member of the Taliban in cold blood. After he's acquitted, he's then accused of assaulting and kidnapping his barrister on the streets of London. Actual fake news? A violent incident apparently captured via CCTV triggers a dark, stark, uncomfortable piece – anyone who's been foolish enough to follow my scribblings over the last 20 years will know that I'm a fan of dark, stark, uncomfortable pieces. It also boasts a tremendous cameo from that great, indispensable character actor, Paul Ritter. Recommended.
FILM of THE WEEK
THE CRYING GAME
Monday, Film4, 11:20pm
This sleeper hit from writer/director Neil 'Mona Lisa' Jordan caused quite a stir when it was first released in 1992. The great Stephen Rea stars as an IRA member who, after forming a bond with one of his hostages, seeks redemption via contact with the dead man's lover (Jaye Davidson, who retired from acting shortly afterwards). It's a thoughtful character drama disguised as a thriller.
LAST WEEK'S TV
PEAKY BLINDERS
Sunday August 25, BBC One
This sooty hokum has earned its promotion from BBC Two to BBC One. Its cult has grown to such an extent that it no longer belongs on its original home. People who criticise this gangster saga, this wild tumult of melodramatic pulp fiction, for being all style over substance are missing the point. It's at ease with what it is. That's why it works. Peaky Blinders is shamelessly entertaining, it juggles flash irony and solemn sincerity in roughly equal measure. Series 5 began with yet another controlled explosion of violent, quasi-poetic chutzpah. A classic? No. But it's undeniably great.
A BLACK AND WHITE KILLING: THE CASE THAT SHOOK AMERICA
Sunday August 25 and Monday August 26, BBC Two
Three years ago, in Portland, Oregon, a white supremacist gang-member got behind the wheel of his jeep and killed a black man. The killer insists that his crime, which was captured on CCTV, wasn't racially motivated. In this depressing two-part documentary, Asian British journalist Mobeen Azhar travelled deep into the scrofulous heart of American far-right politics. Portland is renowned as one of the most liberal cities in America. It's also home to at least 21 white supremacy groups. Trump is their hero. These people are monumentally stupid, sad and hateful. But hey! Things will get better soon, right?