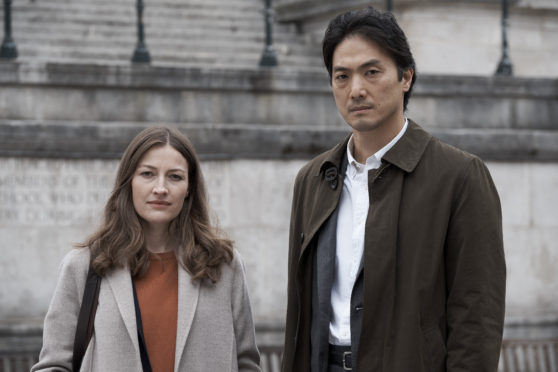 This week, Paul descends into darkness with two new crime dramas.
NEXT WEEK'S TV
DUBLIN MURDERS
Monday and Tuesday, BBC One, 9pm
This frank (i.e. lots of swearing) and grimly atmospheric anthology series is a clear cut above your standard police procedural drear. It's apparently based on some bestselling books about detectives from a serious crime unit in Dublin, and begins with a quietly appealing male/female duo investigating links between the murder of a teenage girl and a similar case which took place on the same estate 21 years earlier. Written by Sarah Phelps, an author renowned for her distinctively dark and psychologically-probing adaptations of various Agatha Christie yarns, Dublin Murders is a relatively weighty, artful piece. Despite succumbing to a few genre clichés – the angry police chief, the blasé pathologist – it's a strongly-plotted compendium linked by certain recurring macabre themes.
CATCHING BRITAIN'S KILLERS: THE CRIMES THAT CHANGED US
Wednesday, BBC Two, 9pm
In 1989, Julie Hogg was murdered by William Dunlop. When two juries failed to reach an agreement, Dunlop was acquitted. He later confessed to the murder, but was only sentenced to six years for committing perjury. In episode two of this compelling series about British murder cases that revolutionised the criminal justice system, we meet Julie's mother, Ann, who successfully campaigned to overturn the archaic law on Double Jeopardy. The shocking injustice of this case and the contemporaneous case of Stephen Lawrence encouraged powerful figures to assist Ann. During her tireless 17 year campaign, this remarkable woman wrote countless letters, met with Home Secretaries Jack Straw and David Blunkett and made a powerful statement in the House of Lords.
GIRI/HAJI
Thursday, BBC Two, 9pm
When the nephew of a senior Yakuza member is murdered in London, the chief suspect is the wayward brother of a Tokyo police detective. This comes as a shock to our hero, as his wayward brother is officially dead. Before he has time to process the situation, Japanese officials dispatch him to London to solve the case. If that sounds like the set-up for a standard, clichéd crime drama, then prepare for an unusual confection influenced by poetically violent Japanese Noir and Anime, Bruce Springsteen's Highway Patrolman, socially awkward British comedy and downbeat urban realism. To the credit of everyone involved in this eight-part series, a potentially messy clash of styles actually results in something quite intriguing and ambitious.
CHARLOTTE CHURCH: STRANDED WITH MUM AND DAD
Thursday, Channel 4, 9pm
Charlotte Church is a very funny, intelligent, politically sound person. She's the anti-Cilla: a superstar working-class 'girl next door' entertainer who detests the Tories. She's ace. Unfortunately, I couldn't get hold of a preview copy of this documentary in which, for the first time since she was a teenager, she spends time alone with her parents for a week. The synopsis doesn't suggest reality TV frivolity. When Church left home at 16, she didn't speak to her mum for over a year. The latter suffered a nervous breakdown. It sounds painful, honest. I can only assume that the Churches want this to be seen as an example of how to mend fragile familial bonds by talking. We'll see.
FILM of THE WEEK
MIDNIGHT RUN
Tuesday, Film4, 9pm
Prior to starring in this irresistible odd-couple action comedy, Robert De Niro was best known as a serious method actor (he was funny in The King of Comedy, but in a disturbing way). You can tell he's having fun trying something new as a tough bounty hunter whose mission to apprehend a fraudster (the wonderfully deadpan Charles Grodin) turns into an epically chaotic road trip.
LAST WEEK'S TV
THE AMERICAS WITH SIMON REEVE
Sunday October 6, BBC Two
Simon Reeve is a nice, palatably tousled young man perpetually funded by the BBC to travel around the world while helicopter-mounted cameras and a synthetic orchestra track his every epic move. In this series he treks from the frozen Arctic to the South American jungles. Reeves is sort of okay when attempting to tackle serious issues such as the horrific treatment of indigenous Canadian women, but he's never worked out how to segue smoothly from "That's a bonkers glacier!" awe into "But seriously, guys" solemnity.
THE NAME OF THE ROSE
Friday October 11, BBC Two
The Connery-starring adaptation of Umberco Eco's blockbusting novel is a good film, an impressive distillation of a Byzantine story about a 14th century Franciscan friar investigating nefarious deeds in an abbey. This eight-part miniseries, co-produced and co-written by its star John Turturro, attempts to bring Eco's complete vision to the screen. A noble endeavour in theory, but Hell's teeth, episode one was hard-going. Laborious in the extremis, it encapsulated the folly of mounting scrupulously faithful adaptations of sacred texts. What works brilliantly on the page won't necessarily work as drama on the screen. They're very different mediums. Connery and co got it right the first time.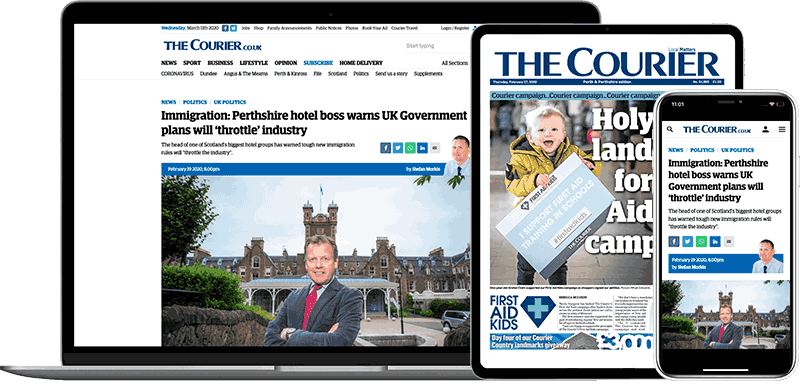 Help support quality local journalism … become a digital subscriber to The Courier
For as little as £5.99 a month you can access all of our content, including Premium articles.
Subscribe