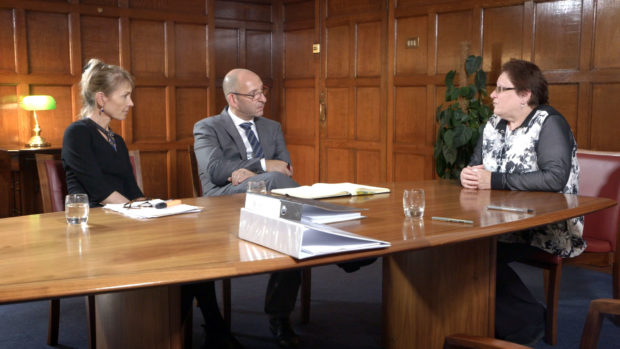 Just when TV seemed stuck in the doldrums, Rebecca spotted a BBC show on the horizon promising murder, mystery and, er, music…
Though my default setting might be hangriness, I found myself somewhat dissatisfied by this week's TV offerings. It feels like we are in tellybox limbo, waiting for the good Christmas shows to start, with only I'm A Celeb to keep us company.
Somehow, on a quest to quell my dissatisfaction, I ended up watching some off-Broadway budget version of Who Do You Think You Are? (WDYTYA) earlier this week.
I'd never heard of the BBC show Murder, Mystery and My Family before, perhaps because it's on just after 9am on a Monday – when I am still in the twilight zone of slumber. Apparently, this was the first episode of series three, meaning I've been spending my mornings living under a rock.
The programme takes one step further than WDYTYA and attempts to investigate crimes that were tried under the old justice system, to see whether the evidence would still stand up in today's much more rigorous and thorough one.
First up was Jeanette Pratt, the descendent of a man called William Thomas, whose brother George was hanged for a murder he may or may not have committed.
Then walks in Jeremy Dein and Sasha Wass, two lawyers who were going to examine the case and take their findings (Jeremy for the defence and Sasha for the prosecution) to an actual real-life judge, to see if they could get the sentence overturned for George.
That alone is all the show needed to be successful as it is a great premise, with a fascinating insight into the courts.
However, it appears the musical director of this production got a bit trigger happy and had background music for every situation. Thankfully, the case itself was enough to keep interest.
George Thomas, one of four boatmen voyaging along the canals of Staffordshire, had been accused of murdering Christina Collins (CC), who had been trying to get a lift from the boatmen to London. Her body was found in the water.
It transpired that during the original trial not all the evidence had been heard, such as the fact George and his co-boatman William Ellis were asleep at the time CC went missing. Only the captain, James Owen and a boy, William Musson, were awake and likely to have seen what happened to her.
They were sent to the noose on the back of a testimony given by a tainted witness – a man called Joseph who had shared a cell with James Owen in the lead-up to the trial, and who was offered a free pardon if he testified. Ellis was also somehow given clemency as they were walking to their deaths, then went on to spend the remainder of his sentence as a convict in Australia. But this was not acceptable for Sasha and Jeremy who, despite both arguing for different sides, found there to be a lack of evidence against George, and convinced the judge to drop all the charges against him.
It may have been too late for George, but for Jeanette and her family legacy, justice has certainly prevailed.
The same cannot be said for the show's crimes against music usage, however, and justice for my ears.