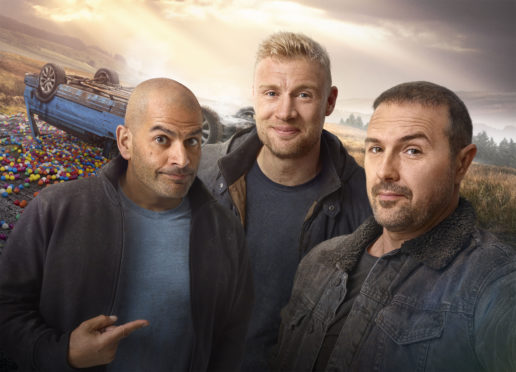 Rebecca is delighted to report Top Gear is funny again now that Freddie Flintoff, Paddy McGuinness and Chris Harris have taken the wheel. Just don't tell her friends…
I have to be honest with you, fellow TellyBoxers, I felt a bit uninspired by this week's offerings. Somehow I started watching a new gameshow called Hey Tracey (Mondays at 10pm on ITV 2) and got a whole five minutes into it before experiencing some deep emotional scarring.
I think it happened around the time presenter Joel Dommett walked on to the stage to the sound of some tuneless children singing his name. It was truly the most uncomfortable I've felt in a while – even more so than the 45 minutes of watching Gemma Collins on Celebrity Crystal Maze last week.
So, part of my rehabilitation was to find something that would make me feel warm, safe and as though I was consuming a nice big bowl of tomato soup – the tellybox version of comfort food, if you will. This may come as a surprise, but my comfort telly is Top Gear.
Every living being who knows me well will tell you I know zilch about cars. But for many of my childhood years, watching Top Gear was a regular occurrence on a Sunday night for me and my dad. I didn't care too much for the cars, but the humour of Jeremy Clarkson, Richard Hammond and James May was always something I could share with my father, him being the funniest person I know.
It was also these same Sundays that got me into watching Formula One racing – yet another piece of information my pals are going to gawp at. I was only a little sad when Clarkson & Co left, as by that point I had moved up to Dundee for uni, so those Sundays with my dad became less of a norm. But I was definitely left upset when I saw who they had been replaced by – I'll give you a hint, it starts with a "C" and ends with "hris Evans".
However, I've heard good things about the newest offering and felt it showed promise having Freddie Flintoff, Paddy McGuinness and Chris Harris at the helm. Top Gear is funny once again.
Sunday's episode was all about electric cars and actually made it interesting. The three presenters made their own cars, in a similar vein to what Clarkson et al would do, then raced them round a disused power station.
Freddie commented on Paddy's, saying "you look like you're about to go ram raid an Argos, look at the state of you!". And comments were made over Chris Harris's red turtle neck.
"You've come dressed as Spiderman's grandma!".
There were times I was laughing out loud. I like this new version of Top Gear, with its natural humour (perhaps more so than Clarkson et al) and I will welcome it back with open arms.
Top Gear airs on BBC 2 every Sunday at 8pm.