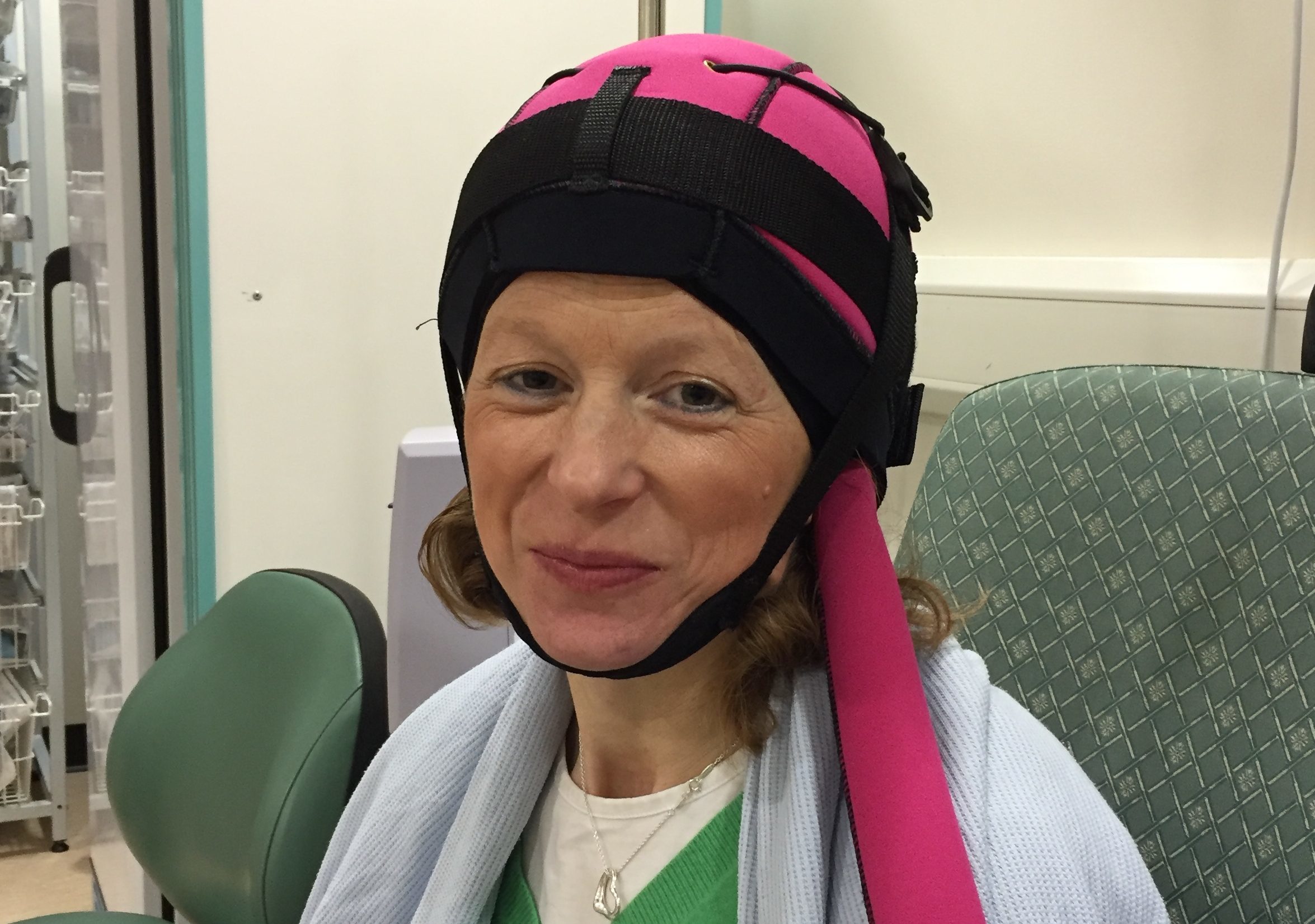 A revolutionary new gadget has helped Elizabeth face cancer head-on
Thousands of women across Scotland will be donning their zingiest bras to take part in the 11th MoonWalk Scotland on June 11 organised by Walk the Walk. The charity raises money for vital breast cancer causes, including providing funding to hospitals across the UK to purchase scalp cooling equipment.
Scalp coolers are special machines which are helping many people undergoing chemotherapy to retain their hair. Currently there are more than 570 machines in over 210 hospitals.
This amazing gadget – a lightweight silicone cap connected to a small refrigeration unit – is placed on the head. The machine reduces the temperature of the scalp creating a restriction in the amount of blood reaching the hair follicles, protecting it from the effects of the chemotherapy drugs and increasing the chance of retaining the hair.
Elizabeth Logan from Dairsie was diagnosed with breast cancer last May. Following an operation to remove the tumour she is now half way through six sessions of chemotherapy.
Like many women, the thought of losing her hair was hard to bear and that's where the scalp cooler came in.
"For me, being able to use it is all about control – I am in the driving seat with this part of my treatment. I've always had long, thick hair, and I am not prepared to lose it without a fight," she says.
Elizabeth, 45, wears the cap before, during and after each round of chemo. "It feels like sticking your head in a bucket of ice cold water!" she reflects.
"The scalp cooler has made a huge difference to me personally. Being able to face the world without having to wear a wig or cap is great."
Sadly, this isn't the first time the Logan family has been affected by cancer – Elizabeth's younger son Bruce, now nine, had leukaemia when he was two and a half.
"When I received my diagnosis, I felt strangely calm. After being through such a tough time with Bruce, I wasn't as scared or shocked as I could have been.
"Tom (12), Bruce and my husband Guy have all been amazing. We've had a pretty rough time as a family, but I think we all understand a lot more about cancer now."